close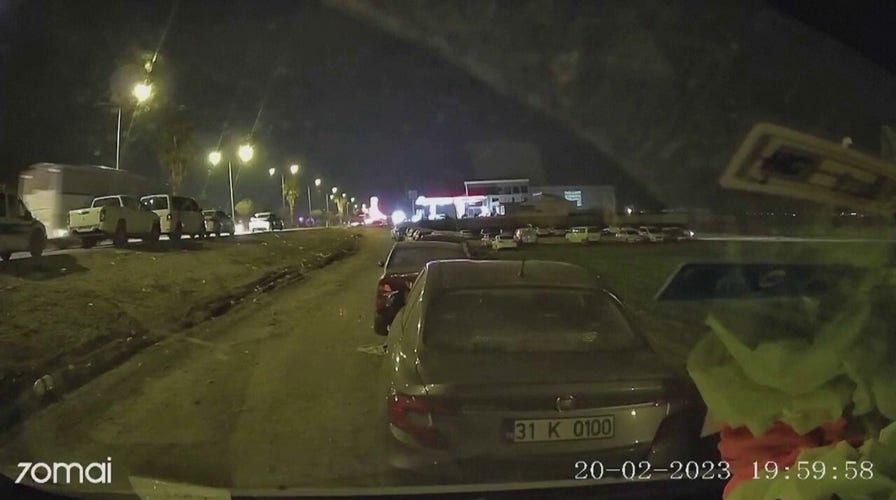 Video
Turkey earthquake captured on dashcam video
Dashcam video captured the moment a 6.4 magnitude earthquake hit Hatay, Turkey, knocking out electricity and shaking cars. (Reuters)
Dashcam footage captured the moment another earthquake hit Turkey on Monday.
The 70mai video seems normal, with men having a conversation in a parked car on the side of a lighted street.
However, about eight seconds into the video, the streetlights go out and then the vehicle begins to rock back and forth.
The skies ahead of the car start to flash with white light and car alarms go off closer to the road. Cars continue to drive by the parked car.
TURKEY HIT BY ANOTHER 6.4 MAGNITUDE EARTHQUAKE, LEAVING AT LEAST THREE DEAD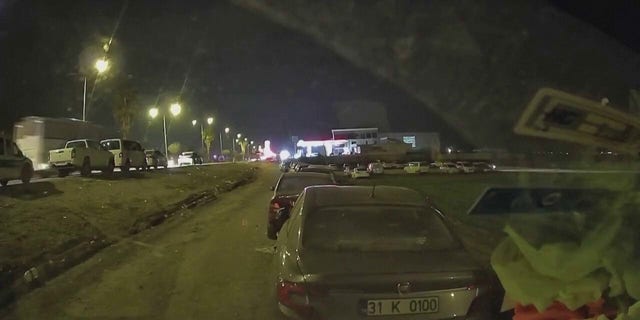 Dashcam video captured the moment a 6.4 magnitude earthquake hit Hatay, Turkey, knocking out electricity and shaking cars.  ((Reuters))
The 6.4 magnitude earthquake jolted Turkey's Hatay province, with its epicenter located in the Defne district.
Turkey's disaster management authority, AFAD, said the new tremor killed six people and injured 294 others, including 18 who were in critical condition.
In Syria, a woman and a girl died as a result of panic during the earthquake in the provinces of Hama and Tartus, pro-government media said.
A man walks past debris from destroyed buildings in Antakya, southeastern Turkey, on Feb. 21, 2023.  ((AP Photo/Unal Cam))
STUNNING TURKEY EARTHQUAKE RESCUES: TEEN, NEW FATHER SAVED 11 DAYS LATER IN 'TRUE MIRACLE'
Monday's quake was also felt in Jordan, Cyprus, Israel, Lebanon and Egypt, with a magnitude 5.8 earthquake following in addition to dozens of aftershocks.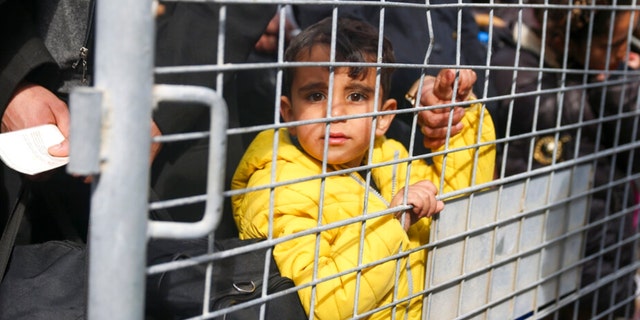 Syrians wait to cross into Syria from Turkey at the Cilvegozu border gate, near the town of Antakya, southeastern Turkey, Tuesday, Feb. 21, 2023.  ((AP Photo/Unal Cam))
The White Helmets, northwest Syria's civil defense organization, said about 190 people suffered injuries in rebel-held areas and that several buildings collapsed. There were no reports of anyone trapped under the debris.
CLICK HERE TO GET THE FOX NEWS APP
This all comes after the Feb. 6 magnitude 7.8 earthquake – and another 7.5 quake hours later – that killed nearly 46,000 people in Turkey and Syria. Hundreds of thousands of people are homeless after the disaster.
The Associated Press contributed to this report.
Julia Musto is a reporter for Fox News and Fox Business Digital.