close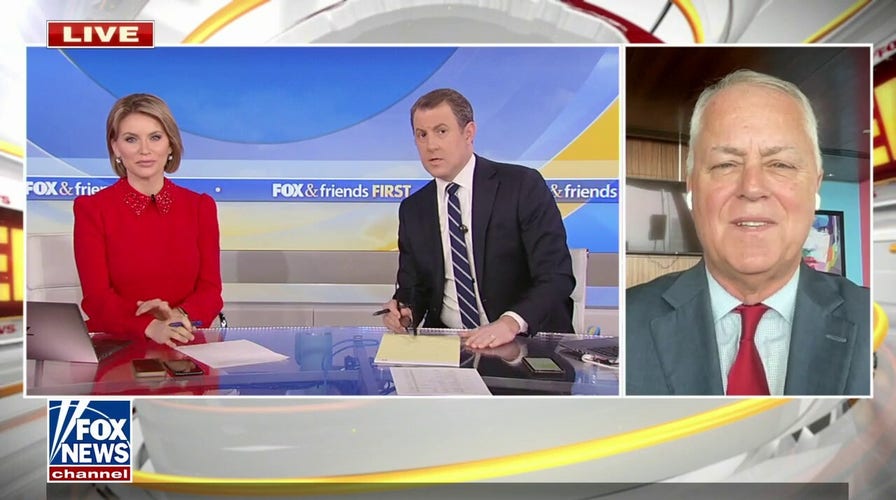 Video
Putin bashes the West after Biden visit to Ukraine
General Anthony Tata reacts to Putin's speech and Biden's visit to Ukraine.
Russian President Vladimir Putin delivered a stark warning Tuesday that he would be suspending his nation's participation in a nuclear arms treaty, threatening to resume testing of nuclear weapons.
Putin made his speech almost exactly a year after the invasion of Ukraine began, accusing the "elites of the West" of escalating international tensions.
RUSSIA SUSPENDS PARTICIPATION IN NEW START NUCLEAR TREATY WITH US, PUTIN SAYS
President Vladimir Putin, center, speaks in his annual televised New Year's message after a ceremony during a visit to the headquarters of the Southern Military District, at an unknown location in Russia, on Saturday, Dec. 31, 2022. (Mikhail Klimentyev, Sputnik, Kremlin Pool Photo via AP, File)
"The elites of the West do not hide their purpose. But they also cannot fail to realize that it is impossible to defeat Russia on the battlefield," Putin said.
The Russian president went on to announce he would be pulling Russia out of the Strategic Arms Reduction Treaty, a bilateral agreement signed by former Presidents Obama and Dmitry Medvedev.
BIDEN ANNOUNCES MILLIONS MORE TAXPAYER DOLLARS TO ASSIST UKRAINE DURING SURPRISE TRIP TO KYIV
President Biden met with Ukraine President Volodymyr Zelenskyy on Monday at Mariinsky Palace to announce an additional half-billion dollars in U.S. assistance. The U.S. has already supported Ukraine with tens of billions of dollars in financial aid and military equipment.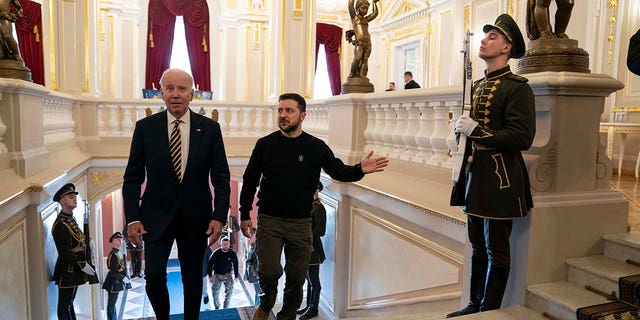 President Biden meets with Ukrainian President Volodymyr Zelenskyy at Mariinsky Palace during an unannounced visit in Kyiv, Ukraine, Monday, Feb. 20, 2023. (AP Photo/Evan Vucci, Pool)
The new assistance includes shells for howitzers, anti-tank missiles, air surveillance radars and other aid but does not offer new advanced weaponry.
PRESIDENT BIDEN MAKES SURPRISE VISIT TO KYIV. UKRAINE, MEETS WITH PRESIDENT ZELENSKYY
Putin claimed in his Tuesday speech that the West was attempting to achieve a "strategic defeat" over Russia and take control of their nuclear capabilities.
"Of course, we will not do this first. But if the United States conducts tests, then we will," Putin threatened.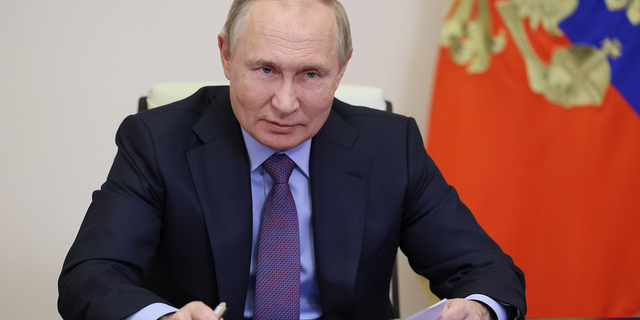 Russian President Vladimir Putin speaks to Vologda Region Governor Oleg Kuvshinnikov via videoconference at the Novo-Ogaryovo state residence, outside of Moscow on Monday, Jan. 30. (Mikhail Klimentyev, Sputnik, Kremlin Pool Photo via AP)
He continued, "No one should have dangerous illusions that global strategic parity can be destroyed. A week ago, I signed a decree on putting new ground-based strategic systems on combat duty. Are they going to stick their nose in there too, or what?"
CLICK HERE TO GET THE FOX NEWS APP
Both the U.S. and Russia are capable of deploying far more than the allotted nuclear warheads as Washington and Moscow have a combined total of more than 13,000 warheads – making up roughly 90% of the world's nuclear arsenal, according to data provided by the Arms Control Association.
Fox News' Landon Mion and Chris Pandolfo contributed to this report.
Timothy Nerozzi is a writer for Fox News Digital. You can follow him on Twitter @timothynerozzi and can email him at [email protected]