Former Vice President Mike Pence appeared to respond to former President Trump's comments this week that blamed pro-life Republicans for the party's lackluster performance in the 2022 midterm elections.
In a Monday tweet, Pence, who had not previously responded to Trump's remarks, endorsed a statement released by Susan B. Anthony Pro-Life America that hit back on Trump's claims.
"The approach to winning on abortion in federal races, proven for a decade is this: state clearly the ambitious consensus pro-life position and contrast that with the extreme view of Democrat opponents," the organization said Monday. "We look forward to hearing that position fully articulated by Mr. Trump and all presidential candidates… There was ALSO a profound midterm lesson for future federal candidates: those who adopt the Ostrich Strategy on abortion lose."
TRUMP BLAMES PRO-LIFE REPUBLICANS FOR MIDTERM LOSS
Showing his support for the remarks, Pence, who is mulling a 2024 run for president, shared the organization's statement in a tweet, writing, "Well Said @sbaprolife!"
Pence has long been a champion on pro-life issues and has insisted that abortion should be outlawed in every state in America.
"Now that Roe v. Wade has been consigned to the ash heap of history, a new arena in the cause of life has emerged, and it is incumbent on all who cherish the sanctity of life to resolve that we will take the defense of the unborn and the support for women in crisis pregnancy centers to every state in America," Pence said in a June interview with Breitbart News. "Having been given this second chance for Life, we must not rest and must not relent until the sanctity of life is restored to the center of American law in every state in the land."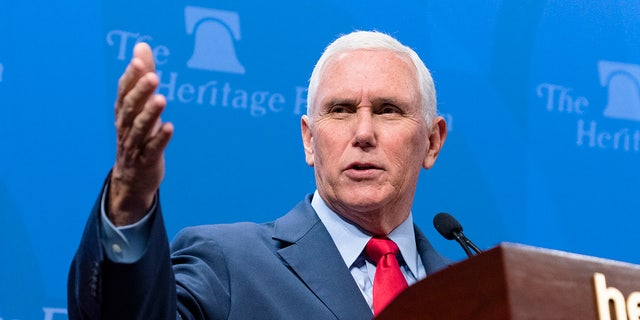 Former Vice President Mike Pence delivers a speech at The Heritage Foundation titled The Freedom Agenda and America's Future on Oct. 19, 2022.
(Tom Williams/CQ-Roll Call, Inc via Getty Images)
Trump — who has faced immense criticism and blame for the resulting losses for GOP candidates in the 2022 midterm elections — said Monday that pro-life Republicans were to blame for losses in close races across the country.
"It wasn't my fault that the Republicans didn't live up to expectations in the midterms," Trump wrote on his Truth Social platform. "It was the 'abortion issue,' poorly handled by many Republicans, especially those that firmly insisted on No Exceptions, even in the case of rape, incest or life of the mother, that lost large numbers of voters."
"Also, the people that pushed so hard, for decades, against abortion, got their wish from the U.S. Supreme Court, and just plain disappeared, not to be seen again," he added.
DOZENS OF STATES SEE NEW LAWS ON ABORTION, MINIMUM WAGE TAKE EFFECT IN 2023
Following Trump's remarks, former Secretary of State Mike Pompeo also offered his appreciation for "pro-life Americans."
"One thing I'm grateful for from 2022 is the end of Roe v. Wade, which saved countless lives," Pompeo wrote in a tweet. "To the pro-life Americans who worked so hard for this: thank you."
In June, the Supreme Court overturned Roe v. Wade, effectively ending recognition of a constitutional right to abortion and giving individual states the power to allow, limit, or ban the practice altogether.
Trump's attack on pro-life voters comes as support for his 2024 presidential run has plummeted in the polls. Prior to the midterms, Trump was the overwhelming favorite to be the Republican nominee, regularly winning primary polls with upward of 50% of the vote.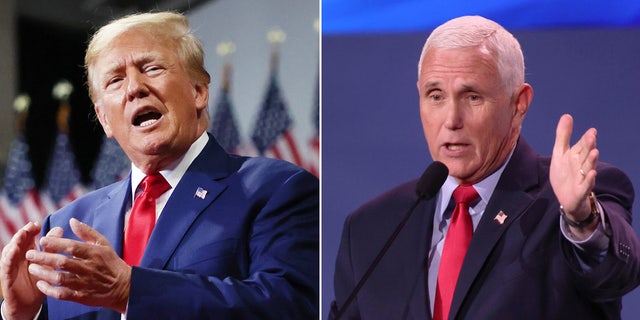 Former President Trump, left, and former Vice President Mike Pence.
(Scott Olson, Spencer Platt via Getty Images)
CLICK HERE TO GET THE FOX NEWS APP
Support has surged for Trump's perceived rivals since the midterm losses of his handpicked candidates like Herschel Walker in Georgia, Kari Lake in Arizona and Dr. Mehmet Oz in Pennsylvania.
A Wall Street Journal poll of Republican primary voters found last month that Republican Florida Gov. Ron DeSantis leads Trump by double digits for the GOP nomination in a head-to-head matchup.
Fox News' Ronn Blitzer, Kelly Laco, and Anders Hagstrom contributed to this article.