In 2022 the southern border once again saw enormous migrant numbers coming across as it had in 2021, with frequently more than 200,000 encounters a month. However, the number of illegal immigrants in Immigration and Customs Enforcement (ICE) detention has remained relatively low throughout the crisis, even as border apprehensions take up a greater share of the detained population.
There were more than 2.3 migrant encounters in Fiscal Year 2022. So far, FY 2023, which began in October has been on track to outpace that number, as numbers have surged to the border in anticipation of the end of the Title 42 public health order.
However, according to ICE's annual report, there was an average of 22,630 illegal immigrants detained during FY 2022. According to data archived on the Transactional Records Access Clearinghouse at Syracuse University, numbers for 2022 have been as low as 17,984 and as high as 30,000 last month — before dropping in December back down to the low 20,000's.
That 22,630 average overall is up slightly from the average of 19,461 in FY 2021, which the agency attributes to facilities continuing to adapt to COVID-19 protocols, but down significantly from the 33,724 average in FY2020, which includes the highs of the pre-COVID months during the Trump administration.
ICE is funded for approximately 34,000 detention spaces, but the Biden administration has increasingly relied on Alternatives to Detention (ATD) — where migrants are released into the interior with a form of tracking, which can involve ankle bracelets but has been increasingly reliant on smartphone apps instead.
BIDEN ADMIN FACING THIRD YEAR OF CRISIS AT SOUTHERN BORDER WITH UNCERTAIN IMMIGRATION POLICIES IN 2023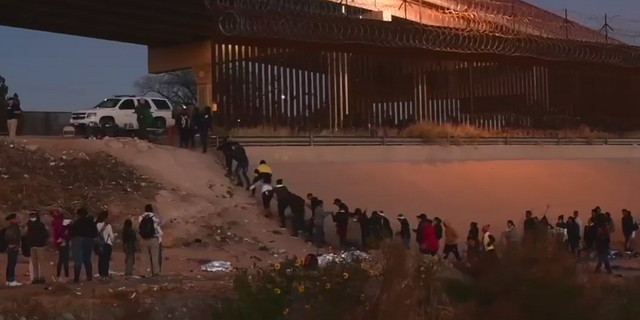 U.S. Customs and Border Protection sources said Monday that its El Paso sector has seen 2,397 migrant encounters in the last 24 hours.
(Fox News)
The number of migrants monitored by ATD has shot up from just over 80,000 to over 300,000 under the Biden administration. ICE said in its report that it detains individuals as necessary, including to secure their presence for immigration proceedings and/or removal from the United States."
"ICE also detains those who are subject to mandatory detention under U.S. immigration law as well as those whom an ICE supervisor has determined is a public safety or flight risk," the report said.
It noted that what it described as a "limited detention capacity" was primarily used to house two populations – illegal immigrants arrested at the southern border and those with criminal citizens arrested by ICE's Enforcement and Removal Operations (ERO) in the interior. ICE's report also offered a snapshot of those in custody in September, which showed that the vast majority (18,519) of those in custody were those apprehended at the border by CBP compared to the number (7,780) who had been arrested by ICE in the interior.
Given the enormous numbers coming across the border, the numbers are notably low. While the Trump administration saw fewer numbers in ICE detention in 2020 after the COVID pandemic hit (with officials releasing a number of illegal immigrants from custody and numbers dropping to as low as 15,000 in custody in late 2020), during the 2019 border crisis, there were multiple months where there were over 50,000 migrants in custody. The current border crisis has seen monthly encounter numbers vastly larger than during the 2019 crisis.
2022 IN REVIEW: HOW BIDEN'S BORDER WOES WENT FROM BAD TO WORSE
But the Trump administration took criticism from Democrats and immigration activists for increasing detention, who see ICE detention as expensive and inhumane and prefer ATD as a way to monitor asylum seekers.
Former acting ICE Director Thomas Homan, who served during the Trump administration, told Fox News Digital that detention was a key tool in making sure illegal immigrants are deported. He noted that illegal immigrants who are not detained and are instead released into the interior have years to wait before their cases are heard, while detained immigrants can have their cases adjudicated in weeks and can be removed easily.
"If you're in detention and you get an order of removal from an immigration judge, you're removed 99% of the time. However, if you're not in detention and you get an order of removal, for instance a family unit, they only leave 6% of the time. If you're an unaccompanied minor, only 3% of the time," he said.
He said that it's part of an overarching trend by the Biden administration that he says has seen ICE enforcement, removal and detention gutted, with arrests and deportations plummeting under the administration.
"In a year with uncontrolled, massive illegal immigration, ICE has some of the lowest detention numbers and some of the lowest removal numbers in the history of the agency, that's not by accident. That's by design," he said.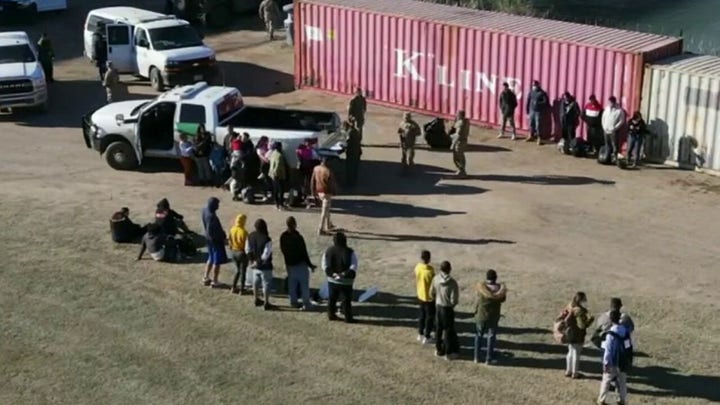 Video
While ICE is limited to approximately 34,000 in its funding for beds, Homan said that during the Trump administration, the agency reprogrammed funding in order to be able to house more illegal immigrants. He also said that there was room for ATD in ICE's scope of operations, but that it shouldn't be prioritized over typical detention.
"Detention should be priority one, ATD priority two. Under the Trump administration, recidivism was way down and the numbers were way down. Why? Because they knew if they cross the border illegally, they're getting locked up."
CLICK HERE TO GET THE FOX NEWS APP
The issue of ICE detention is one that is likely to be raised anew in the new Congress, with Republicans in the House taking control of the chamber and promising to scrutinize the Biden administrations' decisions on its handling of the border crisis. Its policies on released migrants into the interior is likely to be near the top of the Republican agenda.
RJ Hauman, head of government relations at the Federation for American Immigration Reform, pointed to the recent drop in custody from 30,000 to 23,000 as an attempt to "make room" for an expected wave of migrants when Title 42 ended. He accused the administration of "open-borders enforcement theater" and sought to push Republicans to act.
"The new Republican-led House, which takes office next week, must ensure that the Biden administration uses every detention bed available to promptly remove illegal aliens as they continue to flow into the country at historic levels," he told Fox News Digital. "Detention is one of the only solutions to the current border disaster – increase capacity and force them to use it."