An influential conservative group is urging lawmakers to vote against Republican leader Kevin McCarthy, R-Calif., unless certain conditions are met.
The Club for Growth put out a key vote alert Monday announcing that the speaker election will be counted on their legislative scorecard, which grades lawmakers on support for "pro-growth, free-market policies." The fiscally conservative group says the next House speaker must "provide transformational reforms to the House, build a bold pro-growth legislative agenda, and restore the individual rights and powers of the rank-and-file membership."
Without mentioning McCarthy by name, the group provided a list of demands any candidate for speaker must meet, including rules changes permitting amendments to spending bills, allowing hardliners to hold leadership position, and barring the Congressional Leadership Fund from supporting primary challengers to incumbent Republicans.
"Leadership races are typically 'inside baseball' politics but the American People are desperate for new political leadership in America," the Club for Growth said in a statement.
MCCARTHY SHORT OF VOTES AS HOUSE SPEAKER CONTEST ENTERS FINAL HOURS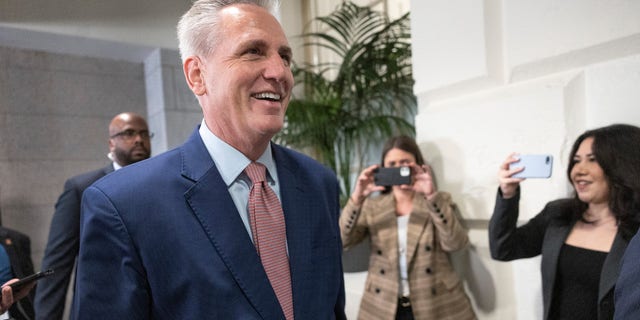 U.S. House Minority Leader Kevin McCarthy (R-CA) walks to a meeting with House Republicans at the U.S. Capitol Building on Jan. 3, 2023, in Washington, D.C. 
(Kevin Dietsch/Getty Images)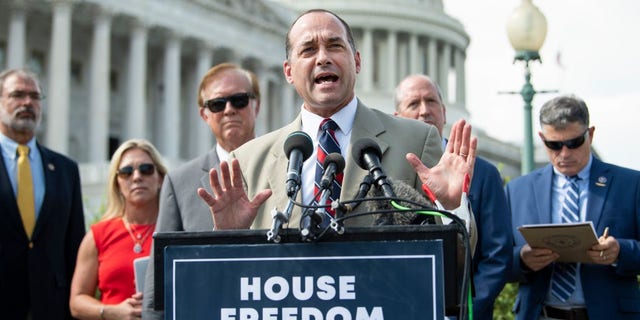 Rep. Bob Good, R-Va., speaks during a House Freedom Caucus (HFC) news conference on Monday, Aug. 23, 2021. Members of the HFC are opposing Kevin McCarthy for House speaker. Appearing from left are, Reps. Andy Harris, R-Md., Marjorie Taylor Greene, R-Ga., Randy Weber, R-Texas, Dan Bishop, R-N.C., and Andrew Clyde, R-Ga. 
(Tom Williams/CQ-Roll Call, Inc via Getty Images)
MITCH MCCONNELL TO SET RECORD FOR LONGEST-SERVING SENATE LEADER AS MCCARTHY FLOUNDERS
"What's more important to the American People than any individual member is the dire necessity to restore the House of Representatives to a legislative body that gives all Members from all communities a voice to speak on behalf of constituents, the ability to amend and impact legislation, and a vote on behalf of the People they were elected to represent," they added.
Additionally, the group is demanding an up-or-down vote on a constitutional amendment that would impose term limits on federal lawmakers in the House and the Senate.
KEVIN MCCARTHY MAKES MAJOR CONCESSION TO CONSERVATIVES AS HIS SPEAKER BID HANGS BY THREAD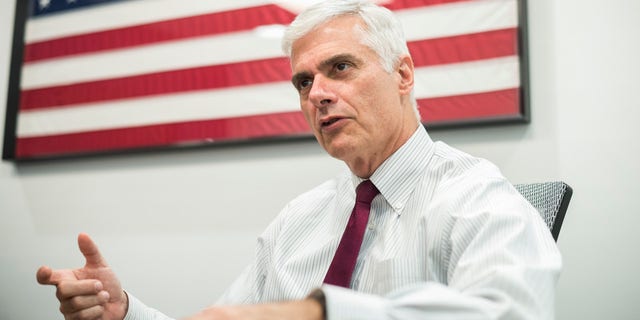 David McIntosh, president of the Club for Growth, is interviewed in his downtown office, Jan. 25, 2017.
(Tom Williams/CQ Roll Call)
"The transformational reforms described in this key vote alert are vital to restoring the People's House and ending business as usual. Club for Growth strongly urges all Representatives to vote for a candidate for Speaker that supports these reforms and to oppose a candidate for Speaker that does not," the group said.
These demands echo those made by at least a dozen House conservatives who have vowed to oppose McCarthy's speakership bid.
The Republican leader met with members of his conference to secure support for the speaker election at 9:30 a.m. ET, seemingly to no avail. The holdouts say McCarthy cannot be trusted to meet their demands and insist that another GOP candidate for speaker will emerge, but they have not said who will step forward.
The first vote will take place at noon and a candidate needs 218 votes to become the next speaker of the House.