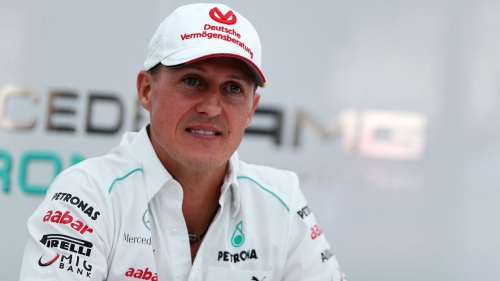 Michael Schumacher won a record seven F1 world titles over the course of his career.
Mark Thompson/Getty Images

CNN
—
The family of seven-time Formula One champion Michael Schumacher is planning legal action after a German magazine published a fake artificial intelligence (AI) interview, a family spokesperson told CNN on Thursday.
Schumacher has not been seen in public since he suffered a brain injury in a skiing accident in December 2013.
On April 15, Die Aktuelle, a weekly magazine in Germany, published a smiling picture of the 54-year-old on the front cover with the headline: "Michael Schumacher, the first interview."
Paired with the headline is a subheading that reads: "It sounded deceptively real."
The fake interview appears on page eight of the magazine with the headline, "My life has changed completely," and includes fictitious quotes attributed to Schumacher, discussing his family life since the accident and his medical condition.
Only toward the end of the article does it become apparent that the interview was produced by AI.
"I can confirm that Michael Schumacher's family is planning to take legal action over a fake artificial intelligence interview by German outlet Die Aktuelle," a Schumacher spokesperson told CNN on Thursday.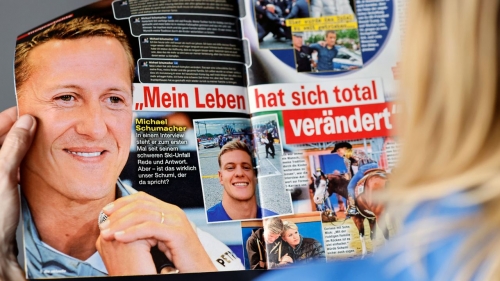 German weekly magazine Die Aktuelle published a fake AI interview with Michael Schumacher.
Hannibal Hanschke/EPA-EFE/Shutterstock
Dennis Barkhausen, the spokesperson of the Funke-Mediengruppe which publishes Die Aktuelle, declined to comment.
"Please understand that we do not comment on this topic," Barkhausen told CNN on Thursday.
Since the accident, the Schumacher family has kept updates about the health of the motorsport legend to a minimum to protect their privacy.
In September 2021, Corinna Schumacher discussed her husband's condition in a Netflix documentary about his Formula One career.
"He still shows me how strong he is every day," she said at the time.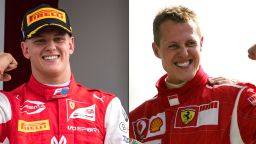 This combination of pictures created on December 2, 2020, shows German Ferrari driver Michael Schumacher (R) celebrating on the podium of the Monza racetrack after the Italian Formula One Grand prix, in Monza, on September 10, 2006, and his son Prema Racing's German driver Mick Schumacher (L) celebrating after winning the Formula Two championship race of the Hungarian Grand Prix at the Hungaroring circuit in Mogyorod near Budapest, on August 4, 2019. – Mick Schumacher, the son of seven-time world champion Michael Schumacher, will drive in Formula One for the first time with Haas next season, the team announced on December 2, 2020, leaving their new recruit "emotionally exploding" at the realisation of a dream. (Photo by Andrej ISAKOVIC and Patrick HERTZOG / AFP) (Photo by ANDREJ ISAKOVIC,PATRICK HERTZOG/AFP via Getty Images)
ANDREJ ISAKOVIC/AFP/AFP via Getty Images
video
Mick Schumacher on the 'big privilege' to carry his legendary surname into F1
"We live together at home. We do therapy. We do everything we can to make Michael better and to make sure he's comfortable. And to simply make him feel our family, our bond.
"And no matter what, I will do everything I can. We all will. We're trying to carry on as a family, the way Michael liked it and still does. And we are getting on with our lives.
"'Private is private,' as he always said. It's very important to me that he can continue to enjoy his private life as much as possible. Michael always protected us, and now we are protecting Michael."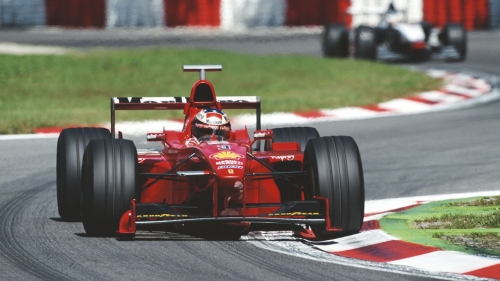 Schumacher competes at the Italian Grand Prix in September 1998.
Darren Heath/Hulton Archive/Getty Images
Schumacher's son Mick is also a Formula One driver and is currently a reserve for Mercedes after two seasons driving for Haas.
"It's a big privilege for me to carry the surname Schumacher into Formula One again," the 24-year-old told CNN Sport two years ago ahead of his first season in the sport.