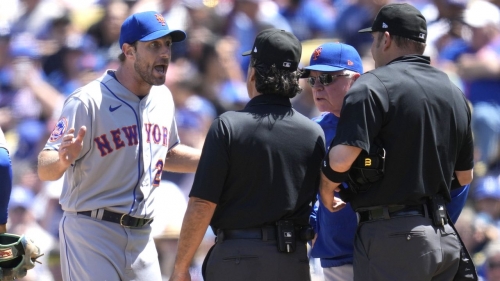 New York Mets pitcher Max Scherzer was ejected from the game against the Los Angeles Dodgers.
Ashley Landis/AP

CNN
—
New York Mets pitcher Max Scherzer was ejected against the Los Angeles Dodgers before the bottom of the fourth inning after umpires inspected his hands and gloves for use of an illegal substance, ruling that the ace's hand was too sticky.
MLB home-plate umpire Dan Bellino conducted a routine check of Scherzer's hands and glove after the second inning and crew chief Phil Cuzzi concluded that the 38-year-old's hand was too sticky.
After this exchange, "Mad Max" was instructed to go and wash his hand in front of an MLB official before returning to the mound.
Cuzzi then stopped the Mets star again when Scherzer came back to pitch in the bottom of the third and the umpire took his glove, giving it to Mets manager Buck Showalter. Cuzzi told Scherzer to go and get another glove and wipe off his hands once more.
However, the eight-time All-Star was still not off the hook and Scherzer was checked once again when he came back to pitch in the bottom of the fourth.
It was after this final check that the pitcher and umpire began arguing about the substance, with Scherzer appearing to yell "it is just rosin" when surrounded by officials and Mets manager Showalter.
Rosin is the only sticky substance allowed in the MLB. It is made from the sap of fir trees and pitchers use its powder form in a white bag to help maintain grip on the ball and limit the amount of sweat on their hand.
Cuzzi disagreed with Scherzer's claims of rosin usage and ejected him from the game.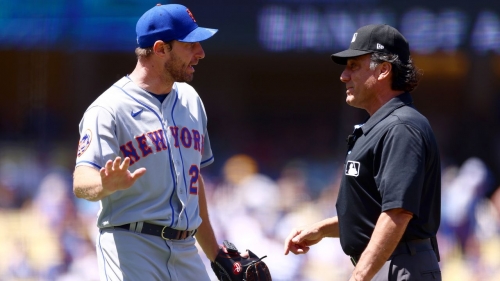 Scherzer argued with umpire Phil Cuzzi about the substance.
Katelyn Mulcahy/Getty Images
Up to this point, the three-time Cy Young Award winner pitched three scoreless innings, allowing one hit, striking out three and walking two prior to the ejection.
Scherzer was evidently displeased with the ejection and defended himself post-game.
"I swear on my kids' lives, I'm not using anything else," the veteran explained. "This is sweat and rosin. Sweat and rosin.
"I'd have to be an absolute idiot to use anything else. I literally go out there with sweat and rosin, I get ejected."
Speaking to a pool reporter, Bellino touched on why the officials ejected Scherzer, saying: "As far as stickiness, level of stickiness, this was the stickiest that it has been since I've been inspecting hands, which now goes back three seasons.
"Compared to the first inning, the level of stickiness, it was so sticky that when we touched his hand, our fingers were sticking to his hand."
Scherzer now faces an automatic 10-game suspension, but the ban can be appealed.