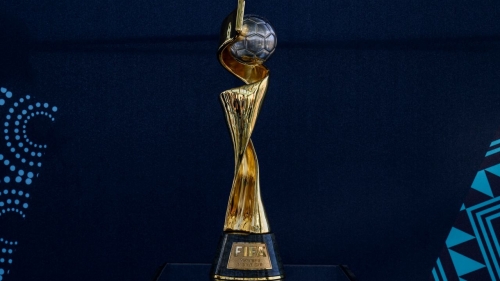 The USA and Mexico want to host the 2027 Women's World Cup.
Angela Weiss/AFP/Getty Images

CNN
—
The United States Soccer Federation (USSF) and the Mexican Football Federation (FMF) announced their intention to launch a joint bid to host the 2027 Women's World Cup on Wednesday.
The announcement came the same day as global governing body FIFA's deadline to submit expressions of interest to host the competition. The FIFA-set deadline to officially launch a bid is May 19.
In the announcement, US Soccer president Cindy Parlow Cone said: "The United States has always been a global leader for the women's game, and we would be honored to co-host the world's premier event for women's soccer along with Mexico.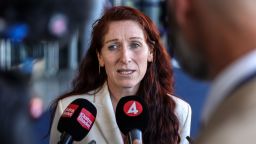 Mandatory Credit: Photo by MIGUEL A LOPES/EPA-EFE/Shutterstock (13858770w)
Lise Klaveness, President of the Football Association of Norway and candidate for member position in the UEFA Executive Committee, talks to the press at the 47th Ordinary UEFA Congress in Lisbon, Portugal, 05 April 2023. On 04 April, the UEFA Executive Committee awarded the organization of the 2025 European Women's Championship to Switzerland.
47th Ordinary UEFA Congress, Lisbon, Portugal – 05 Apr 2023
MIiguel A Lopes/EPA-EFE/Shutterstock
Women's soccer is having a moment — except in the boardroom
"Hosting the 2027 Women's World Cup provides us an incredible opportunity to cap off two historic years of World Cup soccer in the Concacaf region, helping us continue to grow the game among our confederation associations."
Yon de Luisa, president of the FMF, added: "Women's football in Mexico has experienced sustained growth over the last five years and its development, both on and off the field, coupled with the female empowerment it has achieved and will continue to achieve, is one of the strategic priorities of the Federación Mexicana de Fútbol.
"It is with pleasure that we are teaming up again with the U.S. Soccer Federation in the pursuit of this World Cup for our region, which will undoubtedly be historic."
Mexico has never hosted the Women's World Cup, while the tournament has taken place twice in the USA – in 1999 and 2003.
The USSF and FMF successfully joined forces, along with Canada Soccer, to win the hosting rights to the men's World Cup in 2026.
Canada Soccer issued a statement in support of the USSF and FMF bid, remarking that it didn't join this effort as a result of having hosted the FIFA Women's World Cup in 2015, two editions ago.
The 2023 FIFA Women's World Cup begins in Australia and New Zealand on July 20, with the final set for August 20.