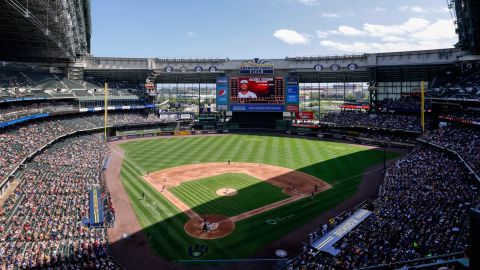 A view of a Major League Baseball game at American Family Field in Milwaukee between the Milwaukee Brewers and Washington Nationals on August 22, 2021.
Joe Robbins/Icon Sportswire/Getty Images

CNN
—
A 25-year-old Milwaukee man has been charged with burglary after allegedly breaking into the Milwaukee Brewers' clubhouse at American Family Field and removing items, including club memorabilia and keys to the baseball team's Arizona spring training facility, according to court documents.
According to the complaint, police were called to the clubhouse on September 9, after security camera footage alerted the team that a person had been walking around their facility, carrying bags and other items taken from various locations in the stadium.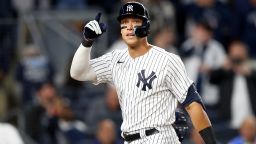 NEW YORK, NEW YORK – APRIL 22: Aaron Judge #99 of the New York Yankees celebrates his solo home run in the fifth inning against the Cleveland Guardians at Yankee Stadium on April 22, 2022 in the Bronx borough of New York City. (Photo by Elsa/Getty Images)
Elsa/Getty Images
New York Yankees name superstar Aaron Judge 16th captain in franchise history
Missing items included the team's strength coach's electronics, credit card, and passport; two players' game-issued jerseys; an autographed baseball bat; a replica World Series ring; and keys to the team's spring training facility in Arizona, among other things, the complaint said.
While on scene investigating, detectives received a call from the suspect's roommate. The roommate said he and the suspect, identified as Justin Bloedorn, had attended the Brewers' doubleheader against the San Francisco Giants the previous day, but that Bloedorn went missing during the seventh inning of the second game. Once back at home later in the evening, the roommate said he started to receive text messages from Bloedorn, sending him pictures from inside the stadium.
According to the complaint, Bloedorn eventually called his roommate, asking for a ride, but the roommate "told him he was on his own." Bloedorn returned home in an Uber in the early morning hours, carrying a Brewers duffel bag filled with team memorabilia, the roommate told law enforcement.
After receiving the call from the roommate, detectives went to the apartment and found Bloedorn asleep inside.
Detectives interviewed Bloedorn, who admitted that he "drank at least ten beers during the games and that at some point, he went outside during the game and passed out," according to the complaint. Bloedorn told them he "eventually woke up and discovered he was in some bushes," then entered the stadium and started taking items. He said that "when he woke up the next day, he realized he really messed up when he saw all the items that he had taken," the complaint states.
Bloedorn's attorney, Jeff Murrell, told CNN he had no comment at this time. Bloedorn's preliminary hearing is scheduled for January 23, court records show.
CNN has reached out to the Milwaukee Brewers but did not receive a response on Saturday.
CNN's Chuck Johnston contributed to this report.