Lisa Marie Presley's pal, Sarah Ferguson, believes Elvis Presley's only child may have died of a broken heart.
The singer/songwriter passed away on Jan. 12, hours after being hospitalized for a medical emergency. She was 54.
"I think she's with Ben now," the Duchess of York told Page Six on Saturday, referring to Benjamin Keough.
The matriarch's only son took his life in 2020. He was 27.
The British royal flew in from the U.K. to Tennessee ahead of Presley's memorial service at Graceland on Sunday. The ex-wife of Prince Andrew told the outlet she was there to provide comfort for Presley's three surviving children: daughters Riley Keough and twins Finley and Harper Lockwood.
LISA MARIE PRESLEY HONORED AT GRACELAND IN PUBLIC MEMORIAL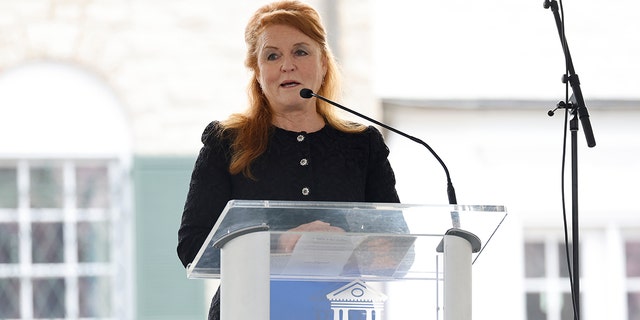 Sarah Ferguson, Duchess of York, speaks at the public memorial for Lisa Marie Presley on Jan. 22, 2023, in Memphis, Tennessee. Presley, 54, the only child of American singer Elvis Presley, died Jan. 12, 2023, in Los Angeles.
(Jason Kempin / Getty Images)
"I think we need to make sure Finely, Riley and Harper are fully supported going forward," said the 63-year-old mother of two. "She was so proud of them, so proud. She used to write to me saying, 'Yeah, I'm really gushing at how wonderful my children are right now.'"
Ferguson also remembered Presley's mother, Priscilla Presley.
"Also, we've got to look after Priscilla now, don't we?" she said.
According to the U.K.'s DailyMail, Ferguson and Presley met sometime in 2009. The outlet noted that Presley attended Ferguson's 50th birthday party in London that same year.
On Sunday, Ferguson spoke at Presley's Graceland memorial service.
CLICK HERE TO SIGN UP FOR THE ENTERTAINMENT NEWSLETTER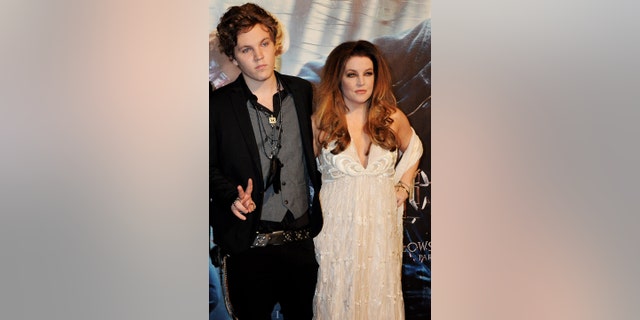 Sarah Ferguson believes Lisa Marie Presley may have died of a broken heart after losing her son, Benjamin Keough, in 2020.
(Dave M. Benett / Getty Images / File)
"I stand here with great honor because we called each other 'sissy,'" said Ferguson.
"… Sissy, this is for you with affection," she said. "My late mother-in-law [Queen Elizabeth II] used to say that nothing [that] can be said can begin to take away the anguish and the pain of these moments because grief is the price we pay for love. And how right she was."
"We look at Priscilla as a mother to Lisa Marie, we look at Lisa Marie and say, 'You lost a son,'" Ferguson continued. "Mothers losing children – there are no words for it. So, today we talk about action. Action is the way we can go forward, we can light the flame. So for Riley, for Harper and Finley and the entire family, we march forward in support of you. All of us are with you. If you just put out your hand, we will be there. I will definitely be there."
Ferguson then read a poem by George Frost, the son of British TV journalist David Frost, which he wrote for his father.
"I've had my life and enjoyed every second. But as it is, another life beckoned," she read. "It's important to know that I have not gone. And I hope that, on you all, my light has shone. Stay in the sunshine, rest never in the shade. Don't curse my absence, as this light you'll evade. I live in the smiles, the moon, stars and sky. And I feel eternal pride as I watch you all fly. And for my darling children who wonder what to do. Just have a wonderful time, as I will, living through you."
LISA MARIE PRESLEY'S DAUGHTER RILEY KEOUGH SECRETLY WELCOMED A BABY GIRL
 

 
 

 
 
View this post on Instagram
 

 
 
 

 
 

 
 
 

 
 
Ferguson was one of many who remembered the late star following her death. She took to social media and shared a heartfelt photo of the two women embracing.
"I say hello to you everyday and I love you my sissy and I will continue to say hello to you everyday," Ferguson captioned the post. "You were my sissy, an amazing mother to Ben, Riley, Harper and Finley and a superbly loving daughter to Priscilla. You have been my devoted friend for many years and I am here for your family to support and love them."
"I am deeply saddened my sissy, you are in my heart," Ferguson added.
Ferguson previously shared the same photo in support of her friend after Benjamin passed away.
"You stayed with me in my darkest moment and I am here in Yours," Ferguson captioned that post. "Love you my sister Lisa Marie .. wherever, whatever I am with you, in all steadfastness."
LISA MARIE PRESLEY'S LIFE GROWING UP WITH ELVIS AND PRISCILLA IN HER OWN WORDS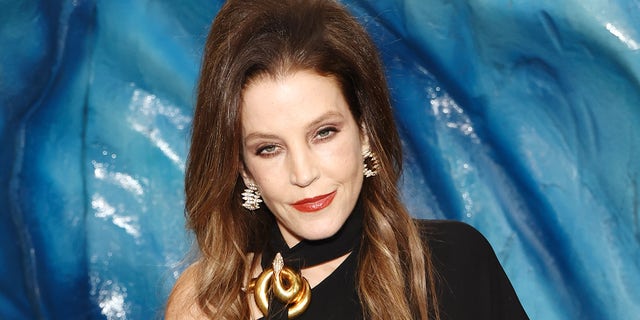 Lisa Marie Presley's last public appearance was at the Golden Globes on Jan. 10.
(Joe Scarnici / File)
"Dearest Lisa Marie, Finley, Harper and Riley," she continued. "You have a family here and I love my sissy .. love you to your heart and will never stop loving my sissy."
Lisa Marie is being laid to rest at Graceland next to her son.
If you or someone you know is having thoughts of suicide, please contact the National Suicide Prevention Lifeline at 1-800-273-TALK (8255).
The Associated Press contributed to this report.