Christopher Lloyd and Michael J. Fox are arguably two of the most memorable on-screen duos.
Fox, who joined "Back to the Future" after it was virtually already filmed with a different lead character, revealed that it took a little bit of time getting close to Lloyd despite the chemistry they presented as Marty McFly and Doc Brown in the movie franchise. But, it was worth the wait.
"Chris is a great guy. He's very enigmatic," Fox told Variety Studio at the Sundance Film Festival where he debuted his documentary, "Still: A Michael J. Fox Story."
"It took me a few films to get to know him. On 'Back to the Future Part III' we connected in a way we hadn't on the other films. I came to see how much he loved acting. I never got that before."
'BACK TO THE FUTURE' STARS CHRISTOPHER LLOYD AND MICHAEL J. FOX REUNITE AT NEW YORK COMIC CON PANEL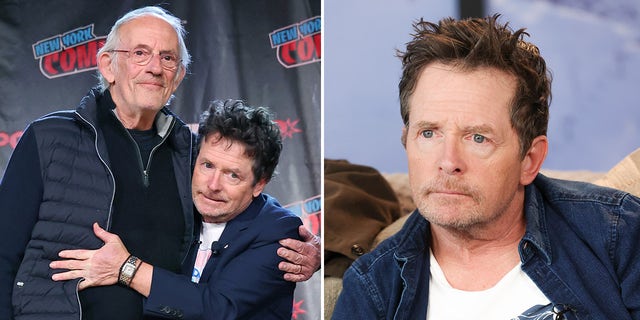 Michael J. Fox talks about his deep friendship with Christopher Lloyd.
(Getty Images)
Fox added, "To sit down and talk about acting and talk about Shakespeare and 'King Lear' … This guy can play King Lear! People don't expect that of him. He's full of surprises."
The actors first worked together on the 1985 hit sci-fi flick directed by Robert Zemeckis, a time traveling tale which has since earned the title as one of the greatest films ever made with two sequels, a musical, theme park rides and more in its multi-million dollar franchise.
MICHAEL J. FOX ACCEPTS HONORARY OSCAR AWARD FOR PARKINSON'S DISEASE ADVOCACY AND RESEARCH
"He can tell a movie's worth of story in two seconds, and you get it. Us regular actors have to lay out hours and hours to get the information out," Fox continued boasting about Lloyd. "Chris is brilliant at it. His love of film and his love of being an actor."
The "Spin City" star added, "He's not just a crazy guy, he's an artist."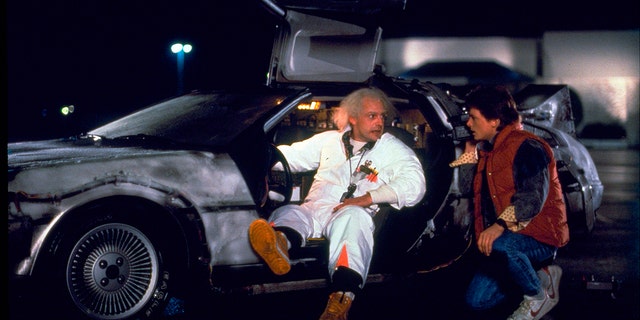 Christopher Lloyd starred as Doc Brown and Michael J. Fox played Marty McFly in the franchise
(Universal Pictures Home Entertainment)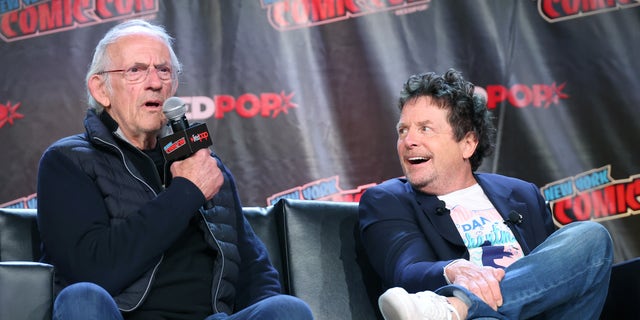 Christopher Lloyd recalled how he wasn't even supposed to work with Michael J. Fox on "Back to the Future."
(Mike Coppola)
Fox initially wasn't even supposed to be part of the movie, and joined the production only after Zemeckis had filmed with Eric Stoltz. The director wasn't sold on Stoltz and replaced him with Fox, who became known for his leading role as Marty McFly.
"Back to the Future," which also starred Lea Thompson, Crispin Glover and Claudia Wells was made on a $19 million budget and has earned nearly $400 million at the box office.
The film received an Academy Award for best sound effects editing, and three additional nominations, including the best original song for "The Power of Love" by Huey Lewis and The News.
Zemeckis also followed up with two sequels in 1989 and 1990.
CLICK HERE TO SIGN UP FOR THE ENTERTAINMENT NEWSLETTER
Both Lloyd and Fox continued starring in films and television shows after the success of the movie, but Michael revealed he retired from the business in his 2020 memoir "No Time Like the Future" due to the progression of his Parkinson's disease diagnosis.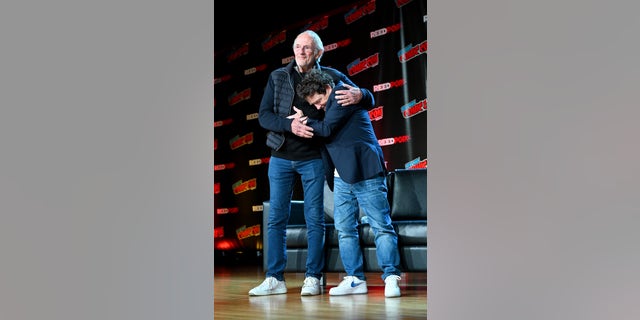 Christopher Lloyd and Michael J. Fox hug onstage at the "Back to the Future" reunion. 
(Bryan Bedder)
Fox was on hand in Park City, Utah, Friday for the world premiere of his documentary, which details his life, career and focus as an advocate for Parkinson's research following his own diagnosis.
He received a standing ovation after the film, and during a question and answer session, was praised for raising $2 billion to benefit research for the disorder that affects the nervous system.
"That number, as impressive as it is, kind of in a way pisses me off, because I thought that we'd be done with it by now," Fox said. "But science is hard."
He stayed optimistic, though, and said the progress has been measurable and there's hope for Parkinson's prevention in the future.
"People say, 'But that will be after your time, are you OK with that?'" Fox asked himself and then answered his own question.
"Sh– yeah," he said. "That would be great. Just get it done. I don't care if I'm on the bus."
CLICK HERE TO GET THE FOX NEWS APP