District Attorney Fani Willis filed a motion Tuesday afternoon asking the Fulton County, Georgia, judge presiding over the case against former President Donald Trump and 18 others to expedite the trial.
All 19 defendants – Trump, former White House chief of staff Mark Meadows, his former attorneys Rudy Giuliani, Sidney Powell, Jenna Ellis, Kenneth Chesebro, and others – are being tried together on charges related to Georgia's Racketeer Influenced and Corrupt Organizations (RICO) Act.
Willis' motion asks that the defendants be given a deadline to be able to sever themselves from the larger case.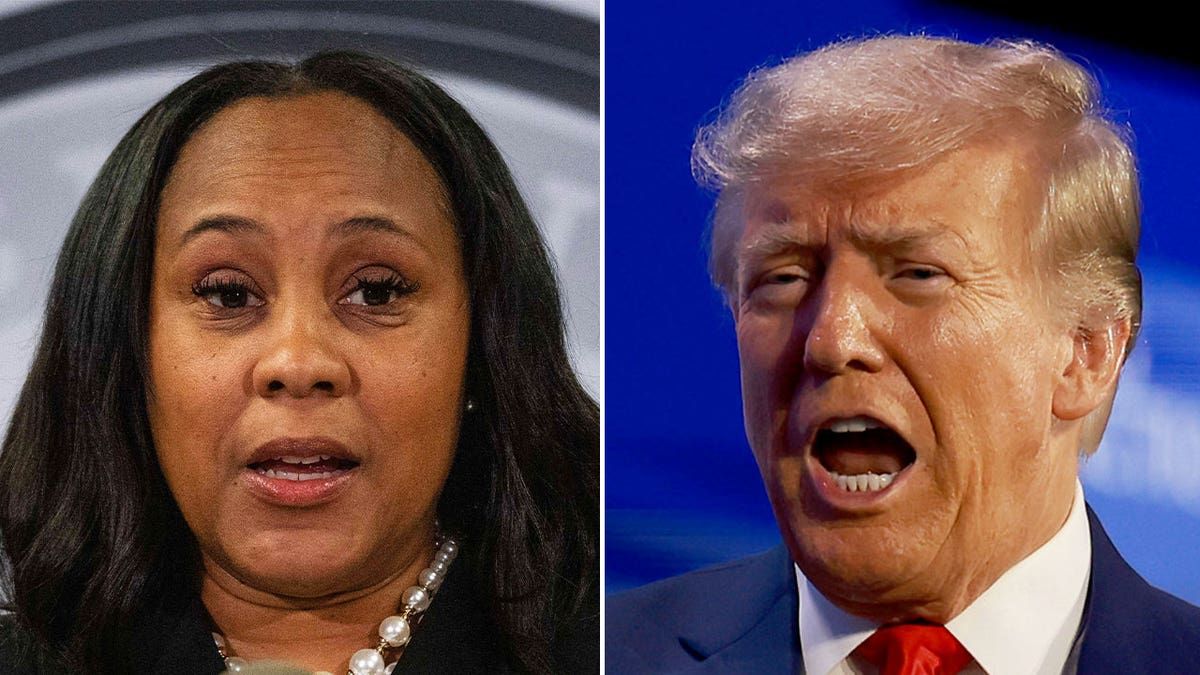 Fani Willis and Donald Trump (Getty Images)
GEORGIA INDICTMENT: FIRST TRUMP CO-DEFENDANT PLEADS 'NOT GUILTY'
"The State of Georgia further respectfully requests that the Court set a deadline for any Defendant wishing to file a motion to sever, allow the parties, including the State of Georgia, sufficient time to brief the severance issue, and hold a hearing on any filed motion to sever so that the Court may consider the factors set forth in Cain and its progeny, as required by Georgia law," the motion states.
Willis' motion Tuesday came after Chesebro requested a speedy trial, and Judge Scott McAfee set his trial date for Oct. 23. Powell asked for a speedy trial shortly after, prompting Willis' response.
"The State maintains its position that severance is improper at this juncture and that all Defendants should be tried together, but at an absolute minimum, the Court should set Defendant Powell's trial and that of any other defendant who may file a speedy trial demand on the same date as Defendant Chesebro's," the motion states.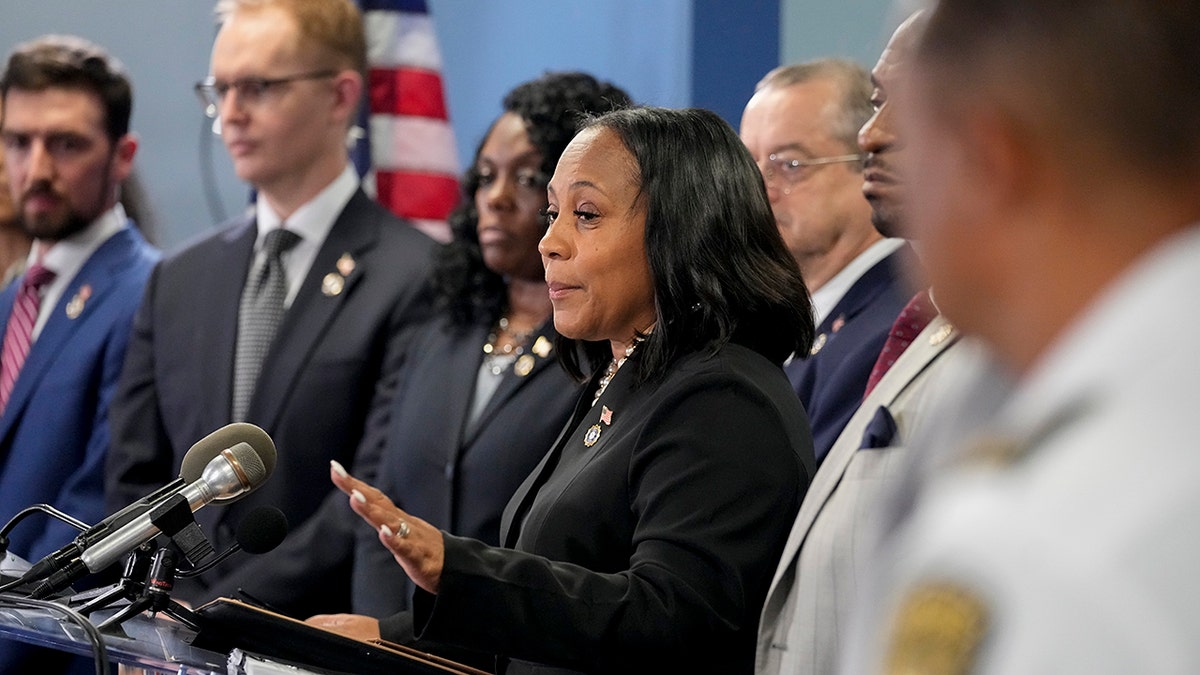 Fulton County District Attorney Fani Willis, center, speaks in the Fulton County Government Center during a news conference, Monday, Aug. 14, 2023, in Atlanta.  (AP Photo/John Bazemore)
All 19 defendants surrendered to the Fulton County Jail and were booked ahead of deadline last week.
In addition to alleged RICO violations, the charges include Solicitation of Violation of Oath by a Public Officer; Conspiracy to Commit Impersonating a Public Officer; Conspiracy to Commit Forgery in the First Degree; Conspiracy to Commit False Statements and Writings; Conspiracy to Commit Filing False Documents; Conspiracy to Commit Forgery in the First Degree; Filing False Documents; and Solicitation of Violation of Oath by a Public Officer.
Not everyone faces the same charges.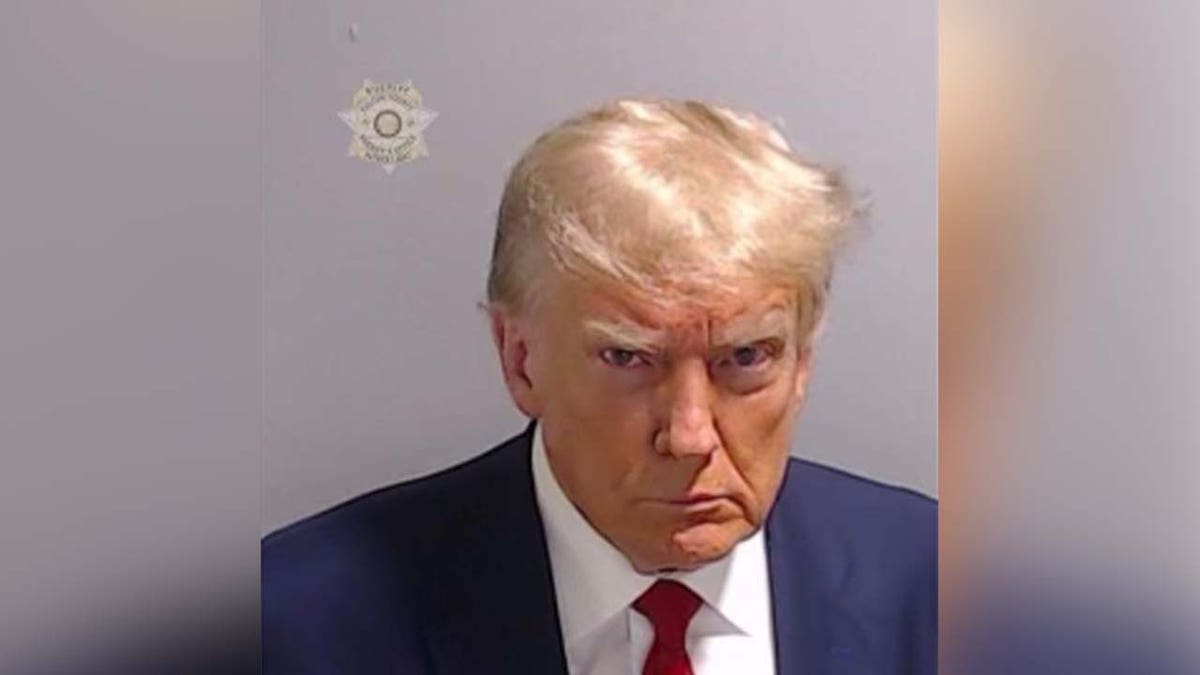 Former President Donald Trump's mugshot. (Fulton County Sheriff's Office)
The former president, specifically, was charged in Fulton County with 13 counts: One count of violation of the Georgia RICO Act, three counts of criminal solicitation, six counts of criminal conspiracy, one count of filing false documents and two counts of making false statements.
McAfee set bond for the former president, and current 2024 GOP presidential frontrunner, at $200,000.
CLICK HERE TO GET THE FOX NEWS APP
It's the fourth criminal case against Trump since March.
Fox News' Chris Pandolfo, Brooke Singman and Claudia Kelly-Bazan contributed to this report.