close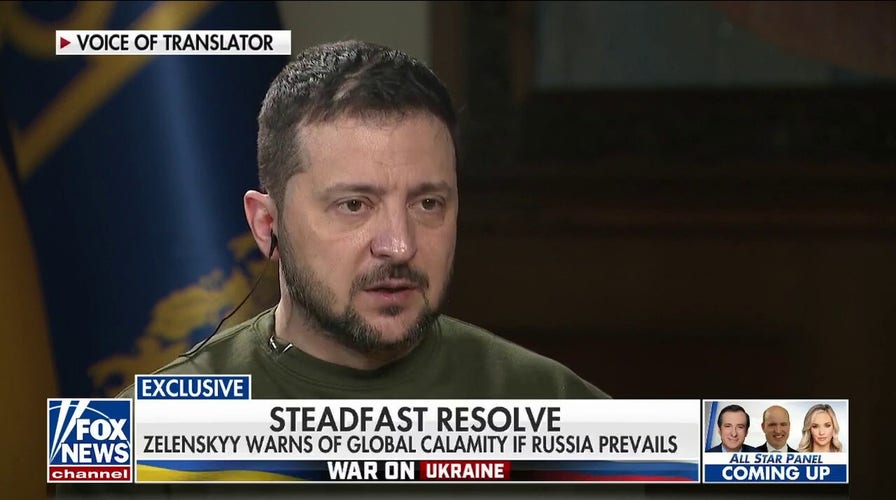 Video
Zelenskyy: If Ukraine falls, it would be the start of World War 3
Ukrainian President Zelenskyy sits down with Fox News correspondent Trey Yingst to discuss the war on 'Special Report.'
Ukrainian President Volodymyr Zelenskyy descended upon the United Kingdom Wednesday and urged lawmakers to send warplanes to Ukraine ahead of his visit with King Charles III.
"Today I will have the honor to be received by His Majesty the King," Zelenskyy said while addressing both Houses of Parliament and U.K. Prime Minster Rishi Sunak. "It will be a truly special moment for me, for our country.
"In Britain, the king is an air force pilot. And in Ukraine today every air force pilot is a king," he said to wide applause from members of Parliament.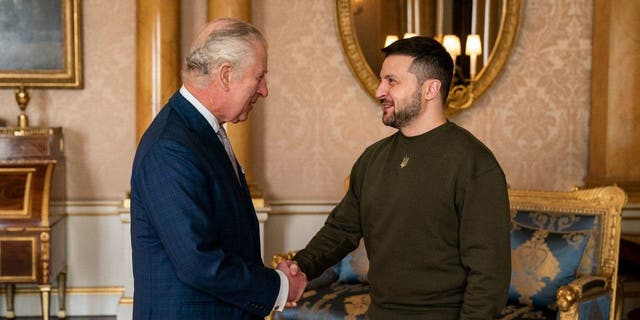 King Charles III meets with Ukrainian President Volodymyr Zelenskyy at Buckingham Palace, London, on Wednesday Feb. 8, 2023. (Aaron Chown/Pool via AP)
RUSSIA'S PUTIN LIKELY SIGNED OFF ON MISSILE SUPPLY IN MALAYSIA AIRLINES SHOOT-DOWN, INVESTIGATORS SAY
Zelenskyy has repeatedly called for fighter jets since the war took off nearly one year ago, but he has renewed his efforts for increased air defense as a major Russian offensive looms.
Western nations, including the U.S., have repeatedly said they will not send warplanes to Ukraine over concerns it could escalate the war. But many have questioned whether Washington and its NATO allies will modify their line of reasoning after the U.S. and Germany reversed their positions on sending tanks to Ukraine last month.
The U.K. at least appears to be changing its tune when it comes to sending jets to Ukraine.
Following Zelenskyy's address Sunak, who had previously rejected calls to send Kyiv jets, called on his defense secretary, Ben Wallace, to investigate what warplanes the U.K. could provide to Ukraine, reported the Press Association.
Though Sunak reportedly called it a "long-term solution" – suggesting U.K. jets would likely not make it into the hands of Ukrainian fighter pilots in the near future.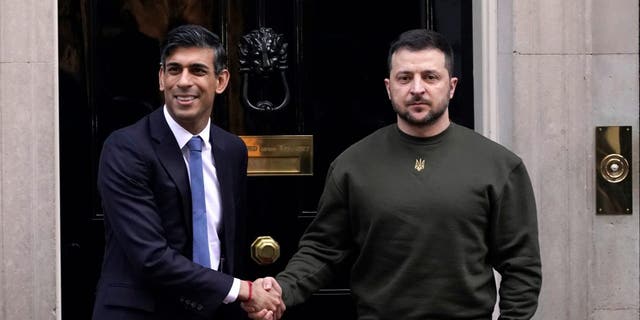 Prime Minister Rishi Sunak welcomes Ukraine's President Volodymyr Zelenskyy to 10 Downing Street in London, Wednesday, Feb. 8, 2023. (AP Photo/Alberto Pezzali)
ZELENSKYY VISITING UK FOR FIRST TIME SINCE RUSSIA INVADED IN 2022
Sunak also announced earlier Wednesday that the U.K. would train Ukrainian pilots on NATO jets – a traineeship that will likely prove relatively seamless as Ukrainian pilots have already been trained on fourth-generation fighter jets by U.S. pilots.
Zelenskyy presented Commons Speaker Sir Lindsay Hoyle with a Ukrainian fighter pilot helmet that bore the inscription: "We have freedom, give us wings to protect it."
"I appeal to you and the world with simple and yet most important words: combat aircraft for Ukraine, wings for freedom," Zelenskyy urged.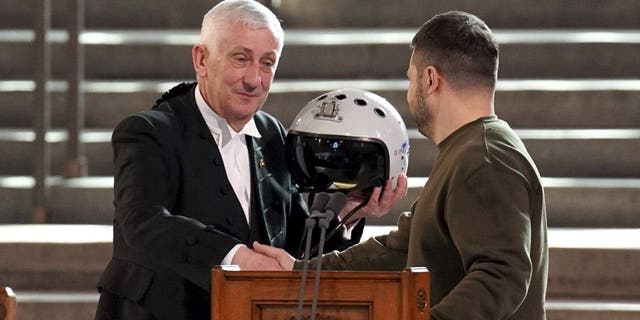 Sir Lindsay Hoyle holds the helmet inscribed with the words "We have freedom, give us wings to protect it," which was presented to him by President Volodymyr Zelenskyy in London on Wednesday Feb. 8, 2023. (Stefan Rousseau/pool photo via AP)
Sunak's calls to look into sending Ukraine fighter jet comes just weeks after the U.K. became one of the first nations to say it would send tanks to Ukraine amid debate among NATO nations.
Nations like France and Poland have also said they would be willing to send fighter jets to Ukraine.
Director of The Heritage Foundation's Margaret Thatcher Center for Freedom, Nile Gardiner, said Zelenskyy's visit to the U.K. carries "tremendous significance."
CLICK HERE TO GET THE FOX NEWS APP
"It's a reflection of the fact that the U.K. is the biggest supporter of Ukraine in Europe today," he told Fox News Digital. "Meeting with King Charles especially carries a great significance, and I think sends a very clear message to the people of Ukraine that the British people are standing shoulder to shoulder with Ukrainians.
"But more importantly, sends a message to Putin that Britain will stand up to Russian aggression," he added.
Fox News' Ashley Papa contributed to this report.
Caitlin McFall is a Reporter at Fox News Digital covering Politics, U.S. and World news.