close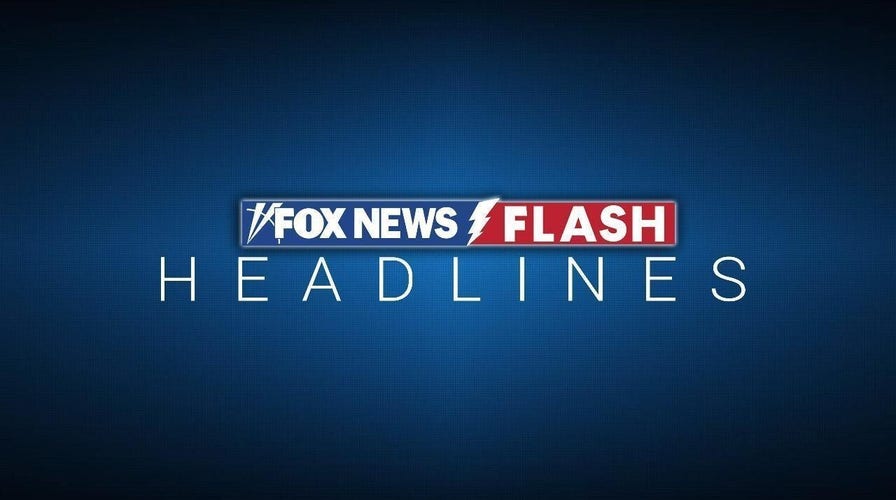 Video
Fox News Flash top headlines for February 8
Fox News Flash top headlines are here. Check out what's clicking on Foxnews.com.
The search for missing mother Nicola Bulley has taken a desperate turn as the specialist dive team ends its involvement after two exhaustive days and some speculate that she did not, in fact, fall into the river.
Peter Faulding, who led the search in the River Wyre in Lancashire, England, said his team had done all it could and would pull out of the search Wednesday. The team used sonar equipment to search roughly three miles of the river but found nothing.
"Wherever she is, I hope closure comes soon," Faulding told reporters. "All the family are clearly distraught."
Bulley, 45, vanished on Jan. 27 after dropping her children off at school. She was last seen walking her springer spaniel on a path by the river, but her cellphone was found on a nearby bench still connected to a work conference call and her dog was found between the bench and the river.
19 YEARS LATER, WHAT HAPPENED TO MISSING NEW HAMPSHIRE WOMAN MAURA MURRAY?
Leanne Grace, a close friend of Bulley who now lives in Australia, begged police and the public to consider other angles as she insisted there was "no evidence" to back up the theory that Bulley fell into the river.
"Despite the police hypothesis that Nicola may have fallen into the water, please be aware that there is no evidence to back this up," Grace wrote on Facebook. "There are still other avenues that have not yet been explored."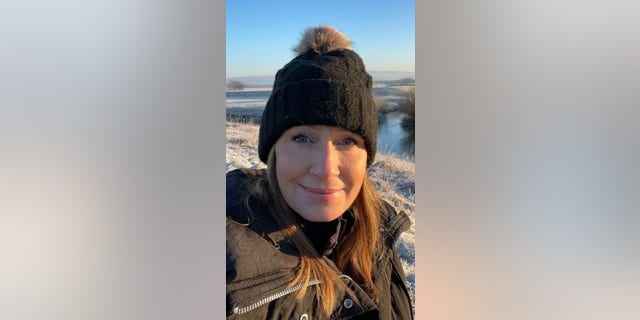 Nicola Bulley has not been seen since vanishing during a walk along the River Wyre. (Lancashire Police)
"If anyone has any information please contact the police immediately," she continued. "No matter how small or insignificant you may think it is. Nikki has to be out there. Please help to get her home to her family. We love you Nik."

next
Image 1 of 4

Police at the River Wyre in St. Michael's on Wyre, Lancashire, search on Feb. 7, 2023, for Nicola Bulley, 45, who was last seen on the morning of Jan. 27. (Peter Byrne/PA Images via Getty Images)


prev

next
Image 2 of 4

Workers from a private underwater search and recovery company, Specialist Group International, use sonar to search for Nicola Bulley on Feb. 7, 2023. (Peter Byrne/PA Images via Getty Images)


prev

next
Image 3 of 4

Workers from Specialist Group International use a 18kHz side-scan sonar on the River Wyre in Lancashire on Feb. 6, 2023. (Peter Byrne/PA Images via Getty Images)


prev
Image 4 of 4

Crews search the River Wyre for Nicola Bulley on Feb. 6, 2023. (Reuters/Phil Noble)
Faulding echoed Grace's sentiment, telling reporters that his "gut instinct" was that Bulley did not fall into the river.
ELDERLY FLORIDA LYFT DRIVER, PREVIOUSLY REPORTED MISSING, CONFIRMED DEAD
"I personally don't think she's in the river, that's just my gut instinct at this point," Faulding told TalkTV on Monday. "After 25 years of doing this kind of work, after hundreds of cases, I am well and truly baffled."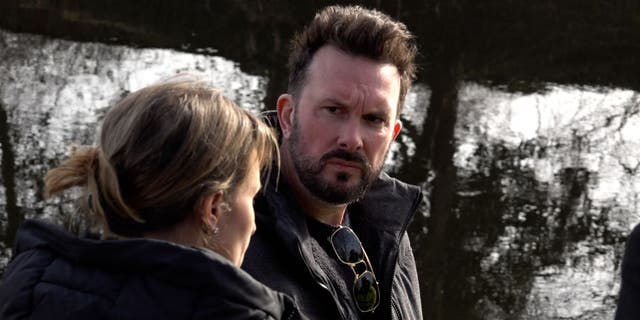 Screen grab taken from PA Video of Paul Ansell, the partner of missing mother-of-two Nicola Bulley, visiting the River Wyre in Lancashire on Feb. 8, 2023. (PA Video/PA Images via Getty Images)
"When people drown they generally go down where they are. We normally find them within five to 10 meters of where they went down even after a few days," he explained.
"This is the most baffling case that I have ever worked on. The police have nothing to go on."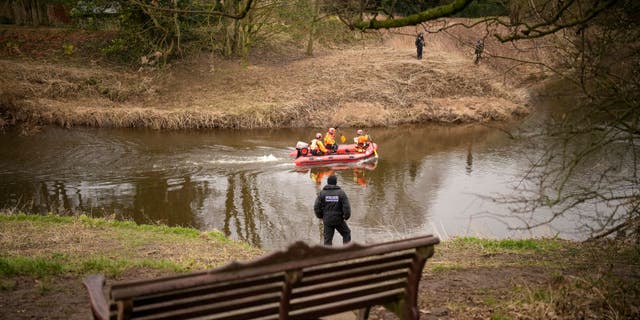 A search dog from Lancashire Police and a crew from Lancashire Fire and Rescue service search the River Wyre on Feb. 1, 2023, in Preston United Kingdom. (Christopher Furlong/Getty Images)
Having failed to find her after two days, Faulding said he believed a third party was responsible for the disappearance and that her phone was left as a "decoy," The Times UK reported.
MOM ACCUSED OF KIDNAPPING MISSING MISSOURI KIDS FOUND AT FLORIDA SUPERMARKET PLEADS NOT GUILTY
Police have expanded their inquiry after confirming via closed-circuit television (CCTV) that Bulley did not leave the field near the river, The Sun reported. Officers have asked any drivers or bikers with dashcam footage to share it, as the field itself sits within a CCTV blind spot.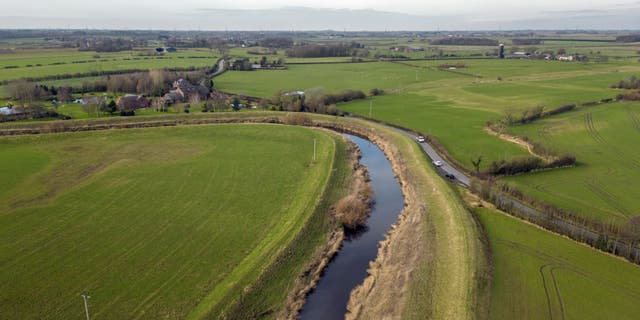 Workers from Specialist Group International assist in the search along the River Wyre on Feb. 6, 2023. (Danny Lawson/PA Images via Getty Images)
A friend of the family wrote online that the use of CCTV was why the police had never suspected Bulley's husband in the case, The Telegraph reported.
Lancashire Police Superintendent Sally Riley told reporters that police have identified around 700 vehicles that drove through the area on the day around the time Bulley disappeared.
"We are in the process of speaking to all of those drivers to try and find out if they have any dashcam footage, what they saw on that day or anything else that may be of value to the police inquiry," Riley said.
CLICK HERE TO GET THE FOX NEWS APP
The area in which Bulley disappeared has been described by locals as "notoriously dangerous," with the St. Michael's Angling Association telling The Times that "the combination of the depth and how cold it is as this time of year makes it very dangerous."
"I certainly would not want to fall in there, and I'm a very strong swimmer," a representative from the group said, with another local adding that the banks are "very slippery."
Fox News Digital's Ian Leonard contributed to this report.
Peter Aitken is a Fox News Digital reporter with a focus on national and global news.