close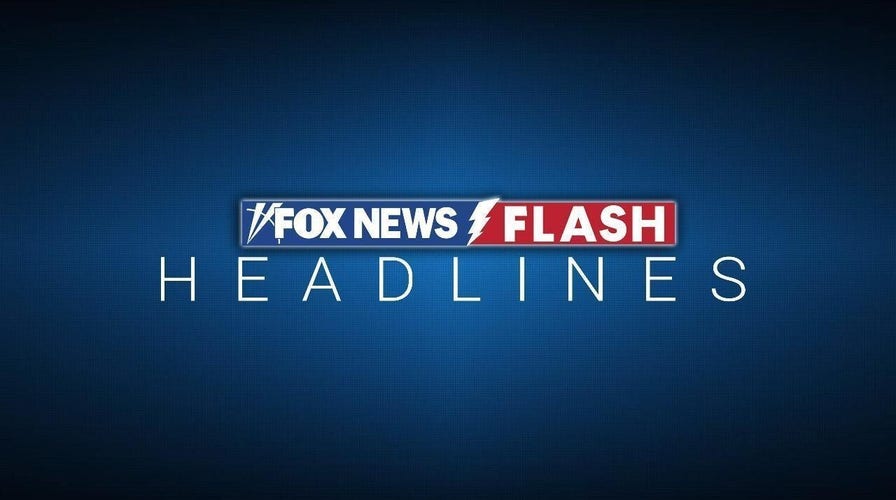 Video
Fox News Flash top headlines for February 8
Fox News Flash top headlines are here. Check out what's clicking on Foxnews.com.
A Belarusian court on Wednesday sentenced a journalist and prominent member of the country's sizable Polish minority to eight years in prison, amid an ongoing crackdown on critics of authoritarian President Alexander Lukashenko's regime.
Andrzej Poczobut, 49, was found guilty of harming Belarus' national security and "inciting discord" in a closed trial held in the western city of Grodno. Poczobut, a journalist for the influential Polish newspaper Gazeta Wyborcza and a top figure in the Union of Poles in Belarus, has been behind bars since his detention in March 2021.
He reported extensively on the mass protests that gripped Belarus for weeks in 2020 following a presidential election that gave Lukashenko, in power since 1994, a new term in office, but that was widely regarded by the opposition and Western countries as fraudulent.
The indictment against Poczobut referenced his coverage of the protests, along with his statements in defense of ethnic Poles in Belarus and reference to the 1939 Soviet invasion of Poland as an act of "aggression," as evidence that he was guilty of the charges.
Polish Prime Minister Mateusz Morawiecki in a Tweet Wednesday condemned the "inhumane decision by the Belarusian regime" and vowed to "do everything to help the Polish journalist bravely fighting for the truth."
TRIAL OPENS FOR POLISH JOURNALIST IN BELARUS CHARGED WITH HARMING NATIONAL SECURITY, INCITING DISCORD
A spokesman for Poland's foreign ministry tweeted that Poczobut is "a Polish and Belarusian patriot."
While no independent journalists or Western diplomats were allowed in the courtroom Wednesday, official court photos showed Poczobut with dark circles under his eyes, and suggested that he has lost significant weight while in custody.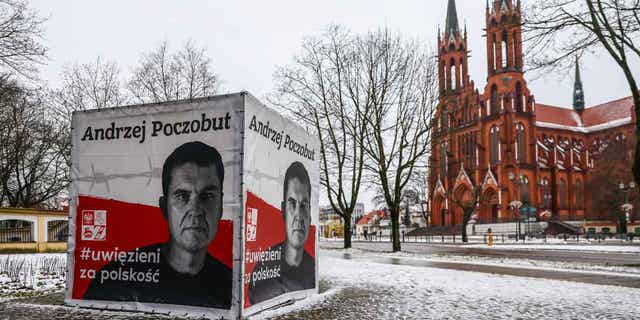 A banner with a picture of Belarusian-Polish journalist Andrzej Poczobut is seen in the center of Bialystok, Poland, on Jan. 21, 2023. Poczobut was sentenced to eight years in prison for "inciting discord" and harming the country's national security. (Beata Zawrzel/NurPhoto via Getty Photos)
The journalist stayed in Belarus through the massive crackdown the authorities launched in response to the protests, which saw over 35,000 people arrested, thousands beaten by police, and tens of thousands more fleeing abroad.
According to prominent Belarusian rights group Viasna, Poczobut refused to sign a petition to be pardoned by Lukashenko following his arrest. Poczobut's relatives said he was forbidden family visits throughout his detention, and has been unable to receive letters from his 12-year-old son.
5 JOURNALISTS FROM BELARUS' TOP INDEPENDENT NEWS OUTLET ON TRIAL IN COUNTRY'S CAPITAL
Belarusian opposition leader Sviatlana Tsikhanouskaya in a Twitter post Wednesday described the verdict against Poczobut as Lukashenko's "personal revenge."
"Andrzej refused any deals with the unlawful regime. Now we must do everything possible to free him along with all other political hostages," she wrote.
Viasna, the rights group, has included Poczobut in its list of 1,449 political prisoners held by Minsk.
CLICK HERE TO GET THE FOX NEWS APP
The Belarusian Association of Journalists (BAJ) issued a statement Wednesday demanding Poczobut's immediate release.
"There is a crackdown on any dissent in Belarus, and the verdict against Poczobut confirms that the authorities do not intend to stop the (cycle) of repression," BAJ leader Andrei Bastunets was cited as saying.