close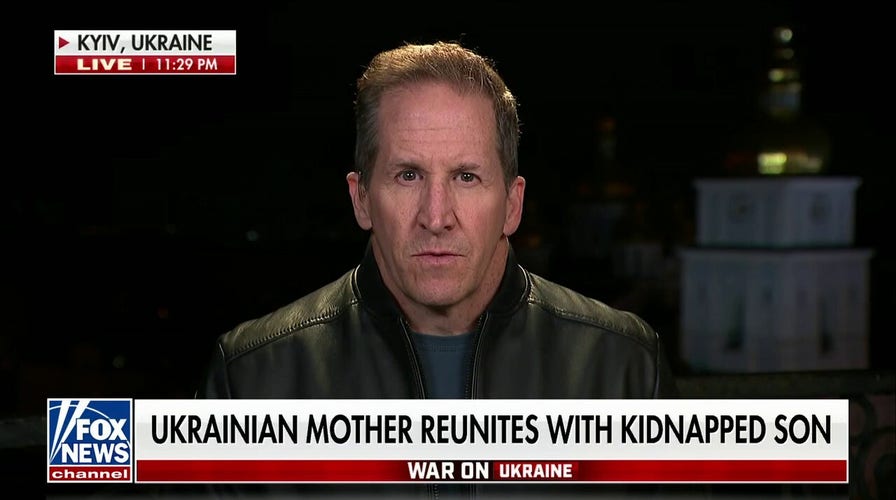 Video
Ukrainian child escapes Russia re-education camp, reunites with family
Fox News' Mike Tobin reports on the fight to protect Ukrainian children from Russia's war on the eastern European nation on 'Fox News Live.'
KYIV, Ukraine – Inna's town just outside Kherson, Ukraine, had been living under occupation in early October 2022. The war had come to her family, and she thought she'd found a way to get one of her children away from the danger of constant shelling for a short time.
The director of her local school showed her videos and pictures of a camp; it featured friends of her son Vitaly laughing and enjoying group activities. It was far, in occupied Crimea, but there was no time to think. She thought it would only be three weeks, and then he would be home.
But Vitaly did not return home. Rather, like thousands of other Ukrainian families, he'd been tricked into what the International Criminal Court (ICC) described as a "war crime," part of President Vladimir Putin's grand vision to erase the Ukrainian identity by forcibly removing children in the newly occupied territories into Russia. Or, in Inna's case, hoodwinked into sending their children to "safe" locations, but really giving control of them to the Russians.
"They were told this camp was closing and, have to move to another camp. Son called crying, saying, 'Tomorrow we will move to a new camp. We heard it's not a camp but a concentration camp and its behind barbed wire,'" Inna said through a translator.
INSIDER WITH PUTIN'S SECRETIVE SECURITY SERVICE DEFECTS FROM RUSSIA, BLASTS FORMER BOSS AS 'WAR CRIMINAL'
In an interview with Fox News, Inna and Vitaly – whose first names are being used to protect their identities – told of their nightmare six-month rescue mission from a Russian prison camp back to his homeland facilitated by the efforts of Save Ukraine, a non-profit focused on rescuing more than 16,000 children, according to the Ukrainian government and a United Nations report.
Inna, a Ukrainian mother, tells Fox News about how she was able to get her son, Vitaly, back from a Russian concentration camp with the help of an organization called Save Ukraine. (Fox News)
A NEW TYPE OF CAMP
When the first camp closed on Oct. 21, Vitaly thought he would be on his way home, but officials said they were moving to another camp in the city of Yevpatoriya. However, the name of the camp, "Friendship," could not have been further from the truth.
The camp was surrounded by barbed wire, small rooms without any beds and dirty bedsheets, half-cooked food. It was not a temporary stay. On their first day, they were given notebooks and taken to a classroom where teachers fed them Russian propaganda.
"The guard said to us, 'This is Russia, you are children of Russia, your parents don't want you anymore, and your mom called me and told me no one needs you, that she left to Poland, and that she signed documents and deserted me,'" Vitaly recalled.
RUSSIA WARNS NATO AS BELARUS SEES NUCLEAR UPGRADE ON PLANES, MISSILES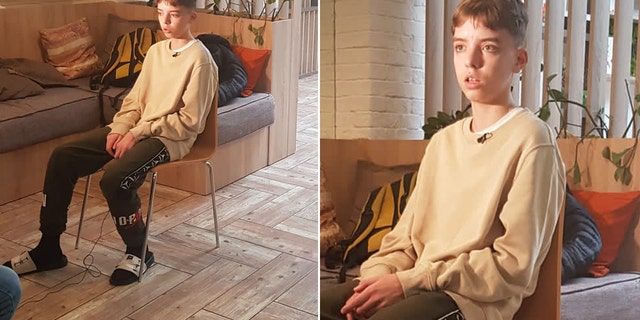 Vitaly, a Ukrainian boy, tells Fox News in an interview about how he was sent to a Russian prison camp. (Dane Kenny )
Vitaly managed to text his mother about what was happening. She immediately went to the director, who'd suggested sending him there in the first place. The director promptly told her that the children were lying. In the ensuing months, Inna was bogged down in bureaucracy and paperwork. When she tried to reach the director of the second camp, they accused her of trying to "steal a child."
Inna had exhausted all options until her son found a link to Save Ukraine and suggested they call the hotline. Inna was hopeful for success; the organization had a track record of penetrating behind enemy lines and covertly bringing back children. It's a dangerous and expensive mission where each operation involves traveling thousands of miles.
"We deal with the parents who really want to return their children back. It is not wealthy parents. It's very poor families. And they never be able to go there themselves. That's why we have to help them," Save Ukraine CEO Mykola Kuleba said.
Once back into control of Ukrainian territories, the organization has provided children with trauma therapy and safe houses. Kuleba was adamant that these weren't just crimes, but genocide.
INSIDE THE MASSIVE OPERATION TO TRAIN THOUSANDS OF UKRAINE TROOPS AHEAD OF SPRING COUNTEROFFENSIVE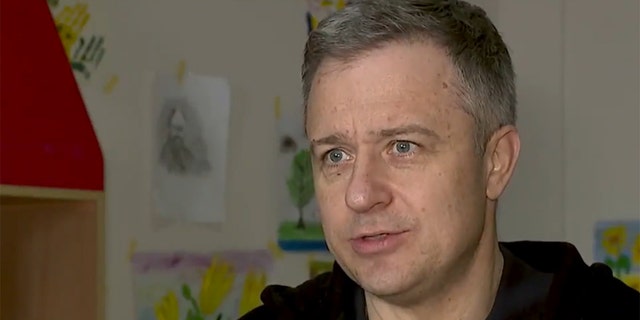 Save Ukraine CEO Mykola Kuleba tells Fox News about his organization and how tit works to return Ukrainian children from Crimea and Russia to their homes to be with their families.  (Fox News)
"They tell me, Mykola, it is maybe not genocide because no concentration camps, nobody killed, not so huge number of children. But they brainwash them, they indoctrinate them, they Russify them."
A LARGER PLAN
The camps and movement are not the result of some individuals, but rather, part of a larger plan sanctioned by the Russian government. In May 2022, Putin signed a law making it easier for Russian families to adopt Ukrainian children without needing parental consent.
Maria Lvova-Belova, the commissioner for children's rights in the Office of the President of the Russian Federation, is also at the center of the ICC investigation. She's spearheaded and defended the children's movements, even herself adopting a child from Mariupol.
"We live in the age of information technologies where any action is immediately shared online. All the children have phones. But I haven't seen a single video so far, showing camps where anyone had been mistreated or indoctrinated," she said in a news conference Tuesday.
UKRAINIAN BOXER WLADIMIR KLITSCHKO, BROTHER OF KYIV MAYOR, RIPS IOC FOR ALLOWING RUSSIANS TO COMPETE
Vitaly's and other children's experiences haven't matched up. He told Fox News the staff treated them as prisoners.
"The guard told us there will be no Ukraine, everything will be Russia, telling us that we are stupid, we are Hohly (bad nickname of Ukrainians) cursing us," Vitaly remembered. "He was crazy. He locked us in the basement, we stayed there for four hours, only had some water."
Vitaly told Fox News of one girl who had been beaten by a guard for saying "Slava Ukraini," a rallying cry for Ukrainian armed forces. He said a teacher had sexually abused another girl in the camp and threatened to kill her if she ever were to tell anyone.
"When we didn't go to the morning exercise, [the guard] came to our room and said, 'You want to go to the army? You will be there for half a year, and you will be sent to the war, fight for your motherland.' We said, 'Our motherland is Ukraine.' He said, 'Your motherland is Russia.'"
FINLAND JOINS NATO IN MAJOR SETBACK TO RUSSIA
RETURNING HOME
Once Inna made contact with Save Ukraine, she was told they had to evacuate her occupied town in order to reunite with her son. She took her other five children and moved to Kyiv.
She provided documents, phone records and information that she had received from people she had heard of. With all of that done, the organization hatched a plan, having another person drive directly to the camp and take him away. It took five days and hundreds of miles of driving, but after five months of separation, a tearful mother and son were reunited in late February. Inna was still emotional recounting the moment.
"They said, 'Well, dear mother, your son is in Ukraine.' Then I understood, that's it, all the worst is over," she tearfully told Fox News.
CLICK HERE TO GET THE FOX NEWS APP
But reconciliations have been rare. As of mid-March, only a little more than 300 children had been rescued and returned to Ukraine through secret rescues or government negotiations. Mykola said some are likely never to return, brainwashed by the Russian propaganda.
"One child whom we rescued maybe one week ago, and he's 14 years old, and his sister 18 years old: We took the sister to him, but Russians placed him to a foster family for two weeks. And after this, when his sister reached him, she told him, 'I don't want to go back to Ukraine. I want to stay here because Ukrainians will kill me.' 'Who told you about this?' 'My family. My parents told me about this, and they told me that government, Russian government, [cares for] me. They will help me with the flat. When they'll grow, I will receive the status of orphan and after that, they will adopt me and the government will give me money.'"
Michael Tobin joined FOX News Channel (FNC) in 2001 and currently serves as a Chicago-based correspondent.