Virginia Gov. Glenn Youngkin released a new video Tuesday morning declaring that Virginia's land belongs to Virginians, not the Chinese Communist Party (CCP), after he recently rejected an effort by Ford Motor Co. to build a plant partnered with a Chinese battery maker in the state.
"Made in Virginia cannot be a front for the Chinese Communist Party," Youngkin says in the video. "Virginians, not the CCP, should own the rich and vibrant agricultural lands God has blessed us with."
"That is why I'm asking this General Assembly to send me a bill to prohibit dangerous foreign entities tied to the CCP from purchasing Virginia's farmland. Friends, that's common sense," he says in the video.
Youngkin made similar statements during his State of the Commonwealth speech to the General Assembly earlier this month, when he touted banning the Chinese-owned companies WeChat and TikTok from state-owned devices.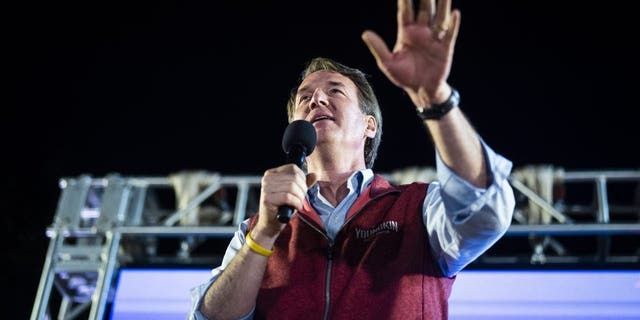 Virginia Gov. Glenn Youngkin, speaks during a rally at Ballyhoos restaurant one day before the midterm elections on Monday, Nov. 7, 2022, in Virginia Beach, VA.
(Photo by Jabin Botsford/The Washington Post via Getty Images)
REPUBLICANS SOUND ALARM OVER CHINESE GOVERNMENT-LINKED FARMLAND PURCHASE NEAR NORTH DAKOTA AIR BASE
The Daily Caller first reported in December that Ford was considering construction of an electric car battery plant in Virginia in partnership with Chinese company Contemporary Amperex Technology.
Youngkin announced weeks later that he had pulled Virginia from consideration for the plant because of concerns about the CCP's influence. His administration has repeatedly characterized the proposed project as a "front for the Chinese Communist Party."
Tuesday's video comes amid speculation that Youngkin is readying a 2024 presidential run. He has been echoing intensifying calls from Republicans to crack down on Chinese-influence in the U.S.
Florida Republican Gov. Ron DeSantis, another potential 2024 presidential candidate, has also asked state lawmakers to pass legislation banning China from buying farmland and residences in Florida.
"We do not need to have CCP influence in Florida's economy," DeSantis said earlier this month.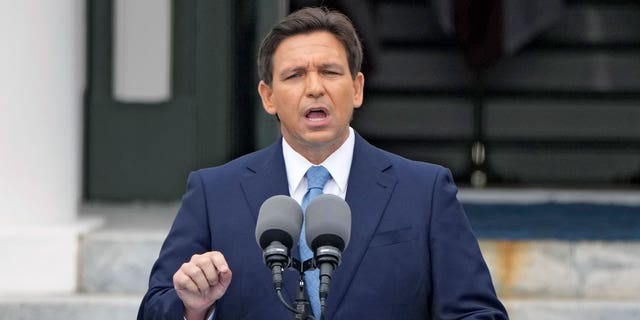 Republican Florida Gov. Ron DeSantis
(AP Photo/Lynne Sladky, File)
CCP-linked land buys in the U.S. have been approved under both the Biden and Trump administrations and have been heavily scrutinized for national security risks.
In 2021, the Texas government nixed a wind energy farm project by Chinese-owned GH America Energy LLC near Del Rio, Texas, which was planned to be built on 130,000 acres only miles away from the Laughlin Air Force Base where pilots are trained.
In September, 51 Republican lawmakers sent a letter to three of President Biden's Cabinet secretaries warning that national security is threatened by CCP-linked Fufeng Group's acquisition of farmland near an Air Force base in North Dakota.
"The presence of a CCP-affiliated corporation near a military installation potentially undermines the integrity of our high-capability military bases, jeopardizing our strategic interests," they warned.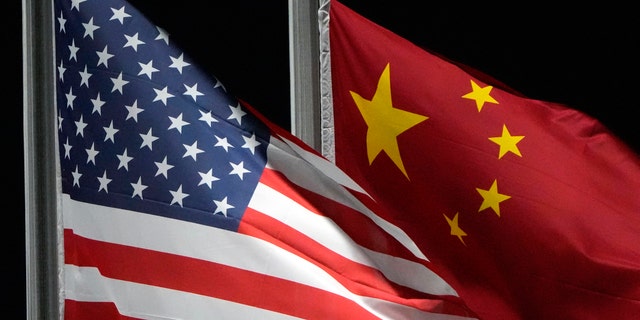 The American and Chinese flags.
((AP Photo/Kiichiro Sato, File))
Sen. Tom Cotton, R-Ark., published an op-ed for Fox News Digital in August, writing that "the Chinese Communist Party has been buying our farms, land and even our homes for decades."
"In recent years, China has exponentially increased its U.S. land holdings, especially of farmland," Cotton wrote. "Between 2010 and 2020, China increased its agricultural land holding by nearly 2,500%, to encompass over 350,000 acres of American soil. Communists have not only purchased the fields and pastures of rural America, they have also taken control of food processing companies like the Virginia-based pork giant, Smithfield."
Cotton and Sen. Tommy Tuberville, R-Ark, introduced a bill last year to ban members of the Chinese Communist Party or those acting on their behalf from purchasing land in the U.S.
CLICK HERE TO GET THE FOX NEWS APP
Fox News Digital's Houston Keene contributed to this report.