EXCLUSIVE: Sen. John Kennedy, R-La., is set to take sharp action to counter the Biden administration's new rule that tightens regulations on pistol stabilizing braces, something he says is the president's latest "assault on the Second Amendment."
The rule, called Factoring Criteria for Firearms with Attached Stabling Braces, took effect Tuesday after it was finalized by the Bureau of Alcohol, Firearms, Tobacco and Explosives (ATF) earlier this month. It will treat any firearms with stabilizing accessories as short-barreled rifles, which require a federal license to own under the National Firearms Act.
According to Kennedy's office, the rule would require gun owners to either register pistols with stabilizing braces with the ATF, turn over those firearms, or face 10 years in jail and up to $10,000 in fines.
Kennedy and Sen. Roger Marshall, R-Kan., plan to introduce a Congressional Review Act resolution in the Senate once Congress is officially notified of the rule. The resolution, if passed with a simple majority, would nullify the Biden administration rule.
CRENSHAW DROPS BIPARTISAN BILL CREATING ATF APPEAL ROUTE FOR GUN INDUSTRY: AGENCY 'HAS TRAMPLED' ON 2A RIGHTS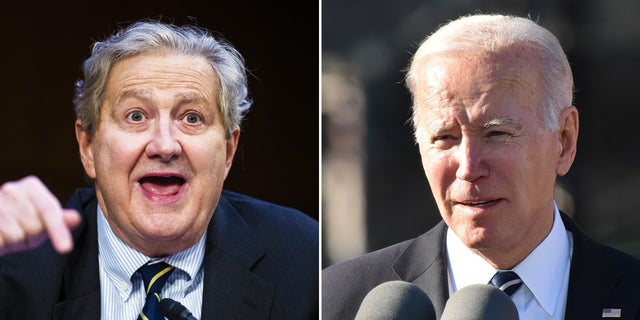 Sen. John Kennedy and President Joe Biden
(Tom Williams/CQ-Roll Call, Inc via Getty Images | Kyle Mazza/SOPA Images/LightRocket via Getty Images)
"Millions of law-abiding Americans use pistol braces, and many of those Americans rely on braces because they are disabled. If Congress doesn't correct the ATF's misguided rule, countless law-abiding gunowners in Louisiana and other states will become criminals in the blink of an eye," Kennedy told Fox News Digital.
"The Biden administration's assault on the Second Amendment isn't going to stop unless we defend this fundamental liberty," he added.
Marshall echoed Kennedy's urgency concerning Second Amendment rights, telling Fox the rule was an "offense" to America's Founding Fathers.
JUDGE BLOCKS NEW JERSEY FROM BANNING GUNS IN MORE 'SENSITIVE LOCATIONS'
"The Biden administration's war on every American's fundamental right to bear arms is relentless and an offense to our founders," Marshall said. "Congress must use every tool at its disposal to stop the Biden ATF from enacting this unconstitutional gun grab and creating its newly proposed anti-2nd Amendment gun registry. The Congressional Review Act is one of those important tools, and I'm pleased to co-lead this effort with Sen. Kennedy."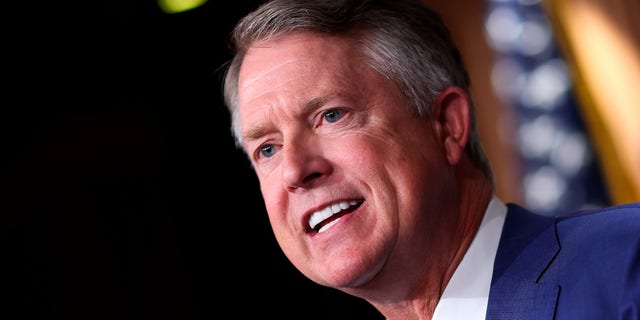 Sen. Roger Marshall speaks at a press conference at the U.S. Capitol on Aug. 5, 2022.
(Kevin Dietsch/Getty Images)
Rep. Andrew Clyde, R-Ga., will introduce the House version of the resolution in conjunction with Kennedy and Marshall.
"The ATF's unconstitutional pistol brace rule reveals the agency's brazen disregard for our Constitution and Congress' sole legislative authority. Unelected anti-gun bureaucrats simply do not have the power to propel President Biden's goal of disarming our nation and dismantling our Second Amendment freedoms by registering and banning millions of firearms," Clyde told Fox.
GAETZ INTRODUCES 'ABOLISH THE ATF ACT' AFTER RULING AGAINST STABILIZING BRACES
"In the face of the Biden administration's latest gun-grabbing measure, it's time for Congress to utilize the Congressional Review Act to fight for law-abiding gun owners. As a stalwart supporter of the Second Amendment and a federal firearms licensee by trade, I'm proud to lead the effort to terminate the ATF's latest tyrannical tactic with Congressman Richard Hudson and Sen. John Kennedy," he said.
"We remain unwavering in the defense of Americans' constitutional right to keep and bear arms," he added.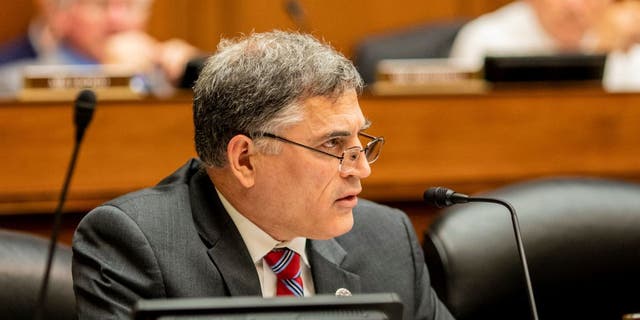 Rep. Andrew Clyde speaks during a House Committee on Oversight and Reform hearing on Capitol Hill on June 8, 2022.
(Jason Andrew/Pool/AFP via Getty Images)
CLICK HERE TO GET THE FOX NEWS APP
Other Republican lawmakers also slammed the new rule after it was finalized by the ATF earlier this month, calling it an "unconstitutional overreach" and a "gun registration and confiscation scheme."
Fox News' Chris Pandolfo contributed to this report.