Ghost guns are coming under fire from gun-control advocates. But why are these weapons so difficult to trace? And can anything be done to keep them from getting into the wrong hands?
Manuel Yambo had never heard of a "ghost" gun until his 16-year-old daughter was killed by one.
He was at home, getting ready for work, when he got a call that every parent dreads. His daughter Angellyh had been hit by a stray bullet near her school. Before he could get to the hospital, another call came in: She was dead. He didn't believe it until he saw her for himself.
It was just a few months ago that Angellyh was celebrating her sixteenth birthday, dancing with her father wearing a pink gown and a crown.
"Angellyh, she was funny, she came out like me," Mr Yambo remembers.
Officials told him the 17-year-old suspect used a ghost gun, which is a privately made firearm that is unregistered and untraceable.
Until August 2023, anyone with access to the internet could legally buy many of the parts needed to make a gun without a background check. Tutorials online explain how to assemble the pieces into a fully functioning firearm with just basic tools in less than an hour.
"I was just in shock how easy it was to get it," Mr Yambo told the BBC. "You would think things like that, you can't just order it online as if it was a toy."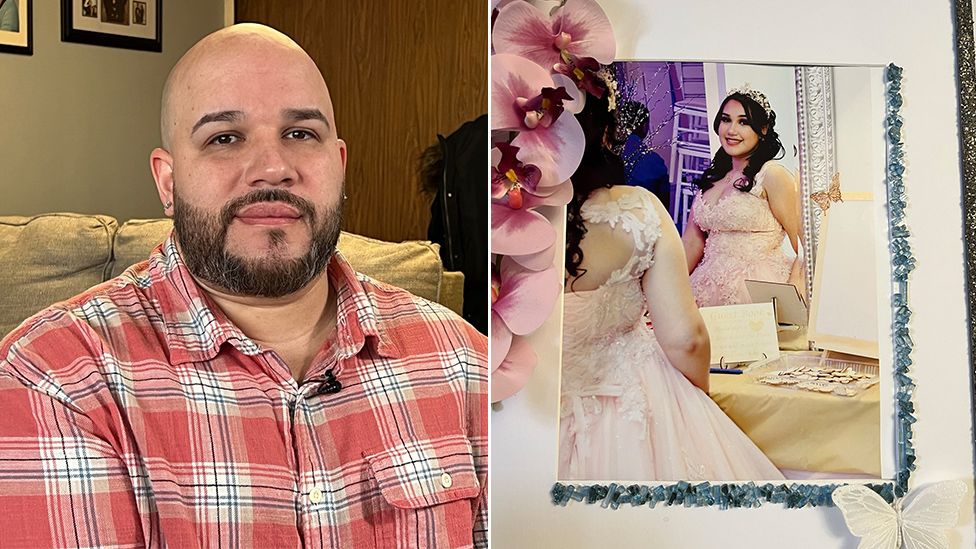 Image source, BBC / Pratiksha GhildialImage caption, Angellyh had just turned 16 when she was killed by a ghost gun, her father Manuel Yambo says
Experts are calling ghost guns the fastest-growing gun safety problem in America. The number of ghost guns recovered from crime scenes by the Bureau of Alcohol, Tobacco, Firearms and Explosives (ATF), has risen by more than 1,000% since 2017.
In New York City, where Mr Yambo lives, the NYPD seized the first ghost gun back in 2018, recovering 17 in total that year. In 2019, it was 50. By 2020, the number was 150. And then in 2021, it was up to 275.
At the ATF's National Integrated Ballistic Information Network facility in Washington, DC, ballistic evidence is evaluated and matched to crime scenes from across the country. But without serial numbers on the gun frames, it is virtually impossible to trace ghost guns and track down dealers who are selling guns illegally to minors or to people without proper firearm licenses.
"Pretty much anyone can get these ghost guns and order parts and make a gun that's just as well as the guns we carry," ATF officer Jerome McClinton told the BBC.
Last August, new regulations introduced by the Biden administration came into effect that say key products used to make ghost guns qualify as traditional firearms, and thus must include serial numbers. Those components include commonly sold, pre-packaged ghost gun kits that are easily converted into firearms, as well as functional "frames" or "receivers".
"This rule will make it harder for criminals and other prohibited persons to obtain untraceable guns," said Attorney General Merrick Garland at the time. "It will help to ensure that law enforcement officers can retrieve the information they need to solve crimes. And it will help reduce the number of untraceable firearms flooding our communities."
But it was blocked by a federal judge in Texas who had ruled that the White House had overstepped its authority when it issued the ban. On 8 August 2023, the Supreme Court allowed the new rules to stand pending an appeal of the Texas judgement by the Biden administration.
That appeal could eventually end up back in front of the Supreme Court.
There are also bans on ghost guns in about a dozen states. But David Pucino, the deputy chief counsel at the Giffords Law Center, a gun-control advocacy group, said the new regulations aren't comprehensive enough because they don't cover all parts that can be used to make a ghost gun, such as some "unfinished" frames or receivers. He also said that without a national framework, gun traffickers can simply move ghost guns from states where they are legal to states where they are banned.
In October, a group of senators asked the ATF to provide a report on enforcement of the law, but the agency has told Congress it is worried more robust action would lose in court, after several rulings by the Supreme Court affirming the Second Amendment broadly protects gun owners from restrictions.
How many US mass shootings have there been in 2023?
Where does US gun control go from here?
Ghost guns are also becoming an international problem, even in countries with tight restrictions on weapons. Some are being trafficked out of the United States, such as gun parts that are shipped directly to Mexico, where there is fear they could be used by cartels. In Western Europe, 3D printers have been used to make ghost guns, Mr Pucino said.
The ATF has cautioned that America's ghost gun trend could take off abroad.
"I would say that if ghost guns has not been an issue for those other countries, then it's probably going to be eventually," said ATF Special Agent in Charge Charlie Patterson.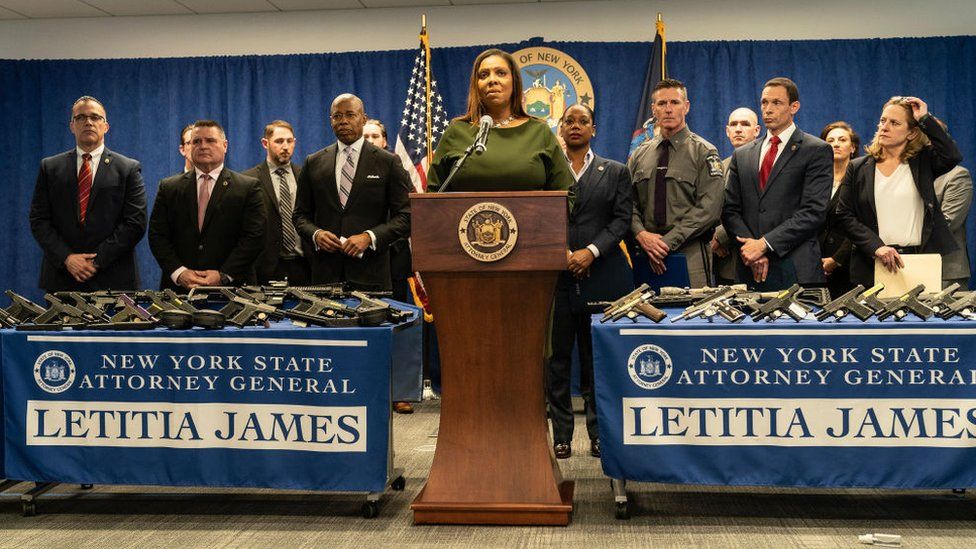 Image source, Getty ImagesImage caption, New York officials have made cracking down on illegal ghost guns a priority
The growing proliferation of ghost guns has inevitably led to closer scrutiny of the various manufacturers. In 2022, New York's attorney general sued several online retailers for allegedly selling illegal unfinished and unserialised frames and receivers. This January, a New York court granted an injunction in that lawsuit, effectively pulling ghost guns from the market in the state.
Polymer80, the largest ghost-gun manufacturer in the US, has been the subject of much of the ire from lawmakers across the country.
In addition, Washington, DC, won a $4m (£3.2m) judgment against the company for violating consumer protection laws by falsely claiming that its weapons are legal in the District and for selling illegal guns to DC consumers.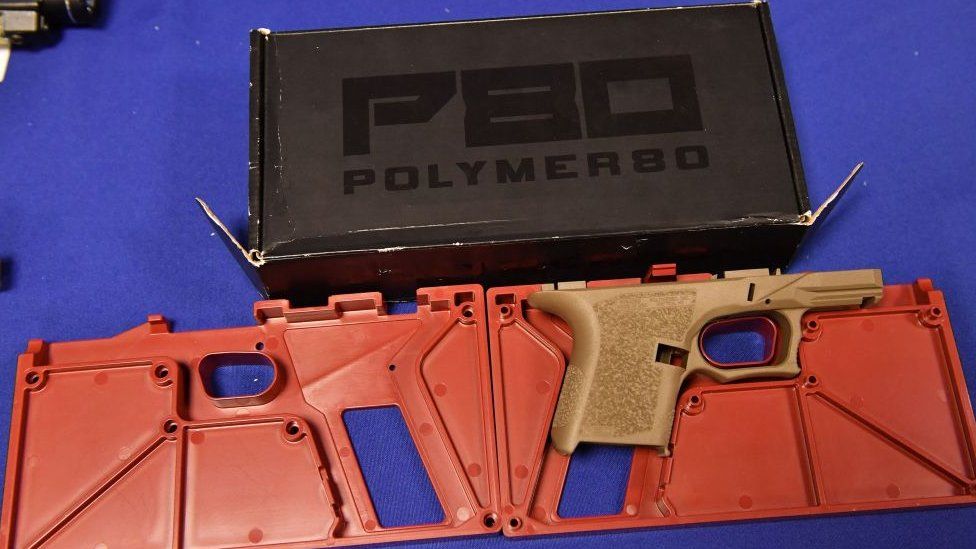 Image source, Getty ImagesImage caption, Ghost gun manufacturer Polymer80 says ghost guns are not to blame for gun deaths
But Loran Kelley, the co-founder of Polymer80, called the concerns over ghost guns a "myth," and a "divisive non-issue". He is appealing the DC ruling, and said other lawsuits are frivolous. He also secured a victory in Nevada, where his company is based, when a judge struck down parts of the state's ghost gun ban, calling them "unconstitutionally vague".
Mr Kelley argued that ghost guns make up a small fraction of the total number of weapons recovered by law enforcement. In 2021, the ATF recovered 460,024 guns, compared to 19,273 ghost guns.
While Mr Kelley said he felt for Angellyh's family, he was personally against any government regulation of firearms based on his interpretation of the Second Amendment right to bear arms.
He dismissed statistics, such as those that show firearms are the leading cause of death for American children and teens, as missing the point.
"People need to separate in their minds violence and guns," he said.
"If we have troubled kids or we have people who feel disenfranchised in this country, which we do in spades, that's the source of this (violence)."
It's a distinction Angellyh's family does not make – Mr Yambo blamed the manufacturers for her death, and is starting a foundation to help those affected by gun violence.
"Who were these guns made for? Why were they sold in parts – in order to avoid being detected by the Department of Justice and the ATF?" he asked.