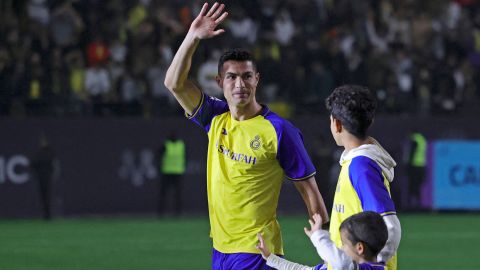 Portuguese forward Cristiano Ronaldo greets the crowd alongside his children at the Mrsool Park Stadium in the Saudi capital Riyadh on January 3.
Fayez Nureldine/AFP/Getty Images
Editor's Note: A version of this story appears in today's Meanwhile in the Middle East newsletter, CNN's three-times-a-week look inside the region's biggest stories. Sign up here.
Abu Dhabi, UAE
CNN
—
It's a partnership that's been hailed as "history in the making."
One of the world's most famous soccer stars landed in the Saudi capital Riyadh on Tuesday, where Cristiano Ronaldo was received in an extravagant ceremony, with excited children sporting his new club's yellow and blue jerseys.
Oil-rich Saudi Arabia's success in luring the five-time Ballon d'Or winner on a two-year contract with the kingdom's Al Nassr FC is the Gulf monarchy's latest step in realizing its sporting ambitions – seemingly at any cost.
According to Saudi state-owned media, Ronaldo will earn an estimated $200 million a year with Al Nassr, making him the world's highest-paid soccer player.
Shortly after the 37-year-old's signing with Al Nassr, the club's Instagram page gained over 5.3 million new followers. Its official website was inaccessible after exceeding its bandwidth limit due to the sudden surge in traffic, and the hashtag #HalaRonaldo – Hello, Ronaldo in Arabic – was trending for days across the Middle East on Twitter.
Analysts say that his recruitment in Saudi Arabia is part of a wider effort by the kingdom to diversify its sources of revenue and become a serious player in the international sporting scene.
It is also seen as a move by the kingdom to shore up its image after it was tarnished by the 2018 dismemberment and killing of Washington Post columnist Jamal Khashoggi at the hands of Saudi agents, and a devastating war it started in Yemen in 2015.
Critics have decried the kingdom for "sportswashing," an attempt to burnish one's reputation through sport.
"I think Saudi Arabia has recognized a couple of years ago that to be a powerful nation internationally, you cannot just rely on hard power," Danyel Reiche, a visiting research fellow and associate professor at Georgetown University Qatar, told CNN.
"You also need to invest in soft power, and the case of Qatar shows that this can work pretty well," he said, adding that Saudi Arabia is following in the Qatari approach with sport, but with a delay of around 25 years.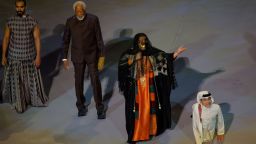 US actor Morgan Freeman (2nd L), Qatari singer Dana al-Fardan (2nd R), and Qatari YouTuber Ghanim al Muftah (R) perform during the Qatar 2022 World Cup opening ceremony on Sunday.
Odd Andersen/AFP/Getty Images
Why some Arabs and Muslims feel stung by coverage of the Qatar World Cup
Neighboring Qatar has also faced immense criticism since it won the bid to hosting last year's FIFA World Cup in 2010.
Despite the smaller Gulf state facing similar accusations of "sportswashing," the tournament has largely been viewed as a success, not least in exposing the world to a different view of the Middle East, thanks in part to Morocco's success in reaching the semifinals and Saudi Arabia beating eventual World Cup champion Argentina in their opening group game.
Gulf nations engage in fierce competition to become the region's premier entertainment and sporting hubs. The UAE, Saudi Arabia, Qatar and Bahrain, in close proximity to each other, each have their own Formula One racing event. But their competition hasn't been confined to the region. Qatar, Saudi Arabia and the UAE have also bought trophy European soccer teams.
Riyadh is playing catchup with neighbors who have long realized the importance of investing in sports, said Simon Chadwick, professor of sport and geopolitical economy at SKEMA Business School in Lille, France, especially as its main source of income – oil – is being gradually shunned.
"This is part of an ongoing attempt to create more resilient economies that are more broadly based upon industries other than those that are derived from oil and gas," Chadwick told CNN.
Ronaldo's new club Al Nassr is backed by Qiddiya Investment Company (QIC), a subsidiary of the kingdom's wealth fund, the Public Investment Fund (PIF), which has played a pivotal role in Saudi Arabia's diversification plans.
"Ronaldo is in fact one chess pawn, if you wish, in this much larger Saudi strategy. "

Blogger James Dorsey says Saudi Arabia's acquisition of star footballer @Cristiano is a step in making the kingdom a major player in the sport. pic.twitter.com/xXbVtwh2FZ

— Connect the World (@CNNConnect) January 4, 2023
"It is also a sign of interconnectedness, of globalization and of opening up to the rest of the world," said Georgetown University's Reiche.
The move is part of "several recent high profile moves in the sports world, including hosting the Andy Ruiz Jr. and Anthony Joshua world heavywight boxing championship bout in 2019, and launching the LIV Golf championship," said Omar Al-Ubaydli, director of research at the Bahrain-based Derasat think tank. "It is a significant piece of a large puzzle that represents their economic restructuring."
The kingdom has been on a path to not only diversify its economy, but also shift its image amid a barrage of criticism over its human rights record and treatment of women. Saudi Arabia is today hosting everything from desert raves to teaming up with renowned soccer players. Argentina's Lionel Messi last year signed a lucrative promotional deal with the kingdom.
Hailed as the world's greatest player, 35-year-old Messi ended this year's World Cup tournament in Qatar with his team's win over France, making his ambassadorship of even greater value to the kingdom.
The acquisition of such key global figures will also help combat the monarchy's decades-long reputation of being "secretive" and "ultra-conservative," James Dorsey, a senior fellow at the S. Rajaratnam School of International Studies in Singapore and an expert on soccer in the Middle East, told CNN's Eleni Giokos on Wednesday.
Al-Ubaydli said that the kingdom wants to use high profile international sports "as a vehicle for advertising to the world its openness."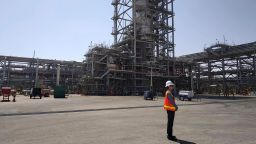 The Saudi Aramco oil refinery at the Abqaiq and Khurais oil fields in Saudi Arabia.
Belenkaya Marianna/SIPAPRE/Sipa/Associated Press/File
Why the current oil boom for Arab states may be their last
Saudi Arabia bought the English Premier league club Newcastle United in 2021 through a three-party consortium, with PIF being the largest stakeholder. The move proved controversial, as Amnesty International and other human rights defenders worried it would overshadow the kingdom's human rights violations.
Ronaldo's work with Saudi Arabia is already being criticized by rights groups who are urging the soccer player to "draw attention to human rights issues" in Saudi Arabia.
"Saudi Arabia has an image problem," especially since Khashoggi's killing, says Reiche. But the kingdom's recent investments in sports and entertainment are "not about sportswashing but about developing the country, social change and opening up to the world."
Saudi Arabia is reportedly weighing a 2030 World Cup bid with Egypt and Greece, but the kingdom's tourism ministry noted in November that it has not yet submitted an official bid. Chadwick believes that Ronaldo's deal with Al Nassr, however, may help boost the kingdom's bid should it choose it pursue it.
Another way Saudi Arabia may benefit from Ronaldo's acquisition is that it will be able to improve commercial performance, says Chadwick, especially if this collaboration attracts further international talent.
"It is important to see Ronaldo not just as a geopolitical instrument," said Chadwick, "There is still a commercial component to him and to the purpose he is expected to serve in Saudi Arabia."
What Ronaldo's move to Saudi Arabia shows is that the kingdom aspires "to be seen as being the best" and that it wants to be perceived as a "contender and a legitimate member of the international football community," said Chadwick.
The digest

UAE FM meets Syria's Assad in Damascus in further sign of thawing ties
Syrian President Bashar al-Assad received the United Arab Emirates Foreign Minister Sheikh Abdullah bin Zayed in Damascus on Wednesday in the latest sign of thawing relations between Assad and the Gulf state. The meeting addressed developments in Syria and the wider Middle East, according to UAE state news agency WAM.
Background: It was Abdullah bin Zayed's first visit since a November 2021 meeting with Assad that led to the resumption of relations. Months later, in March 2022, Assad visited the UAE, his first visit to an Arab state since the start of Syria's civil war.

Why it matters: A number of Assad's former foes have been trying to mend fences with his regime. Last week, talks between the Syrian and Turkish defense ministers were held in Moscow in the highest-level encounter reported between the estranged sides since the war in Syria began. The regional rapprochement is yet to improve the lives of average Syrians. Syria is still under Western sanctions.
Turkish President Erdogan says he could meet with Assad
Turkish President Recep Tayyip Erdogan said in a speech on Thursday that he could meet the Syrian leader "to establish peace."
Background: Erdogan's comments came after the Moscow talks between the two nations' defense ministers and intelligence chiefs. "Following this meeting… we will bring our foreign ministers together. And after that, as leaders, we will come together," Erdogan said on Thursday.

Why it matters: The meeting would mark a dramatic shift in Turkey's decade-long stance on Syria, where Ankara was the prime supporter of political and armed factions fighting to topple Assad. The Turkish military maintains a presence across the Syrian border and within northern Syria, where it backs Syrian opposition forces. Erdogan has also pledged to launch yet another incursion into northern Syria, aiming at creating a 30-km (20-mile) deep "safe zone" that would be emptied of Kurdish fighters.
Iran shuts down French cultural center over Charlie Hebdo's Khamenei cartoons
Iran announced on Thursday it had ended the activities of a Tehran-based French research institute, in reaction to cartoons mocking Ayatollah Ali Khamenei and fellow Shia Muslim clerics published by French satirical magazine Charlie Hebdo this week.
Background: Iran summoned the French ambassador to Tehran on Wednesday to protest cartoons published by satirical magazine Charlie Hebdo. More than 30 cartoons poking fun at Iran's supreme leader were published by the magazine on Wednesday, in a show of support for the Iranian people who have been protesting the Islamic Republic's government and its policies.

Why it matters: French-Iranian relations have deteriorated significantly since protests broke out in Iran late last year. Paris has publicly supported the protests and spoken out against Iran's response to them. French Foreign Minister Catherine Colonna criticized Iran's freedom of press and judicial independence on Thursday, saying "press freedom exists, contrary to what is going on in Iran and… it is exercised under the supervision of a judge in an independent judiciary – and there too it's something that Iran knows little of."
Around the region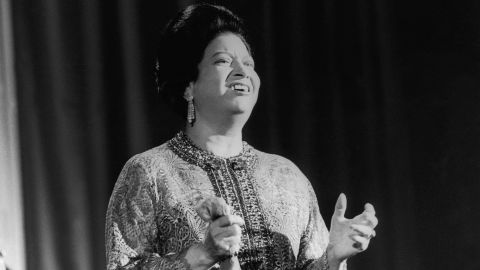 Egyptian Singer Umm Kulthum performing onstage at the Olympia, In Paris On November 14, 1967.
Keystone-France/Gamma-Keystone/Getty Images
The prized legacy of iconic Egyptian singer Umm Kulthum re-emerged this year when Rolling Stone magazine featured her in its "200 Greatest Singers of All Time."
Ranking 61st, Umm Kulthum was the only Arab artist to make it to the list, with the magazine saying that she "has no real equivalent among singers in the West."
Born in a small village northeast of the Egyptian capital Cairo, Umm Kulthum rose to unmatched fame as she came to represent "the soul of the pan-Arab world," the music magazine said.
"Her potent contralto, which could blur gender in its lower register, conveyed breathtaking emotional range in complex songs that, across theme and wildly-ornamented variations, could easily last an hour, as she worked crowds like a fiery preacher," it wrote.
Nicknamed "the lady of Arab singing," her music featured both classical Arabic poetry as well as colloquial songs still adored by younger generations. Her most famous pieces include "Inta Uumri" (you are my life), "Alf Leila Weileila" (a thousand and one nights), "Amal Hayati" (hope of my life) and "Daret al-Ayyam" (the days have come around). Some of her songs have been remixed to modern beats that have made their way to Middle Eastern nightclubs.
The singer remains an unmatched voice across the Arab World and her music can still be heard in many traditional coffee shops in Old Cairo's neighborhoods and other parts of the Arab world.
Umm Kulthum's death in 1975 brought millions of mourners to the streets of Cairo.
By Nadeen Ebrahim
Photo of the day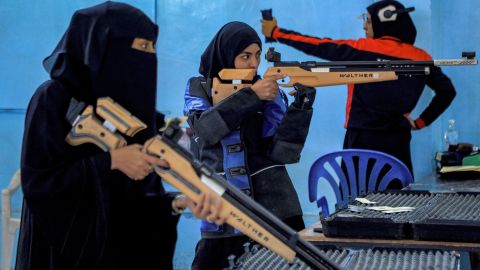 Women athletes aim their air rifles while competing in a local shooting championship in Yemen's Houthi rebel-held capital Sanaa on January 3.
Mohammed Huwais/AFP/Getty Images