Medical teams respond to Buffalo Bills player Damar Hamlin after he collapsed on the field on January 2, 2023.
Jeff Dean/AP

CNN
—
Just seconds after Buffalo Bills player Damar Hamlin collapsed on the field from cardiac arrest on Monday, medical personnel swarmed onto the field in an immediate response that has been widely credited for the player's steps toward recovery.
But one Bills team member in particular – assistant athletic trainer Denny Kellington – has been praised by head coach Sean McDermott for "saving Damar's life."
Bills offensive lineman Dion Dawkins said in a tweet Thursday that it was Kellington who administered critical CPR to Hamlin, who doctors say lost his pulse on the field had to be immediately revived through resuscitation and defibrillation.
#DennyKellington WE Thank you. #DamarHamlinStrong ❤️3 pic.twitter.com/e5gTvDqTH0

— Dion Dawkins (@DDawkins66) January 5, 2023
"For an assistant to find himself at that position and needing to take the action that he did and step up and take charge like he did – and there were others on the field as well – is nothing short of amazing," McDermott said of Kellington during a news conference Thursday.
"And the courage that took – you talk about a real leader, a real hero in saving Damar's life and just admire his strength."
Hamlin was transported to the hospital, where he was sedated. On Thursday, his doctors announced Hamlin had started to awaken. Though he remains critically ill and on a ventilator, his medical team said the player is showing signs of "good neurologic recovery" and is making significant improvement.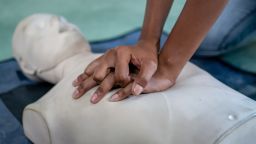 Closeup hands practicing chest compressions on a CPR training dummy.
athima tongloom/Moment RF/Getty Images
What to do if someone is in cardiac arrest
The immediate response of Kellington and other medical personnel was vital to "not just saving his life, but his neurological function," Dr. Timothy Pritts, one of Hamlin's doctors at the University of Cincinnati Medical Center, said Thursday.
In cardiac arrest, the heart is no longer pumping blood, which means no oxygen is traveling to the brain or other organs. Seconds matter: The longer a person goes without oxygen, the chances of organ damage increase, and the chances of survival decrease. CPR mimics a pumping heart, which keeps blood flowing, and a defibrillator shocks the heart, which can cause it to start beating again.
Kellington has been a member of the Bills' training staff since 2017. Prior to joining the team, he was an athletic trainer at Syracuse University for 11 years, six of which were spent as the head athletic trainer for the football team, according to the university and Kellington's LinkedIn. He also previously served as a graduate student athletic trainer at Ohio State University, the school confirmed to CNN.
'We're going to need everybody'

In audio obtained by CNN of medical personnel who responded from the sidelines, medical teams can be heard urgently requesting everyone to respond the minute Hamlin collapsed at 8:55 p.m. ET.
At 8:55 p.m. ET, when Hamlin hit the ground, someone can be heard saying, "Go over to the cot. I don't like how he went down."
A few seconds later, another voice says, "We're going to need everybody. All call, all call." Within the minute, several other cries go out for all personnel to rush to the field.
Between 9:12 and 9:20 p.m., personnel can be heard requesting another medic and emergency equipment for the ambulance.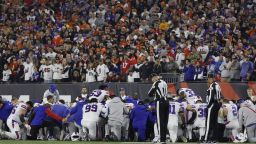 CINCINNATI, OHIO – JANUARY 02: Buffalo Bills players huddle after teammate Damar Hamlin #3 collapsed following a tackle against the Cincinnati Bengals during the first quarter at Paycor Stadium on January 02, 2023 in Cincinnati, Ohio. (Photo by Kirk Irwin/Getty Images)
Kirk Irwin/Getty Images North America/Getty Images
Opinion: I've been on the field for two football tragedies. I hope Damar Hamlin's marks a turning point
The rapid response of medical teams that night has been repeatedly praised by NFL officials, Bills team members and physicians.
"It's certainly not an exaggeration to say that the skilled and the immediate response by all of these talented caregivers prevented a very tragic outcome at that moment," NFL chief medical officer Dr. Allen Sills said Wednesday.
Sills said that the league holds drills before the season to prepare for medical emergencies and also holds briefing meetings among medical teams before every game.
McDermott also opened the Bills' news conference Thursday with a word of thanks for "the first responders on the field this past Monday evening and the medical teams of the Bills, the Bengals and the staff, doctors and nurses at the University of Cincinnati Medical Center for their work and their care."
CNN's Jamie Gumbrecht, Joe Sutton, Sara Smart, Sharif Paget, Jamiel Lynch and Stephen Priest contributed to this report.