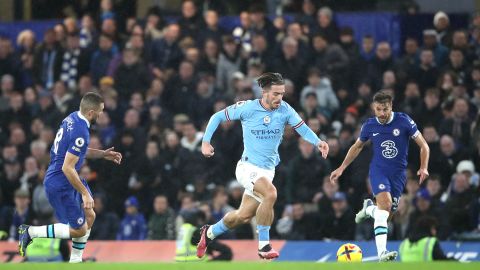 Manchester City's Jack Grealish controls the ball against Chelsea.
Matt Impey/Shutterstock

CNN
—
Jack Grealish says moving to Manchester City has been "so much more difficult" than he anticipated after he had a hand in the team's crucial 1-0 win against Chelsea.
Grealish broke the British transfer record when he joined City from Aston Villa for a reported fee of £100 million ($138 million) in 2021.
He has struggled with form since then – scoring four goal and registering six assists in Premier League games – but there was no questioning the England international's impact on Thursday.
With 30 minutes remaining at Stamford Bridge, Grealish came off the bench and produced a superb cross to find Riyad Mahrez, who tapped in from close range for the winning goal.
"I'd been at Villa my whole life and I'd never had to change, I'd always been used to that," Grealish told Sky Sports as he reflected on the past 18 months with Man City.
"I didn't realize how hard it is to adapt to another team and another manager. When I came here, I'll be honest with you, it was so much more difficult that I thought.
"In my head I was thinking: I'm coming to a team that's sitting top of the league, I'm going to get so many goal and assists. Obviously it isn't the case, it's so much more difficult."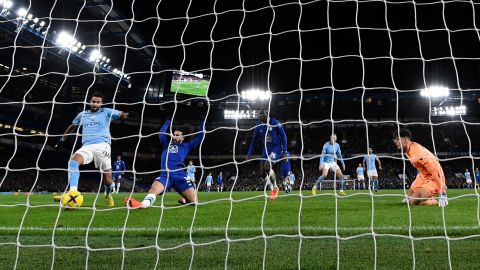 Mahrez scores against Chelsea after Grealish's cross.
GLYN KIRK/AFP/IKIMAGES/AFP via Getty Images
The win, which moved Man City five points behind Premier League leader Arsenal, demonstrated the depth of manager Pep Guardiola's squad.
Even when Erling Haaland – the team's star striker who didn't touch the ball for the first 20 minutes – had a relatively subdued evening, Guardiola could turn to the likes of Grealish and Mahrez on the bench to finish off a match-winning passage of play.
"I'm a genius," Guardiola later joked when asked about the substitutions he made in the second half. It came after a frustrating 1-1 draw against Everton on Saturday, during which Guardiola didn't make any changes until the 87th minute.
The win came at an important time in Man City's season. Its next two Premier League games are against Manchester United and Tottenham on January 14 and 19 – potentially difficult contests as the defending champion looks to close the gap on a high-flying Arsenal side.
Chelsea, meanwhile, continues to struggle under manager Graham Potter and has now won just one of its past eight Premier League matches.
The latest defeat means the Blues are 10th in the league table with another game against Man City in the FA Cup up next on Sunday.