close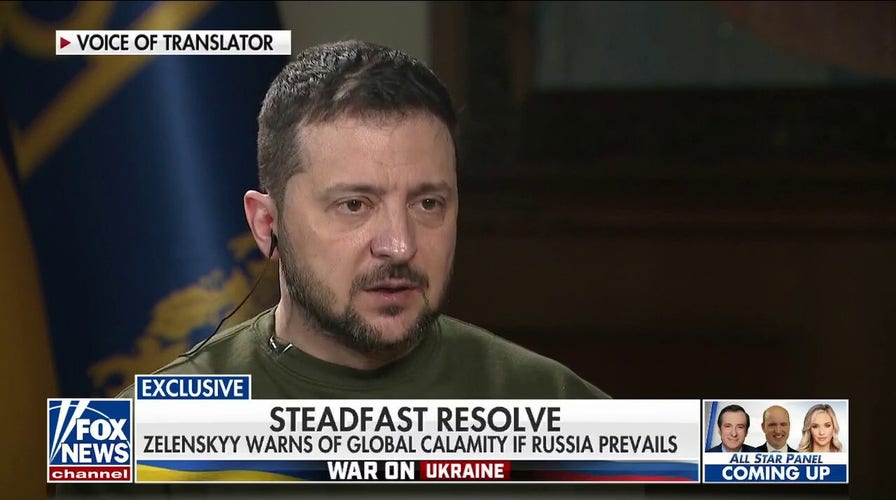 Video
Zelenskyy: If Ukraine falls, it would be the start of World War 3
Ukrainian President Zelenskyy sits down with Fox News correspondent Trey Yingst to discuss the war on 'Special Report.'
As the one-year anniversary of the Russian invasion of Ukraine nears, NATO allies once again pledged this week to send more defense systems, ammunitions, artillery and tanks in an effort to defeat Russia, but one top defense official said victory for Ukraine will require more than border security.
Kyiv has said it hopes to claim victory against Russian President Vladimir Putin by the end of 2023, which in its eyes means ousting all Russian troops from its territory, including Crimea, and shoring up defenses for the future.
"Victory for us will mean not just throwing the enemy out and restoring our territorial sovereignty," Yuriy Sak, top adviser to Ukraine's defense minister, told Fox News Digital. "Victory will also mean establishing a Ukraine which will make such aggression impossible in the future."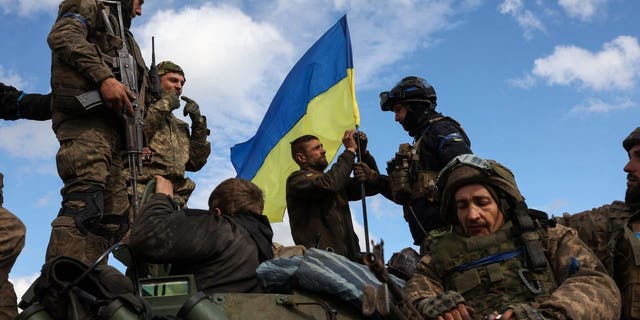 Ukrainian soldiers adjust a national flag atop an armored personnel carrier on a road near Lyman, Donetsk region on Oct. 4, 2022. (Anatolii Stepanov/AFP via Getty Images)
DEFENSE SECRETARY AUSTIN SAYS US WOULD ENTER CONFLICT IF RUSSIA ATTACKS ESTONIA
Ukraine has already seen victories in parts of its eastern front after it successfully pushed Russian forces out of the Kharkiv region in September, damaged Putin's Crimean bridge in October, and forced Russian troops across the Dnieper River in November when it recaptured the city of Kherson.
But Ukraine is now faced with the prospect of keeping Russian troops not only out of these areas, but the regions they have not yet freed.
Sak said the only way to ensure adequate border protection is to transform Ukraine's forces to adhere to the same standard as Western militaries – a feat its troops are already working on as they are being trained by U.S. and NATO forces.
But even more important to Ukraine's long-term security is its ability to have the complete backing of its Western allies, explained the defense adviser – a move that Putin has long viewed as his greatest threat.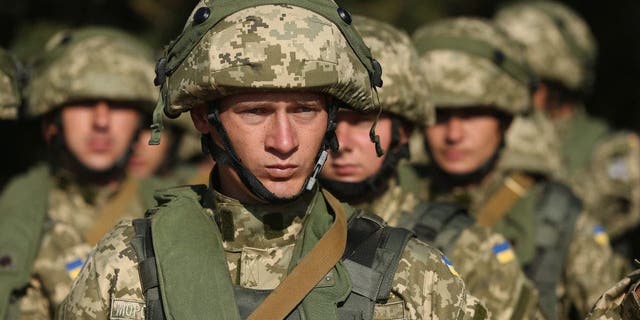 Ukrainian marines prepare for bilateral military exercises with the United States on Sept. 16, 2014, near Yavorov, Ukraine. (Sean Gallup/Getty Images)
"Ukraine needs to become a member of NATO," Sak said. "De facto we are already a member of NATO alliance because we are fighting to stop the enemy from going further into the NATO countries. We are using weapon systems that members of NATO provide us with."
The defense adviser said that even after Russian forces are pushed out it will take time to rebuild Ukraine, particularly the Luhansk, Dontesk, Zaporizhzhia and Kherson regions most affected by the war.
RUSSIA-UKRAINE WAR: BELARUS WILL JOIN FIGHT IF EVEN 'ONE SOLDIER' ATTACKS TERRITORY, PRESIDENT SAYS
Ukraine needs to become more militarily self-sufficient, he added.
"We will have to build and considerably improve our own defense industry so that we are less reliant on the military support of our partners," Sak said.
The adviser said munitions factories and maintenance plants are basic requirements for achieving this plan and he pointed to the fact that when military equipment is damaged during the war it frequently has to be sent to nations like Poland for repairs.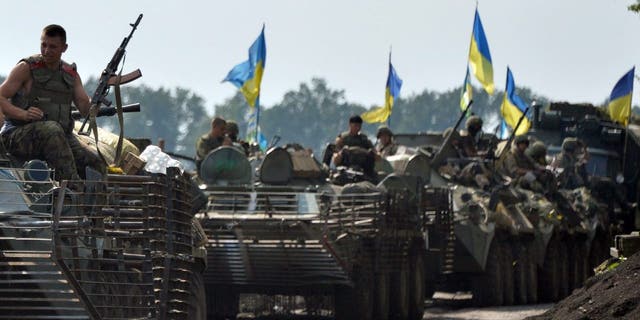 Ukrainian servicemen sit atop armored personnel carriers near the eastern Ukrainian city of Slavyansk on July 11, 2014. (Genya Savilov/AFP via Getty Images)
Putin launched his invasion over the claim that Ukraine posed an existential threat by attempting to join NATO.
In early peace negotiations between Moscow and Kyiv, Russia demanded that Ukraine pledge to never join the alliance. Kyiv appeared to consider the demand until negotiations collapsed.
By September, Kyiv had pushed forward in its membership quest.
NATO has also rejected Russia's demands that it block Kyiv's pathway to joining the military alliance and NATO Chief Jens Stoltenberg accused Putin last year of being fearful of "democracy and freedom."
CLICK HERE TO GET THE FOX NEWS APP
Ukraine maintains that it is not only in its own interest that Kyiv win the war against Russia, but maintains that it is fighting for the security of Europe and world order.
"We all should step up our efforts and shift into high gear so that we don't allow this war to become a protracted war – it's not in the interest of anyone," Sak argued. "It's not just about Ukraine. It's about the stability of Europe and the world."
Caitlin McFall is a Reporter at Fox News Digital covering Politics, U.S. and World news.