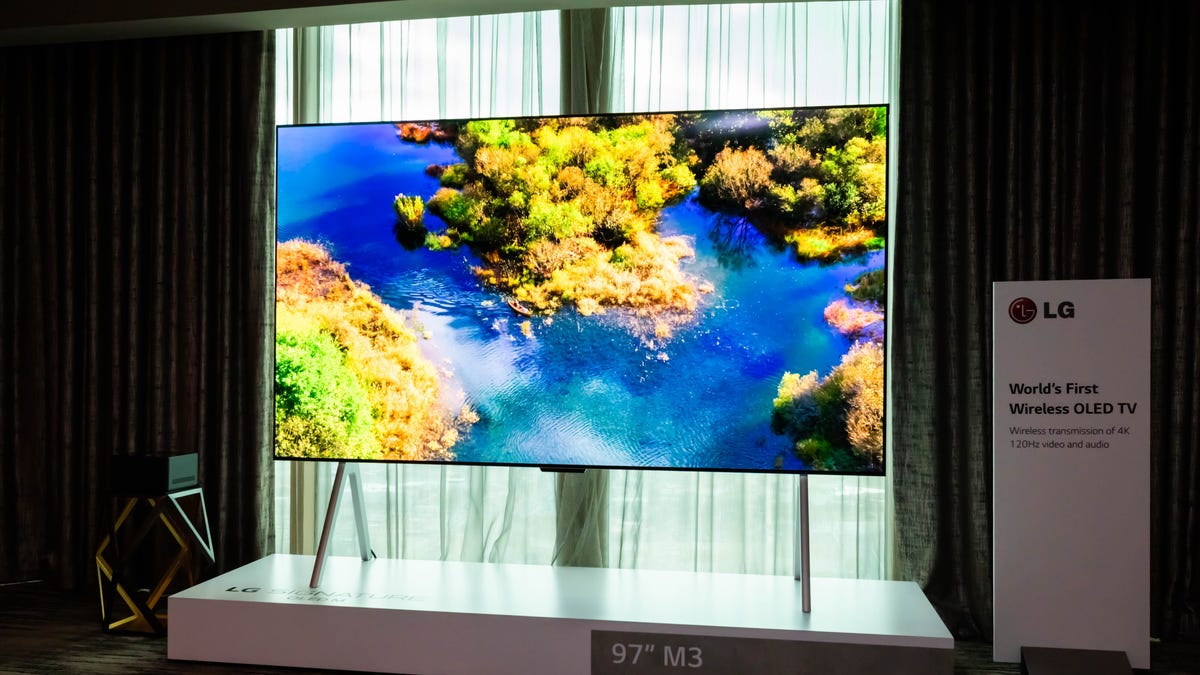 LG's Wireless 97-inch OLED TV is truly mystifying. 
James Martin/CNET
I've been covering TVs at CES for years, so it takes a lot to surprise me. I've seen some wild screens, ones that roll up, and ones so big they're basically video walls, but these typically come after a few rounds prototypes, which dull the shock. When I walked into LG's suite at a hotel in Las Vegas, however, the thing I saw across the room came as a big surprise.
And I do mean big. It's a 97-inch OLED TV, and it remains the biggest OLED TV in the world. And since OLED provides the best picture quality available, it's damn impressive in person at that size. But that wasn't the surprise — LG introduced it last year. To me, the jaw-dropper came when LG's rep told me the beautiful, massive 4K image was being beamed to the TV without any wires. 
Wireless TV is real, and it's coming this year.
Read more: The biggest tech trends we saw at CES. Plus, here are the main CES highlights so far.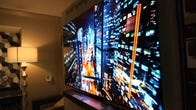 Now playing:
Watch this:

LG's Wireless OLED TV is 97 Inches of Tech Power
4:58

Across the room from the TV sat the wireless transmitter box. On the back of the box were standard HDMI plugs and a handful of other connections, and one HDMI cable ran to a Blu-ray player. The image on the screen was from a Blu-ray disc, sent wirelessly — and flawlessly, to my eye — from the box to the TV. The top of the box can be rotated to aim an internal antenna at the television.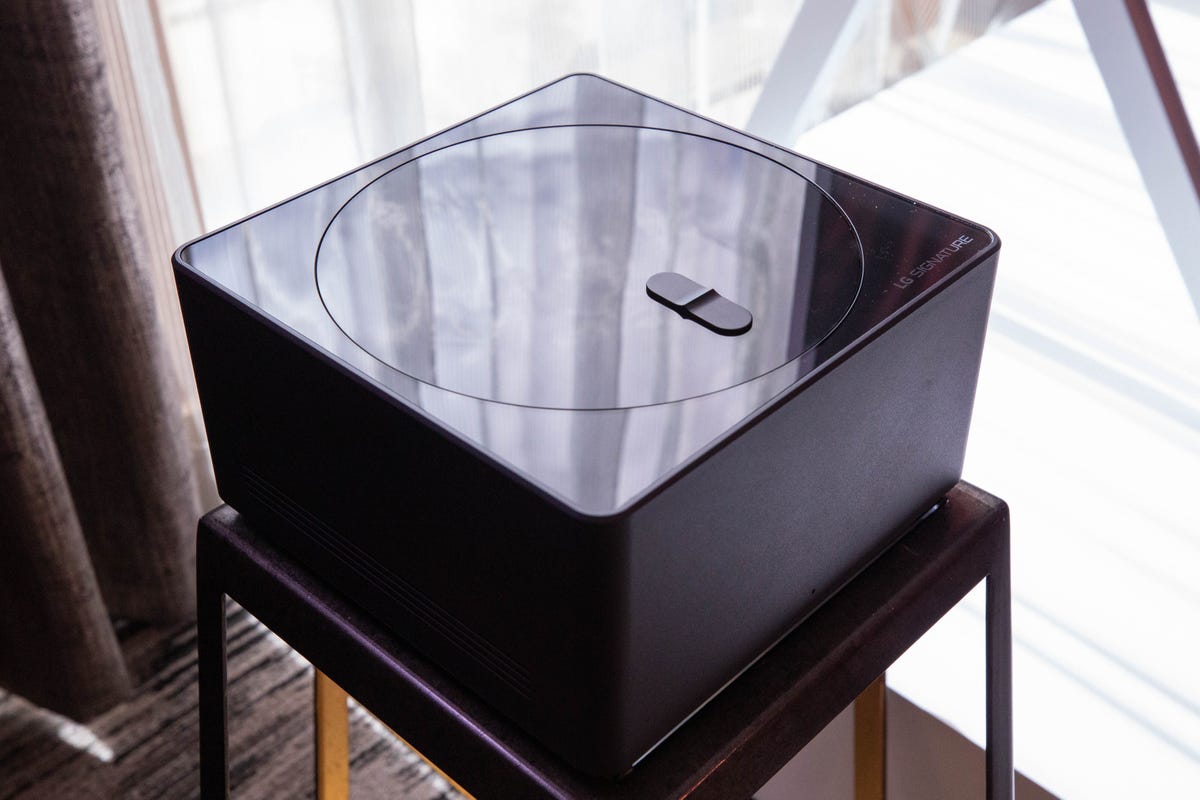 The TV comes with a transmitter box. The tab at the top denotes the internal antenna, which can be rotated to aim at the TV.

James Martin/CNET

The TV itself didn't have any video inputs at all, just blank metal where TV inputs usually reside around back. The idea is to reduce wiring, that age-old bugaboo of nice TV installations. You, person who can afford a 97-inch OLED TV, stash your AV gear inside a cabinet out of sight, along with the transmitter box into which everything plugs. That leaves only the power cord to the TV, a wire LG artfully hid inside one of the stand legs.
Sure, any number of TV stands can also hold your gear. But wireless connectivity allows the TV to stand alone, which looks impressive on one of LG's easel-like stands (pictured above) and it can greatly simplify a wall-mount installation. 
LG says the box can be located up to 30 feet from the TV. I asked whether the wireless connection was a potential hazard, especially if you're sitting between the box and the TV, and company representatives told me it wasn't because it uses similar technology to standard Wi-Fi routers. They also said it wouldn't be affected by other Wi-Fi traffic. The signal can handle up to 4K, 120Hz resolution, which is pretty much the maximum for today's games. It's also the highest resolution and frame rate most TVs, including LG's normal 4K OLED models, can accept.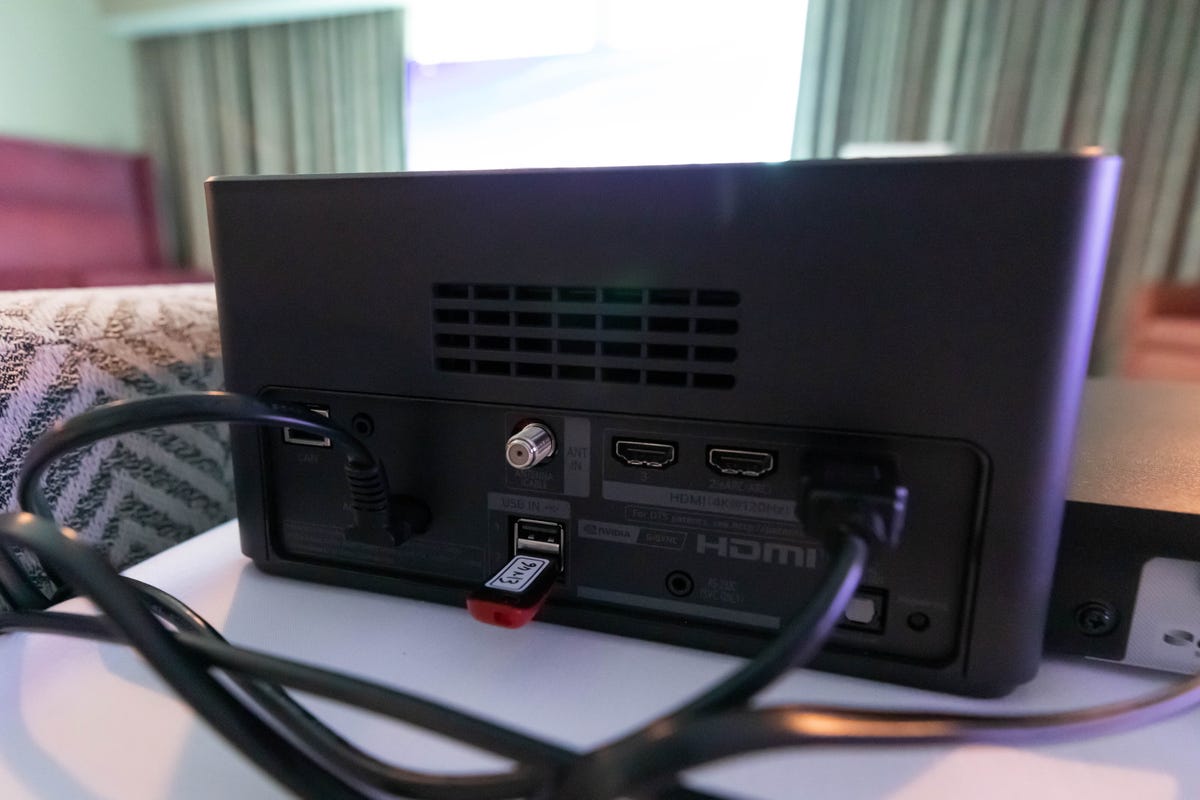 The backside of the connection box is where you plug in the gear.

James Martin/CNET

The box has three HDMI inputs, surprising since most high-end TVs have four, but that's not a deal-breaker in my book. The rest of the ports are typical for a TV: antenna, two USB, Ethernet and optical digital out, as well as a serial port for home automation control.
Wireless TVs have been sold in the past, and wireless tech has appeared in projectors too. You can also buy wireless HDMI extender kits for $100 or less, but they generally can't handle such high bandwidth. This is the first time in years I've seen it built into a TV. A company called Displace TV also showed a wireless OLED model at CES, but it's a 55-inch, battery-powered screen that's designed for portability.
In addition to the 97-inch size LG will release its wireless OLED, dubbed the M3 series, in 83- and 77-inch sizes. LG says it's coming sometime in 2023 with pricing, like the rest of LG's 2023 TVs, still to be determined. For reference, LG charges $25,000 for its standard, wired 97-inch OLED TV and $2,900 for a 77-inch one, so regardless of size, the M3 won't be cheap.
Aside from the M3 LG also introduced three other series of wired OLED TVs at CES 2023.
This product has been selected as one of the best products of CES 2023. Check out the other Best of CES 2023 award winners.