close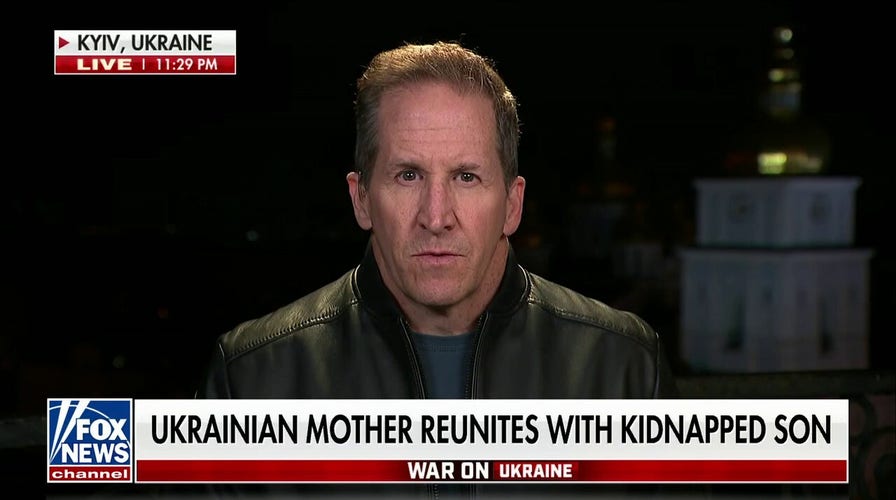 Video
Ukrainian child escapes Russia re-education camp, reunites with family
Fox News' Mike Tobin reports on the fight to protect Ukrainian children from Russia's war on the eastern European nation on 'Fox News Live.'
The U.S., U.K, Albania and Malta walked out of a Russia-led United Nations meeting Wednesday as Moscow's envoy for children's rights, wanted by the International Criminal Court (ICC) for war crimes, began speaking to the Security Council by webcast.
The U.S. and Britain also reportedly blocked the video from being broadcast on the UN's website, reported Reuters.
U.S. Ambassador to the U.N., Linda Thomas-Greenfield told reporters that the diplomats blocked the webcast as Russian Commissioner Maria Lvova-Belova began speaking, to ensure that she was not granted "an international podium to spread disinformation and to try to defend her horrible actions that are taking place in Ukraine."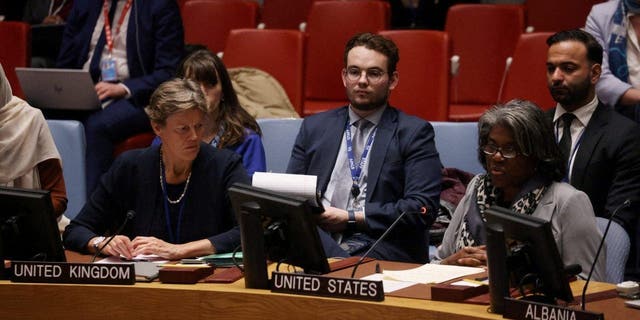 U.S. Ambassador to the United Nations Linda Thomas-Greenfield sits with U.K. and Alabanian ambassadors in UN Security Council meeting. February 20, 2023. REUTERS/Mike Segar (REUTERS/Mike Segar)
RUSSIA TAKES OVER PRESIDENCY OF UN SECURITY COUNCIL; 'BAD OPTICS' FOR WEST, PROPAGANDA WIN FOR PUTIN: EXPERTS
Last month, the ICC levied arrest warrants against Russian President Vladimir Putin and Lvova-Belova after accusing them of illegally deporting children from Ukraine to Russia, following nearly a year's worth of investigations into numerous alleged war crimes.
Russia has dismissed the warrants and said they were invalid, as Moscow does not recognize the authority of the ICC.
While the international community has accused Russia of illegally deporting children, some of whom were separated from their families in Ukraine, the Kremlin has positioned it as a humanitarian aid program.
During her address to UN diplomats, Lvova-Belova reportedly showed images of Ukrainian children and claimed, "I want to stress that unlike the Ukrainian side, we don't use children for propaganda."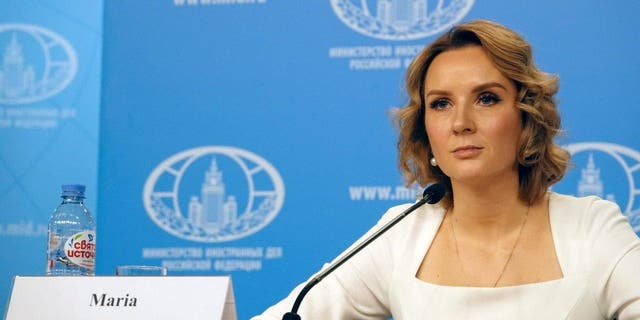 Russian Children's Representative Maria Lvova-Belova holds a press conference at the Foreign Ministry following accusations by Ukraine that the Russian leadership is deporting children in its war of aggression against the country.  (Photo by Ulf Mauder/picture alliance via Getty Images)
UK TURNS RUSSOPHOBIA ARGUMENT ON MOSCOW, CLAIMS GREATEST THREAT TO RUSSIAN SOCIETY IS WAR IN UKRAINE
Moscow has admitted to transporting children across its borders, and on Wednesday Lvova-Belova said that some five million Ukrainians, including 700,000 children, had traveled to Russia in the more than 13 months since Russia's invasion, reported Reuters.
The Kremlin's envoy also said that 2,000 children from orphanages had traveled to Russia with custodians – 1,300 of which had allegedly returned to Ukraine, while 400 remained in Russian orphanages and 358 children had reportedly been placed in Russian foster homes.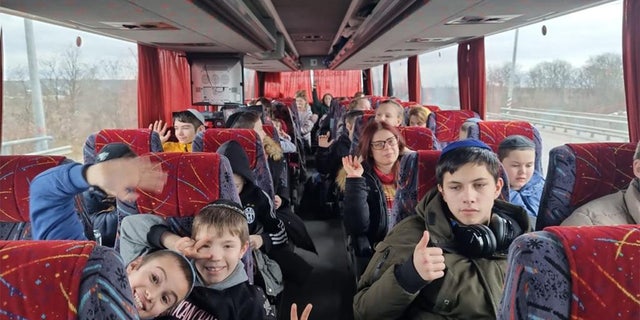 Children from the children's home in Zhitomir (located in western Ukraine), which was evacuated. Zhitomir is 140 km from Kyiv.  (International Fellowship of Christians and Jews)
CLICK HERE TO GET THE FOX NEWS APP
"Russia claims it is protecting these children. Instead, this is a calculated policy that seeks to erase Ukrainian identity and statehood," British envoy Asima Ghazi-Bouillon reportedly told fellow diplomats after returning to the room, once Lvova-Belova had finished speaking.
While it is rare for a speaker to be blocked from the public UN broadcast, it has become increasingly common as geopolitical divides in the UN Security Council deepen, with China blocking a U.S.-convened meeting on human rights abuses in North Korea last month, said Reuters.
Caitlin McFall is a Reporter at Fox News Digital covering Politics, U.S. and World news.