close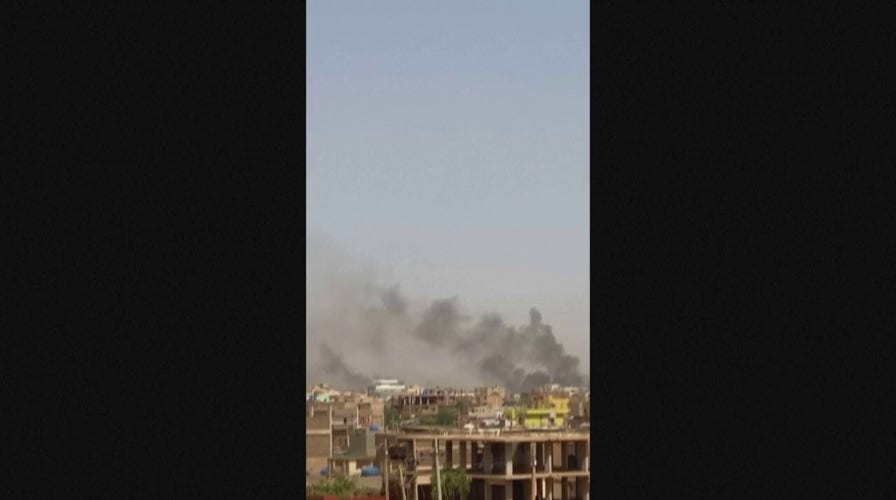 Video
Smoke rises in Khartoum, Sudan as paramilitary group battles army
Smoke rose in Khartoum, Sudan, Saturday as a paramilitary group said it had seized the presidential palace. (Reuters)
The U.S. military is preparing to place additional forces in Djibouti for a potential mission to evacuate U.S. Embassy personnel in Khartoum, Sudan's capital city, a senior U.S. official confirmed to Fox News.
Embassy staff has been sheltering in place since Saturday, when gunfire and explosions erupted in the capital amid conflict between the paramilitary Rapid Support Forces (RSF) and Sudan's army. The two sides are battling for control of the country, with 5 million city residents and U.S. personnel caught in the crossfire.
Politico first reported plans to rescue embassy staff, who are sheltering just eight miles from Khartoum's international airport. The airport has been left inoperable by heavy fighting, and military evacuation appears to be the only way the 70 or so embassy staffers can escape Sudan without serious risk to their lives.
According to Politico, Deputy Secretary of State Wendy Sherman met with lawmakers privately Wednesday and said that troops would be moving to Djibouti, where Camp Lemmonier is located, to give the Biden administration options to launch an evacuation operation. "Sherman stressed that the mission would whisk only embassy staff to safety and that there won't be a military-led general evacuation of American citizens," Politico reported.
SUDAN CONFLICT: US CONDUCTS 'PRUDENT PLANNING' AS VIOLENCE ESCALATES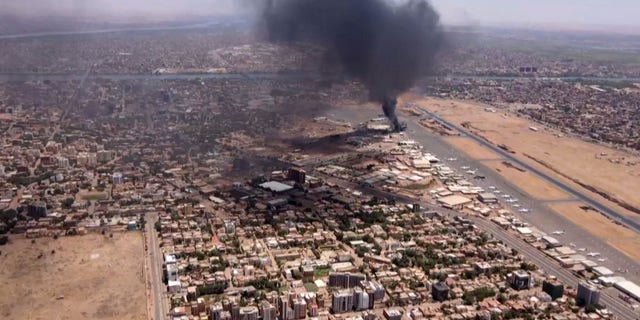 This image grab taken from AFPTV video footage on April 20, 2023, shows an aerial view of black smoke rising above the Khartoum International Airport amid ongoing battles between the forces of two rival generals. (AFP via Getty Images)
"The Department of Defense, through U.S. Africa Command, is monitoring the situation in Sudan and conducting prudent planning," Defense Department spokesman Lt. Col. Phillip Ventura previously told Fox News. "The U.S. military maintains a constant state of readiness to support any number of missions around the world. As a matter of policy and security, we do not speculate on potential future operations or force movements."
"Within Sudan, the Department of Defense's mission is primarily focused on providing security at the U.S. Embassy," Ventura added. "While operational security prevents us from going into detail, the Department of Defense, through the Marine Corps Embassy Security Group, provides ongoing security for diplomatic facilities worldwide."
BLOODY SUDAN CONFLICT CONTINUES DESPITE TRUCE, INTERNATIONAL PRESSURE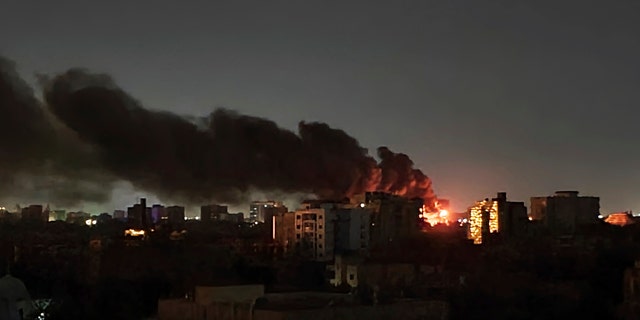 Smoke rises over the horizon as a fire burns after a strike in Khartoum, Sudan, Sunday, April 16, 2023. Washington's top diplomat said Tuesday, April 18, 2023, that a U.S. Embassy convoy came under fire in Sudan and denounced "indiscriminate military operations" as the country's armed forces and a powerful rival unleashed heavy weapons in urban areas for a fourth day.  (AP Photo/Abdullah Moneim)
The White House made similar comments Wednesday and condemned the violence, which has claimed the lives of at least 270 people and left as many as 2,600 injured. The Sudanese Doctors' Union reported that nine hospitals have been damaged during the fighting and 16 have been evacuated.
"The United States condemns in the strongest terms violence between the Sudanese Armed Forces…and the Rapid Support Forces," White House Press Secretary Karine Jean-Pierre said on Wednesday, adding that the violence "recklessly" endangers Sudanese people.
180 DEAD, ALMOST 2K INJURED AS SUDAN CONFLICT RAGES ON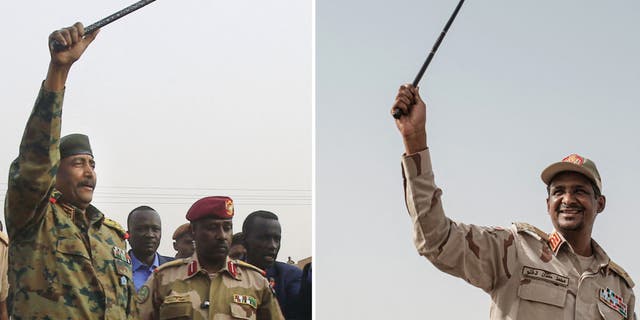 This file picture composite shows General Abdel Fattah al-Burhan (L), the head of Sudan's ruling military council, greeting his supporters in Khartoum's twin city of Omdurman on June 29, 2019 and Sudanese paramilitary commander Mohamed Hamdan Daglo raising up a cane during a meeting with his supporters in Khartoum on June 18, 2019.
Jean-Pierre encouraged Sudanese leaders to "engage in dialogue without delay" for the safety of their country.
An attempt at a ceasefire between the two armed forces failed on Wednesday. The 24-hour ceasefire was supposed to begin at 6 p.m. on Wednesday night, but eyewitnesses told Reuters that there was still fighting.
CLICK HERE TO GET THE FOX NEWS APP
The conflict has disheartened hopes for democracy in Sudan after decades of dictatorships. Bombardments were reported in central Khartoum, the country's capital, as residents struggle with power outages and a dwindling food supply.
Fox News' Andrea Vacchiano and Reuters contributed to this report.
Liz Friden is a Pentagon producer based in Washington, D.C.