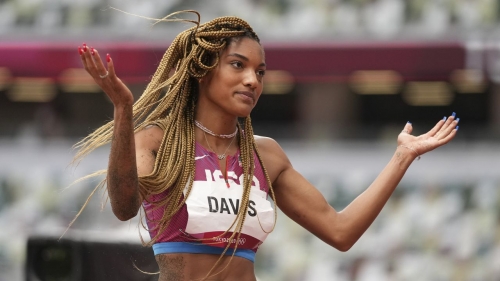 Tara Davis-Woodhall represented the US at the Tokyo Olympics in 2021.
Matthias Schrader/AP

CNN
—
US long jumper Tara Davis-Woodhall has been stripped of her recent national indoor title and hit with a one-month suspension after a positive test for cannabis, the US Anti-Doping Agency (USADA) announced Tuesday.
USADA said Davis-Woodhall tested positive for THC, a chemical found in cannabis, marijuana and hashish. Her positive test was from the result of a sample collected in competition at the 2023 USA Track and Field indoor championships in Albuquerque, New Mexico, on February 17, the same day she had won the title with a jump of 6.99 meters.
Davis-Woodhall, 23, has already completed her suspension, which she began serving on March 21.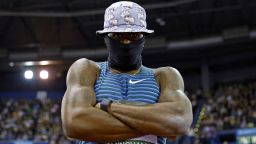 Athletics – Birmingham World Indoor Tour Final – Utilita Arena Birmingham, Birmingham, Britain – February 25, 2023
Marquis Dendy of the U.S. celebrates winning the the men's long jump Action Images via Reuters/Peter Cziborra
Peter Cziborra/Action Images/Reuters
How Marquis Dendy brought bucket hats to athletics
The positive test means Davis-Woodhall lost her title, as she was disqualified from all competitive results obtained on and subsequent to February 17, including forfeiture of any medals, points and prizes.
Cannabis, marijuana, and hashish are considered prohibited substances under World Anti-Doping Agency (WADA) rules.
"WADA seeks input on each year's updated version of the Prohibited List," USADA's press release states. "USADA has advocated and will continue to advocate to WADA, the rule maker, to treat marijuana in a fairer and more effective way to identify true in-competition use."
Per WADA rules, THC allows for a reduced three-month suspension if the athlete establishes the substance was taken out of competition and unrelated to sport performance. USADA said Davis-Woodhall's case was reduced to one month for those reasons and because she completed a substance abuse treatment program for her use of cannabis.
In 2021, US sprinter Sha'Carri Richardson had initially booked her spot at the Tokyo Olympics with a runaway victory in the women's 100 meters at the US Olympic track and field trials in Eugene, Oregon, only to have her title stripped after testing positive for marijuana.
Richardson was suspended for a month. USA Track and Field opted not to select her as part of the women's 4×100-meter relay pool after her suspension ended, keeping Richardson off the Olympic team.