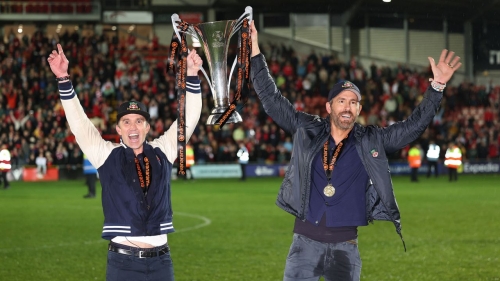 Wrexham owners Rob McElhenney and Ryan Reynolds celebrate after Wrexham won promotion back to the English Football League.
Matthew Ashton/AMA/Getty Images

CNN
—
They couldn't, could they?
Days after Wrexham's promotion from the National League for the first time in 15 years, the club's Hollywood owners are making an audacious attempt to complete a signing fit for a movie script.
The target of their efforts? Oh, just arguably the greatest Welsh footballer of all time, Gareth Bale.
In a video posted on the Twitter account of Rob McElhenney – one of Wrexham's owners alongside movie star Ryan Reynolds – Bale is seen offering his well wishes to the club after its promotion.
"Hi Rob, just wanted to congratulate you on your promotion and everything you're doing at Wrexham," the recently-retired Bale says.
Hey @GarethBale11 let's play golf, where I totally won't spend 4 hours trying to convince you to un-retire for one last magical season 🏴󠁧󠁢󠁷󠁬󠁳󠁿 🏴󠁧󠁢󠁷󠁬󠁳󠁿 🏴󠁧󠁢󠁷󠁬󠁳󠁿 🏴󠁧󠁢󠁷󠁬󠁳󠁿 ❤️ pic.twitter.com/FZgXZbM4zx

— Rob McElhenney (@RMcElhenney) April 25, 2023
McElhenney's pitch to Bale – who made 111 appearances for Wales, scoring 41 goals and helping to guide the nation to three of the last four major international tournaments – lay in the caption to the video.
"Hey @GarethBale11, let's play golf, where I totally won't spend 4 hours trying to convince you to un-retire for one last magical season," McElhenney wrote.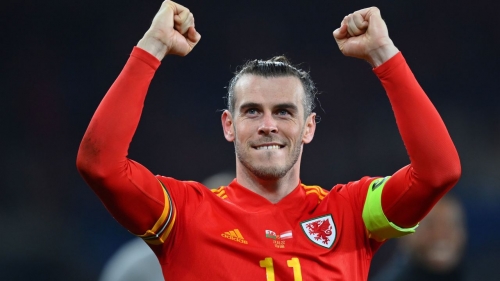 Gareth Bale is a Welsh football legend.
Dan Mullan/Getty Images
Bale, a keen golfer himself, replied to McElhenney's pitch, cryptically saying: "Depends what course…" and tagging the R&A, which is based in St Andrews, Scotland, home of the legendary Old Course.
Reynolds picked up the baton from his co-owner, replying, "I will shave a professional-grade golf course into Rob's back if you'll give Wrexham a season."
He did soon provide an update, however, adding: "After an online image search, it appears Rob does not have the requisite body hair to support this plan."
Bale is one of football's most successful players over the last 20 years, winning five Champions Leagues with Real Madrid and scoring a combined 106 goals for the Spanish side.
But arguably his most important impact came for the Welsh national team, for whom he became a legend, leading the country to its first World Cup appearance in more than 50 years at Qatar 2022.
Bale celebrates after scoring for Wales against the USMNT during the Qatar 2022 World Cup.
Clive Mason/Getty Images
There's been no update on whether Bale will in fact dust off his boots and lace them up for one final season in League Two, the fourth tier of English football, with Wrexham.
But if anyone could pull it off, then it would be McElhenney and Reynolds, wouldn't it?