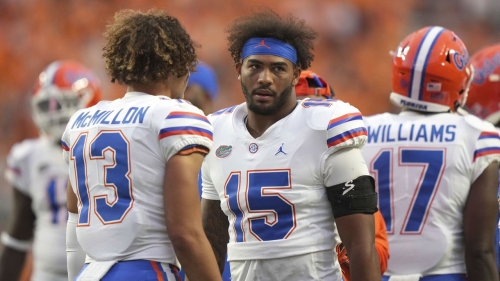 Anthony Richardson (15) talks with teammate Donovan McMillon during a game between the University of Tennessee Volunteers and the University of Florida Gators at Neyland Stadium.
Tim Gangloff/AP

CNN
—
Heading into the NFL Draft, there's always one prospect coming out of college who everyone becomes infatuated with, despite not being the finished article.
Sometimes, it's down to physical traits shown at the Combine; sometimes, it's down to their personality; or sometimes, it's down to their display at their particular pro day in front of scouts.
This year's golden boy is Anthony Richardson and, in his unique case, he's impressed at every stage of the process.
Richardson ran the fastest 40-yard dash time of all quarterbacks, as well as jumping the highest and furthest at the Combine.
But it was at his University of Florida pro day where his big arm and all-around skillset lit up social media and had teams drooling over his potential.
He literally almost threw the ball out of the building when one of his booming throws hit the ceiling of the indoor facility.
Richardson has become the most tantalizing prospect at the draft; reports have indicated some see him as the next Josh Allen – a rough diamond who will take years to perfect but who has elite potential – with teams all the way up to the Carolina Panthers at No. 1 considering taking him.
It is those rough edges which could see him fall down the draft order. But the prospect of 'what if' that comes with Richardson – and at just 20 years of age – is one general managers and coaches around the league have been unable to turn a blind eye to for years.
NFL analyst Lance Zierlein described him as having "elite size, strength and athletic ability for the quarterback position … potential to perform in a variety of offensive schemes … arm strength to throw downfield and into tight windows" in his official draft profile, but also points to his passing inaccuracy.
With potentially nine picks in the opening 12 being held by quarterback-needy teams, Richardson could be finding a new home anywhere across the league.
Richardson gestures during the first quarter against the South Carolina Gamecocks on November 12, 2022.
James Gilbert/Getty Images
Diamond in the rough

Richardson first burst onto the footballing scene not for his skills throwing the ball, but for catching it instead.
In his first game for Eastside High School in Florida, Richardson was deployed as a wide receiver and was caught making an extraordinary one-handed leaping catch, similar to one made by Odell Beckham Jr. for the New York Giants.
That video, posted over four years ago, has become a portent for the athleticism Richardson is now known for.
Richardson says that he has a new tattoo which reads "1 of 1" to describe his unique skillset.
"A lot of people say I'm a different breed. I always tell people I'm not from Earth," Richardson told ESPN. "I'm gifted, I'm talented. I feel like God made me different, and I just try to use that in my daily life."
He quickly earned the starting quarterback spot, before deciding to attend the University of Florida; the college was just 15 minutes from his high school.
Richardson's start to life with the Gators was underwhelming; he redshirted his first year and attempted just 64 passes in his second.
It was only in his third year at the college where he laid down a marker, starting 12 games and throwing for 2,549 passing yards, 17 touchdowns and nine interceptions as the team finished with a 6-6 record with him at the helm. He also ran for 654 yards and nine more touchdowns.
Richardson throws a pass during the game against the Florida State Seminoles on November 25, 2022.
David Rosenblum/Icon Sportswire/Getty Images
It means that Richardson has just 13 career college starts to his name entering the draft. According to ESPN, that would be tied for the lowest amount of college starts for a first-round quarterback draft pick if he gets selected in the opening round, level with Mitch Trubisky, since 2002.
Despite the lack of experience, the evidence on tape shows that Richardson has ability.
Richardson's electricity with the ball in his hands isn't limited to throwing; the young quarterback has had touchdown runs of 45, 60, 73, 80 and 81 yards over the past two seasons.
But despite those wow plays, both throwing and running the ball, Richardson will need "a lot of work that needs to be done to reach a potentially high ceiling," according to Zierlein's evaluation.
"His accuracy on short and simple throws left much to be desired due, in part, to shoddy footwork and inconsistent rhythm. The footwork issues can be corrected, but the challenge will be determining whether he can be at least a functionally accurate passer at the next level."
But it is that hope that Richardson could make the maximum out of his potential which has teams intrigued.
According to FiveThirtyEight, Richardson's draft stock rocketed from a mid-first round pick at the end of a college season to a top-five pick in the matter of months.
The comparison which Richardson has drawn from analysts is to Cam Newton – a physically dominant quarterback with some accuracy issues.
In 2011, Newton was coming off a thrilling final season with Auburn, winning the Heisman Trophy and the NCAA championship, and eventually going on to have an extremely successful NFL career with the Carolina Panthers, including winning the 2015 NFL MVP award.
Matching the production of an MVP is a high bar, but Richardson's ceiling is such that Newton's career path is what a team selecting him in the top five of the draft will be hoping for.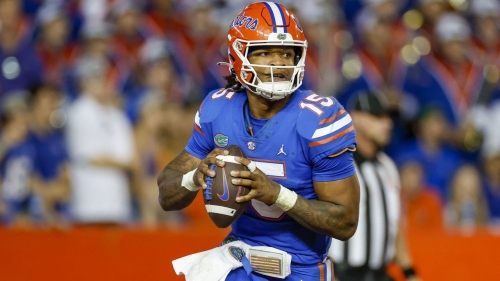 Richardson looks for a receiver during the game against the South Carolina Gamecocks.
David Rosenblum/Icon Sportswire/Getty Images
Richardson would also continue the trend of teams prioritizing quarterbacks in the draft who can excel at both throwing and running the ball – Trevor Lawrence, Trey Lance and Justin Fields in 2021 and Joe Burrow, Tua Tagovailoa, Justin Herbert and Jalen Hurts in 2020 can all count mobility in their arsenal of weapons.
And nobody wants to miss out on picking a franchise quarterback; no one wants to be the Chicago Bears choosing Trubisky over Patrick Mahomes. While Mahomes has won two Super Bowl rings and two league MVPs, Trubisky is on his third team and has settled into a back-up role.
Come Thursday, Richardson could be drafted first overall or he could go outside the top 10.
His rare combination of athleticism and a big arm is an intriguing prospect and could have general managers pulling out their hair if they decide to look past him or could totally transform their prospects if he reaches his potential.