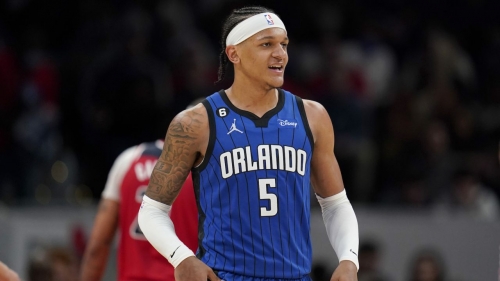 Paolo Banchero has been named the NBA's Rookie of the Year.
Jess Rapfogel/Getty Images/FILE

CNN
—
Orlando Magic star Paolo Banchero was awarded the Wilt Chamberlain Trophy as he was named the NBA's Rookie of the Year on Tuesday
The top overall pick in the 2022 NBA Draft, Banchero played and started in 72 games this season with the Magic, averaging a team-high 20 points, 6.9 rebounds and 3.7 assists per game.
He was the overwhelming winner in the voting for the Rookie of the Year award, claiming 98 out of 100 first-place votes from the panel of sportswriters and broadcasters to finish ahead of Oklahoma City Thunder forward Jalen Williams and Utah Jazz center Walker Kessler – the only other player to receive first-place votes.
During his stellar debut season, Banchero led all NBA rookies in scoring and minutes played.
He also ranked among rookie leaders in rebounding (fifth), assists (third), free throw percentage (seventh), steals (fourth) and blocked shots (seventh).
According to the NBA, Banchero is just the sixth rookie in the last 50 seasons to average at least 20 points, six rebounds and three assists per game across a minimum of 50 games.
The 20-year-old scored at least 30 points six times this season, the most by any NBA rookie.
Previous recipients of the Rookie of the Year award include Kareem-Abdul-Jabbar, Michael Jordan, Shaquille O'Neal and LeBron James.
Banchero is the third Magic player to win the award after O'Neal in 1992-93 and Mike Miller in 2000-01.