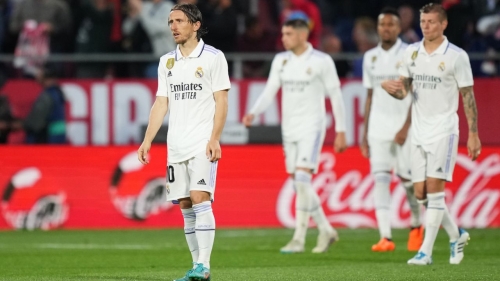 Real Madrid suffered a shock 4-2 defeat to Girona.
Alex Caparros/Getty Images

CNN
—
Real Madrid's hopes of catching Barcelona at the top of La Liga were all but extinguished on Tuesday as Los Blancos suffered a shock 4-2 defeat to Girona.
Valentín Castellanos had the match of his life, scoring all four goals in the victory to become the first player in more than 75 years to score four times in a single La Liga match against Real Madrid.
Vinícius Jr and Lucas Vázquez got on the score sheet for Real Madrid, but it wasn't enough against a rampant Castellanos – more commonly known by his nickname 'Taty' – who took his La Liga goal tally for the season to 11.
The Argentine is currently on a season-long loan at Girona from MLS side New York City, both sister clubs of Real's upcoming Champions League semifinal opponent Manchester City.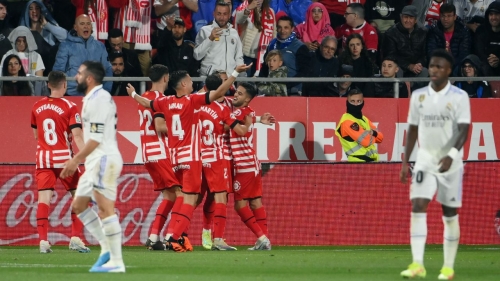 Girona players celebrate Taty Castellanos' fourth goal.
Lluis Gene/AFP/Getty Images
Real Madrid remains 11 points behind Barcelona at the top of La Liga, but Xavi's side can extend its lead to 14 points with victory over Rayo Vallecano on Wednesday.
"It was a tough night," Real head coach Carlo Ancelotti said, per the club. "Whenever you lose like this, it's a tough night. We were very poor defensively and that was what decided the game. We did a good job with the ball, especially early on.
"Then they hit us with two goals on the counter and we tried to get back into the game with individual moments, not as a team. We were individually poor and the defensive side of things, which has been great in recent games, was nowhere to be seen today.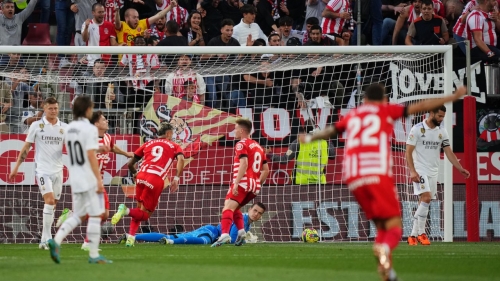 Real Madrid could concede more ground to Barça in the title race.
Alex Caparros/Getty Images
"The team were nervous from the off and then we lost control. It looked as though half-time would help us, but then we conceded again and it was an uphill battle.
"The fans are hurting and we apologize. We're hurting too, but we know we will be in good shape for the Copa final and the Champions League semis."
Real star Vinícius was left frustrated with some of the refereeing decisions on Tuesday, taking to Twitter to express his dismay.
😅 Laliga 😅 https://t.co/yS5RFIAQtd

— Vini Jr. (@vinijr) April 25, 2023
In the first half, Girona defender Santiago Bueno kicked the ball into Vinícius after the Brazilian had fallen onto the floor. Vinícius seemingly thought it was intentional, pleading with the referee for a foul, only to be issued a yellow card by the official for complaining. Vinícius replied to a description of the incident on Twitter with "La Liga" accompanied by two sweating emojis.
In another incident, Arnau Martínez caught Vinícius late on the ankle with a bad tackle, but the challenge went unpunished.
The defeat certainly doesn't make for good preparation for the huge Champions League tie against City – played on May 9 and 17 – and Ancelotti blamed the disjointed performance on a lack of "defensive commitment" from his players.
"If we don't have that, we will struggle to win games, but if we show it, we'll have success," he said. "That's the key. We have unbelievable quality and that has to be aided by the defensive commitment which we did not show today.
"We hadn't conceded a single goal in six of the last seven games and, today, we let in four. If the players don't understand that, I'll have to drum it into them every day."