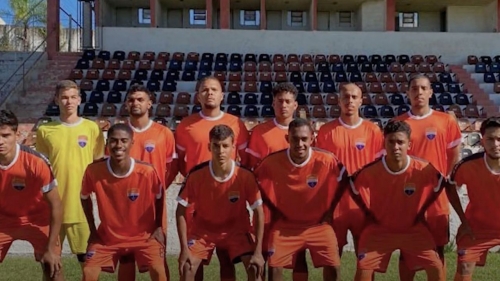 FC Mariupol in Brazil in 2023.
From FC Mariupol

CNN
—
A little part of Ukraine is reborn in southern Brazil.
Just over a year ago, Ukrainian soccer team FC Mariupol disappeared, as the city it represented was pummeled by Russian artillery and bombers.
On March 19, 2022, the team was due to welcome FC Kollos to the Volodymyr Boyko Stadium for a match in the Ukrainian Premier League.
But by then, its training center had been bombed; the club's campus had become a Russian barracks.
When the Ukrainian professional league resumed, FC Mariupol was missing from the schedule, its squad disbanded and its 12,000-capacity stadium deserted.
But hope was not abandoned.
The club's vice president, Andriy Sanin, told CNN on Tuesday: "When we don't play, people forget about us. And this was very disturbing for us. We started looking for ideas how to make people to keep talking about us."
One idea was half a world away.
"The first country that comes to mind when you think about football is, of course, Brazil. We found a whole province that is almost 80% ethnic Ukrainian, and we found a football club," Sanin said.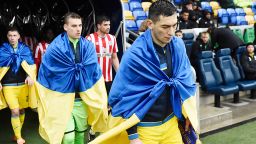 Midfielder Taras Stepanenko leads Ukraine out against Brentford B on March 23, 2023.
Courtey UAF/ Pavlo Kubanov
Reminders of war motivate Ukraine to perform 'miracle' against England
The province, or region, was Prudentópolis in southern Brazil, where a large number of inhabitants are of Ukrainian descent. The town of Guarapuava boasts the largest Ukrainian community in south America – an incredible 75% of its 52,000 inhabitants claim Ukrainian descent.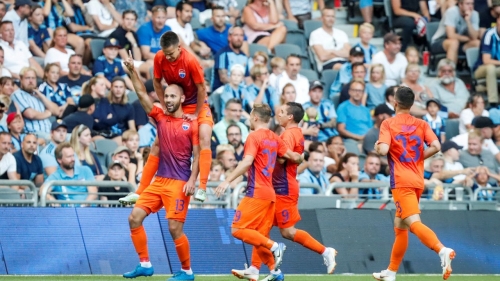 Mariupol's Sergiy Yavorsky celebrates with his teammates after scoring against Djurgardens IF in the UEFA Europa League second qualifying round in 2018.
Christine Olsson/TT News Agency/Reuters
And the football club? Associação Atlética Batel.
Not exactly a powerhouse of Brazilian football, as the team plays in the third division of the state league in Paraná. But Batel suddenly has an international following. For the next six games, and maybe beyond, it's changing its name to FC Mariupol, adopting the orange shirts of the Ukrainian side as well as its crest and logo.
For Sanin: "This gives hope that if the club has not died, the city will not die either, and it will be revived.
"Ukrainian Mariupol will be revived just like the Ukrainian football club Mariupol," he told CNN.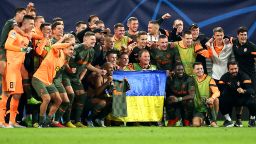 LEIPZIG, GERMANY – SEPTEMBER 06: Shakhtar Donetsk pose for a team photo following their side's victory in the UEFA Champions League group F match between RB Leipzig and Shakhtar Donetsk at Red Bull Arena on September 06, 2022 in Leipzig, Germany. (Photo by Cathrin Mueller/Getty Images)
Cathrin Mueller/Getty Images Europe/Getty Images
As war continues in Ukraine, Shakhtar Donetsk wants to send message of hope with 'miracle' season
In Brazil, Batel club president Alex Lopes said: "Our club and our region have a lot in common with the Ukrainian people. Our goal is to help keep FC Mariupol, which was the pride of the city, alive until they can really get back into business."
On the newly created website FCMariupolLives, Batel commented: "Ukraine has always opened the gates of Europe to Brazilians. Now, it's time for Brazil to welcome the Ukrainians and keep FC Mariupol alive."
Sanin says it's impossible to express how much Batel's gesture means to the Ukrainian club. He confessed that a video created in Prudentópolis to embrace FC Mariupol reduced him to tears.
The website created by the club says: "We will take care of FC Mariupol until all the Ukrainians can go to Volodymyr Boyko stadium again to watch their home team play."
The feeling is mutual; Sanin told CNN, "I really hope that later, after the war, we will definitely meet with the guys from the Brazilian club. We will invite them to Mariupol, to the Sea of Azov."
Sanin, like millions of Ukrainians, is awaiting the much-heralded launch of a Ukrainian counteroffensive. And he's optimistic that the Volodymyr Boyko stadium will soon see the orange shirts in action again.
"A few days ago we asked the Ukrainian Premier League to postpone our return to big football for another season. So we can return in the 2024/25 season."