close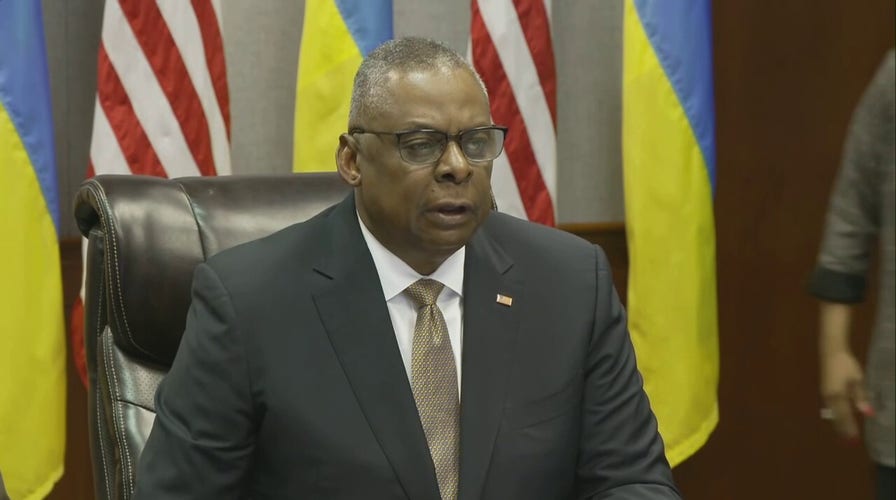 Video
Pentagon: Russian jet taking down US drone part of 'pattern' of 'aggressive' pilot actions
Defense Secretary Lloyd Austin on Wednesday said the U.S. will not stop flights in international airspace after a Russian fighter jet clipped a U.S. drone propeller, causing a crash into the Black Sea.
The U.S. said on Tuesday two Russian SU-27 warplanes harassed and struck down an unmanned U.S. MQ-9 Reaper drone over international waters, forcing it to crash into the Black Sea in what could be described as "coercive signaling."
If a Russia warplane is found to have purposefully downed the sophisticated $32 million intelligence collecting drone, it will be the first time the U.S. and Russia have directly exchanged blows since the war in Ukraine began.
Though Moscow has denied downing the drone and claimed it crashed on its own, one report by the RAND Corporation released last year suggests this could align with Russia's known use of coercive tactics.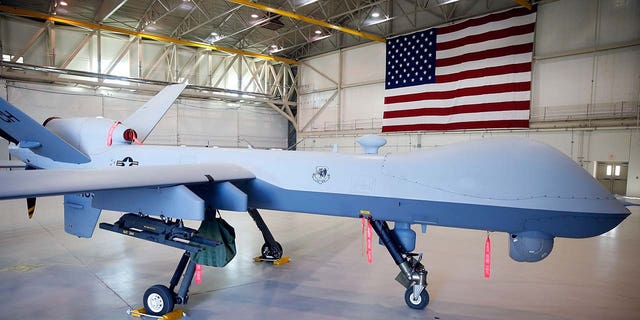 An MQ-9 Reaper remotely piloted aircraft is parked in a hanger at Creech Air Force Base on Nov. 17, 2015 in Indian Springs, Nevada. (Isaac Brekken/Getty Images)
RUSSIA BLAMES US FOR 'HOSTILE' FLIGHTS NEAR ITS BORDERS AFTER FORCING DOWN US DRONE
The report, compiled using data collected in 2020 – well before the full scale invasion of Ukraine kicked off – says that Russia has been known to use "coercive signals to send targeted messages regarding activities that it finds problematic."
The report noted that this finding was based on "empirical research" and is not based on a prescribed policy in Moscow.
The report also found a direct correlation to an increase in hostile Russian behavior in the region, like snap exercises and overt maritime aggression in the Black Sea, during times when the U.S. and its NATO allies are engaged in increased activity.
"Russia's deterrent signaling appears to be deliberately predictable," the report found. "There is therefore a line between the Russian practices of compellence — attempts to force a change in U.S. or allied behavior — and deterrence."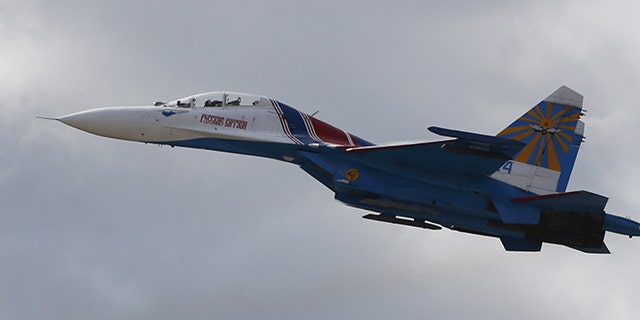 A Sukhoi Su-27 fighter jet performs during an aviation show outside Moscow. (Reuters)
The Pentagon has not yet said how it will respond to the incident but warned Moscow against dangerous and escalatory behavior before the State Department then summoned Russia's ambassador.
In opening remarks to the Ukraine Defense Contact Group Wednesday morning, Secretary of Defense Lloyd Austin addressed the issue and said, "Make no mistake: The United States will continue to fly and to operate wherever international law allows."
"It is incumbent upon Russia to operate its military aircraft in a safe and professional manner," he added in an apparent warning.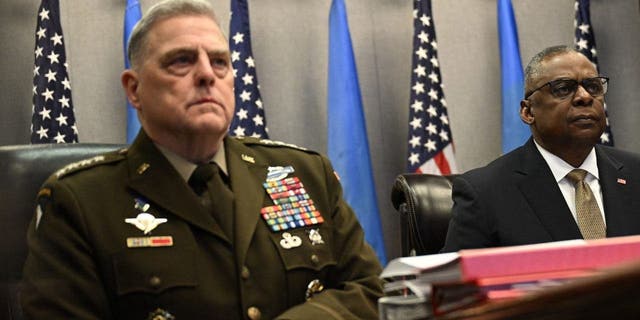 Defense Secretary Lloyd Austin, right, and Chairman of the Joint Chiefs of Staff General Mark Milley attend a virtual meeting of the Ukraine Defense Contact Group on March 15, 2023, at the Pentagon in Washington, D.C. (ANDREW CABALLERO-REYNOLDS/POOL/AFP via Getty Images)
UK, GERMANY SCRAMBLE FIGHTERS TO BLOCK RUSSIAN JETS HOURS AFTER US DRONE CRASH
While Western defense officials remain concerned over how this could escalate the war in Ukraine and potentially beyond its borders, retired U.S. Army Brig. Gen. Anthony J. Tata said the alleged attack was in part a response to a shift in the U.S.'s intelligence sharing policy with Ukraine.
"The least discussed aspect of the Russian jet engagement of the United States Air Force MQ-9 Reaper drone is the apparent policy change of providing intelligence directly to Ukraine, which of course requires the United States to deploy intelligence collection assets in proximity to Russian forces," Tata, author of the new book "Total Empire," told Fox News Digital.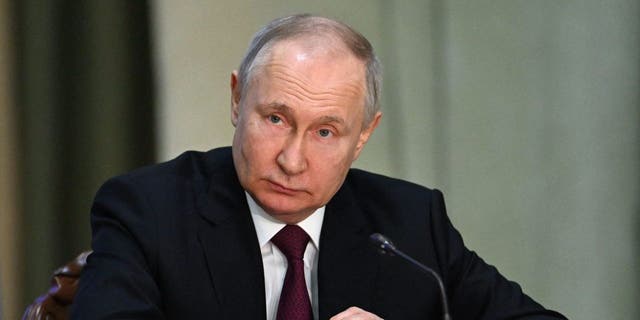 Russian President Vladimir Putin attends an expanded board meeting of the Russian Prosecutor General's Office in Moscow on March 15, 2023. (PAVEL BEDNYAKOV/SPUTNIK/AFP via Getty Images)
RUSSIAN JET COLLIDES WITH US DRONE IN INTERNATIONAL AIRSPACE OVER BLACK SEA, OFFICIAL SAYS
During the early months of the war, reports suggested that the Biden administration had limitations on the sort of intelligence it would share, like information that would aid Ukraine in the precision targeting of top Russian officials.
However, by the end of 2022, reports citing unidentified senior officials from the Pentagon suggested that the U.S. had expanded its intelligence sharing policies to aid Kyiv.
"The Reaper – jet incident is the latest icy patch on the slope toward NATO and [the] United States' direct military involvement in Russia's invasion of Ukraine," Tata added.
The retired brigadier general pointed out that though the downing of the Reaper drone is a costly loss for the U.S. and its allies, it is not the first time Washington has dealt with such an incident.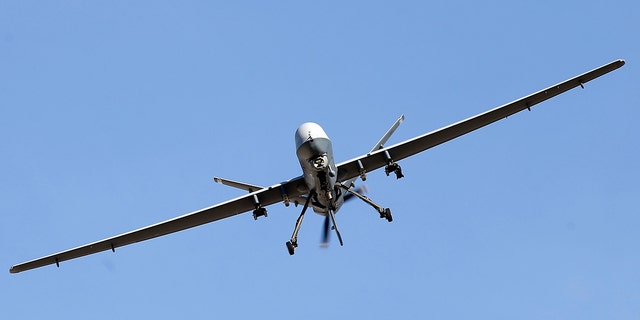 An MQ-9 Reaper remotely piloted aircraft flies by during a training mission at Creech Air Force Base on Nov. 17, 2015, in Indian Springs, Nevada. (Isaac Brekken/Getty Images)
CLICK HERE TO DOWNLOAD THE FOX NEWS APP
"Not having a pilot in the downed aircraft keeps the response threshold below direct combat retaliatory threshold," he said. "We should remember that Iran downed the very same model aircraft in 2019 and the administration wisely kept its powder dry.
"Still, Russia intercepted and destroyed the drone, and the incident deserves a policy response and discussion, bearing in mind at the bottom of this slope are the two nations with the bulk of the world's nuclear weapons," Tata added.
Caitlin McFall is a Reporter at Fox News Digital covering Politics, U.S. and World news.