close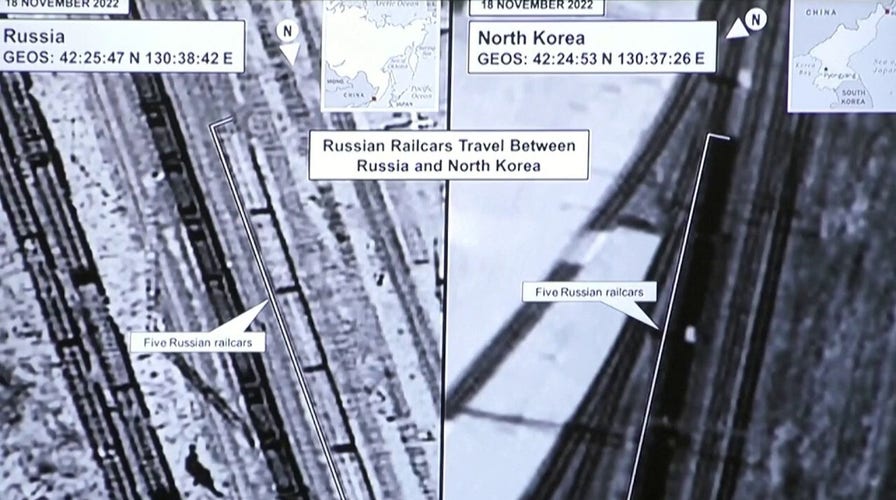 Video
NSC spokesman announces sanctions, new criminal designation for Wagner Group
White House National Security Council Strategic Communications Coordinator John Kirby presents images that allege railcar movement between Russia and North Korea during a press briefing. Reuters/Leah Millis
The head of the Russia's Wagner Group announced the opening of recruitment centers in dozens of cities late last week. "Recruitment centers for PMC Wagner have opened in 42 Russian cities," the controversial mercenary chief Yevgeny Prigozhin said in a statement.
Prigozhin has pivoted his recruitment efforts since the beginning of March, setting up outreach teams based in sports centers in at least 40 locations across Russia and sending masked recruiters to give "career talks" in schools, according to U.K. defense officials.
The Wagner Group has also opened at least three new recruitment centers at sports clubs in Russia earlier this month to augment its recruitment base, according to the Institute for the Study of War. The new Wagner recruitment centers are reportedly based at the "Dynamo" sports facility in Samara, the "Antares" Sports Club in Rostov, and in the headquarters of the Russian Boxing Federation in Tyumen.
RUSSIA SACRIFICING MERCENARY FORCES AS 'LIVE MEAT' AFTER WAGNER GROUP WARLORD LOSES 'PUTIN'S TRUST'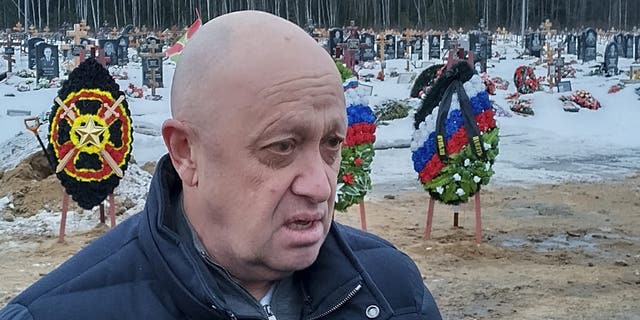 Yevgeny Prigozhin attends the funeral of Dmitry Menshikov, a Wagner Group fighter who died in Ukraine, at a cemetery outside St. Petersburg, Russia, Dec. 24, 2022. (AP Photo)
The effort may seek to offset recruiting losses after Russian government officials reportedly barred the group's recruitment campaign from Russian prisons, the Institute for the Study of War noted. This comes amid mounting tensions between the Russian Ministry of Defense and the controversial Prigozhin, who has long been a close associate of President Vladimir Putin.
The group, which has been active in conflicts in Syria, Libya and now Ukraine, is known for its use of Russian volunteers, prisoners and mercenaries. The U.S. estimated in January that Wagner had approximately 50,000 personnel deployed in Ukraine, including 10,000 contractors and 40,000 convicts. About half of the prisoners recruited for Ukraine have been killed or wounded, U.K. defense officials say.
According to former Defense Intelligence Agency officer Rebekah Koffler, Russia's ongoing recruitment drive, whether it is conducted by the Wagner Group or by the Ministry of Defense's proxies who run a covert mobilization campaign, is a sign that Vladimir Putin is playing the long game in Ukraine. "With one of the highest incarcerations rates in the world, recruiting conscripts from prisons to feed the front line in Ukraine will continue as well," Koffler told Fox News Digital.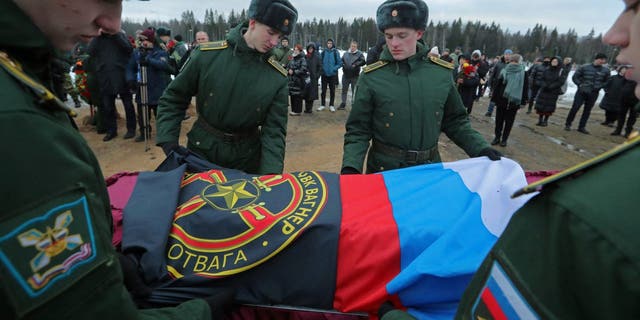 Military cadets cover the coffin of Dmitry Menshikov with a flag in the Alley of Heroes at a cemetery in St. Petersburg, Russia, Dec. 24, 2022. (Reuters/Igor Russak)
UKRAINE'S BAKHMUT MAY FALL IN DAYS, SAYS NATO CHIEF, AS RUSSIA CLAIMS VICTORY OVER EASTERN HALF OF CITY
Especially involved in the brutal battle for the eastern Ukrainian city of Bakhmut, the Wagner Group is looking for new solutions to maintain a force on the battlefield in Ukraine. Defense Secretary Lloyd Austin has attributed Russia's progress in Bakhmut to the mercenary troops.
The conflict between the Russian Ministry of Defense and the rebel Wagner Group has likely reached a pinnacle, the Institute for the Study of War said in a recent assessment. Reports suggest that defense officials are looking to remove Prigozhin's influence as an adviser to Putin after failures on the battlefield in Ukraine.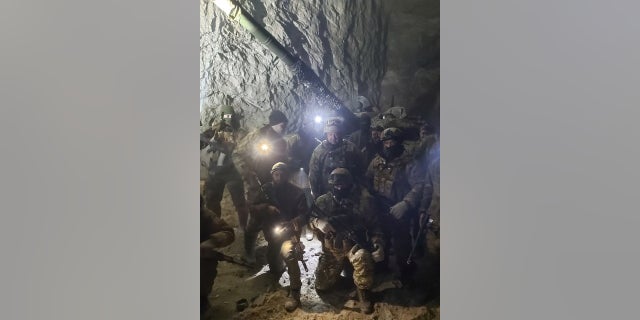 Soldiers claiming to be part of the Wagner Group pose in a salt mine in Ukraine's Donetsk region, Jan. 10, 2023. (Press service of "Concord"/Handout via Reuters)
CLICK HERE TO GET THE FOX NEWS APP
Tensions between the Ministry of Defense and Wagner are not good optics for Putin, according to Koffler, who says that using two different types of armies will undoubtedly create chaos on the battlefield. "But the fact that the Russian military is not up to snuff, based on Western military standards, doesn't mean anything in terms of Putin's goals and plans," Koffler told Fox News Digital.
Iulia Lupse is an information graphics writer for Fox News.