close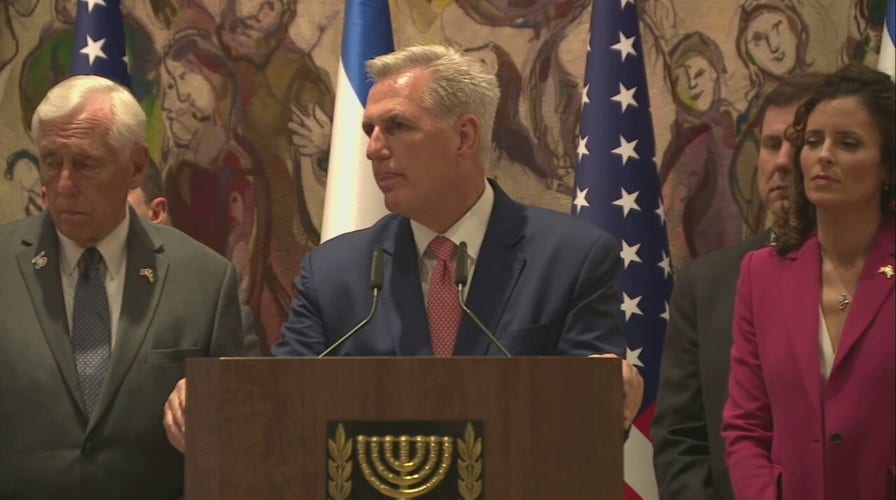 Video
Speaker McCarthy affirms U.S. support for Ukraine during Israel trip
Speaker Kevin McCarthy affirms U.S. support for Ukraine during Israel trip
A Ukrainian farmer has designed a remote-controlled mine-clearing tractor using parts from destroyed Russian tanks.
Oleksandr Kryvtsov, who runs an agricultural company in the eastern Ukrainian village of Hrakove, is using panels stripped from Russian armor to protect his tractor from any mines that it may explode, according to Reuters.
"We started doing this just because the crop-sowing time has come, and we can't do anything because the rescue services are very busy," he told the news agency.
"We ran over an anti-tank mine. The protection got blown out [but] the tractor is safe," Kryvtsov added. "Everyone's alive and safe. The equipment was restored and repaired."
US MARINE VETERAN KILLED IN UKRAINE, OFFICIALS SAY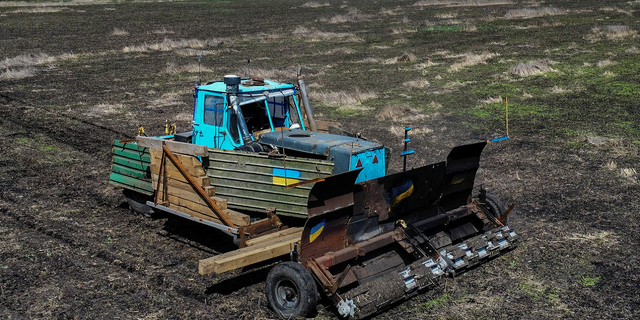 A remote controlled demining machine, created by local farmer Oleksandr Kryvtsov with his tractor and armored plates from destroyed Russian military vehicles, is seen in the Kharkiv region of Ukraine on April 26, 2023. (Reuters/Vitalii Hnidyi)
Footage captured by Reuters shows a nearby worker suspended in a digger's bucket operating the tractor by remote control.
"The amount of work is enormous," Serhii Dudak, who is overseeing the tractor's demining effort, told Reuters. "It would take years to demine this particular field by hand and to guarantee that there are no mines here."
Last week, Ukrainian Prime Minister Denys Shmyhal said 30% of the country has been mined by Russia since they launched their invasion last year, Reuters also reported.
Also last week, a U.S. Marine veteran was killed in Ukraine, an activist group said.
RUSSIA'S DEFENSE CHIEF WANTS TO DOUBLE MISSILE OUTPUT WITH POTENTIAL UKRAINIAN COUNTEROFFENSIVE LOOMING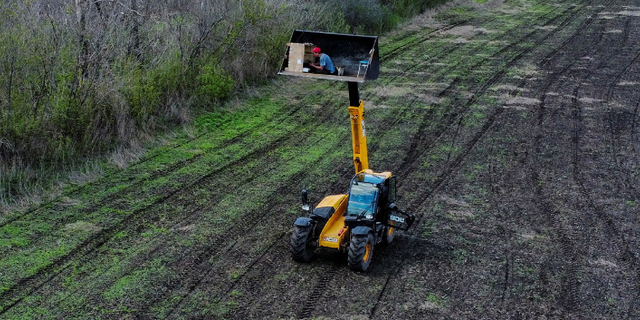 A worker uses a remote control to drive the tractor through fields in eastern Ukraine, searching for mines. (Reuters/Vitalii Hnidyi )
Cooper "Harris" Andrews, 26, was hit by a mortar April 19, during a battle for a crucial road to Bakmut, the Resistance Committee said in a statement posted on social media.
He reportedly died while defending evacuees alongside others who were killed.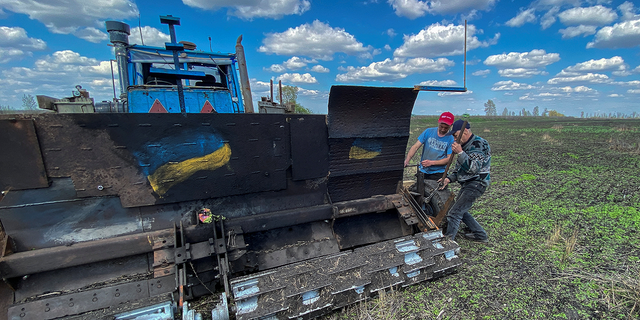 Protective panels taken from destroyed Russian tanks defend the tractor from any blasts. (Reuters/Vitalii Hnidyi)
CLICK HERE TO GET THE FOX NEWS APP
Andrews joined the Foreign Legion, a group of foreign fighters assisting Ukrainian forces since being invaded by Russia, according to social media posts.
He served in the Marines from January 2017 to Jan. 16, 2022, a U.S. official told Fox News. He was stationed in Camp Lejeune, North Carolina, before being discharged as a ground electronics transmission systems maintainer and traveling to Ukraine.
Fox News' Louis Casiano contributed to this report.
Greg Norman is a reporter at Fox News Digital.