close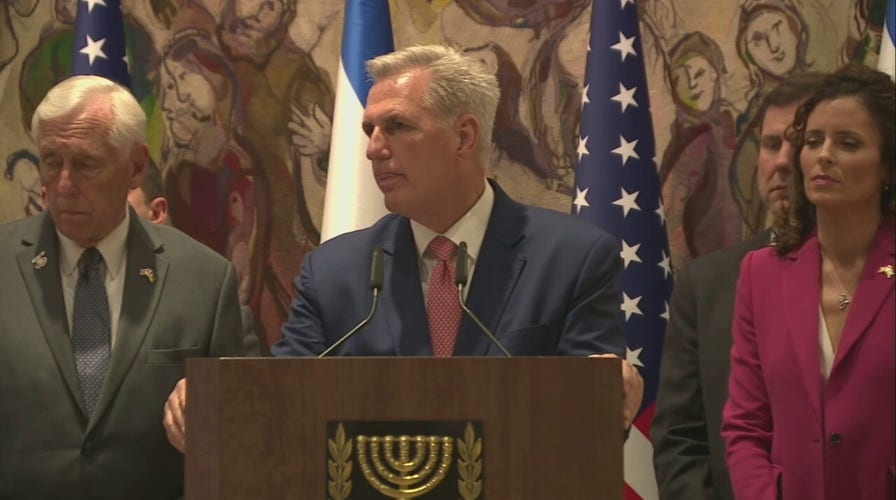 Video
Speaker McCarthy affirms U.S. support for Ukraine during Israel trip
Speaker Kevin McCarthy affirms U.S. support for Ukraine during Israel trip
JERUSALEM—Act 2 of a Democratic White House versus a Republican-led congressional showdown is unfolding over an invitation to Israel's longest-serving prime minister to visit Washington, with Biden signaling no and House Speaker Kevin McCarthy, R-Calif., welcoming Benjamin Netanyahu to meet with high-level members of Congress.
In 2015, Netanyahu defied the Obama administration lobbying activity that he not deliver a speech to Congress opposing the Democratic-drafted Iran nuclear deal that poses, according to Israel's government, an existential threat to the Jewish state.
McCarthy reportedly said during his visit to Israel that he will invite Netanyahu to Washington if Biden fails to deliver an invitation, the Jerusalem Post reported on Tuesday. While McCarthy did not explicitly mention a speech to Congress, there are striking parallels to the public row in 2015.
BIDEN DROVE 'HISTORICALLY' CLOSE MIDDLE EAST ALLIES INTO THE ARMS OF AMERICA'S GREATEST ENEMIES, EXPERTS SAY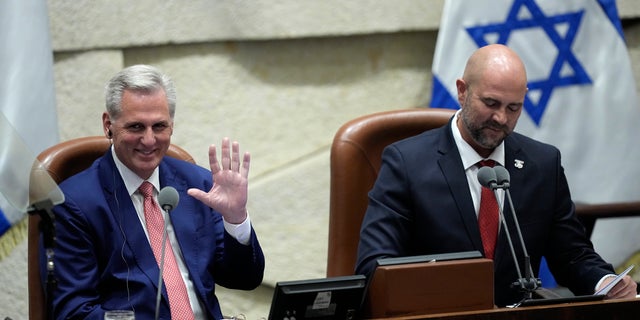 House Speaker Kevin McCarthy and Amir Ohana, speaker of Israel's parliament, during a Knesset session in Jerusalem, Monday, May 1, 2023. (AP Photo/Ohad Zwigenberg)
The speaker said, "I expect the White House to invite the prime minister for a meeting, especially with [Israel's] 75th anniversary," Reuters reported.
U.S. National Security Council spokesman John Kirby said the administration was aware of McCarthy's remarks "and we'll let him speak to those comments and whatever his intentions are. What I can speak to is the long-standing unwavering support that President Biden has already provided to the people in Israel over many, many decades of public service. And as a true friend of Israel, the president remains as committed to the further integration of Israel in the region."
McCarthy became the second House speaker to address Israel's parliament, the Knesset, on Monday in Jerusalem, following Republican Speaker Newt Gingrich in 1998.
In a sign of the fraught relations between the Biden administration and Netanyahu's conservative coalition, Kirby remained largely noncommittal about a visit, declaring, "Israeli leaders have a long tradition of visiting Washington. President Biden and Prime Minister Netanyahu have known each other a long time. I expect the prime minister will visit at some point." Kirby noted there are no definitive dates for a meeting.
McCarthy told the right-of-center paper Israel Hayom that if Biden refuses to invite Netanyahu then he will "invite the prime minister to come meet with the House."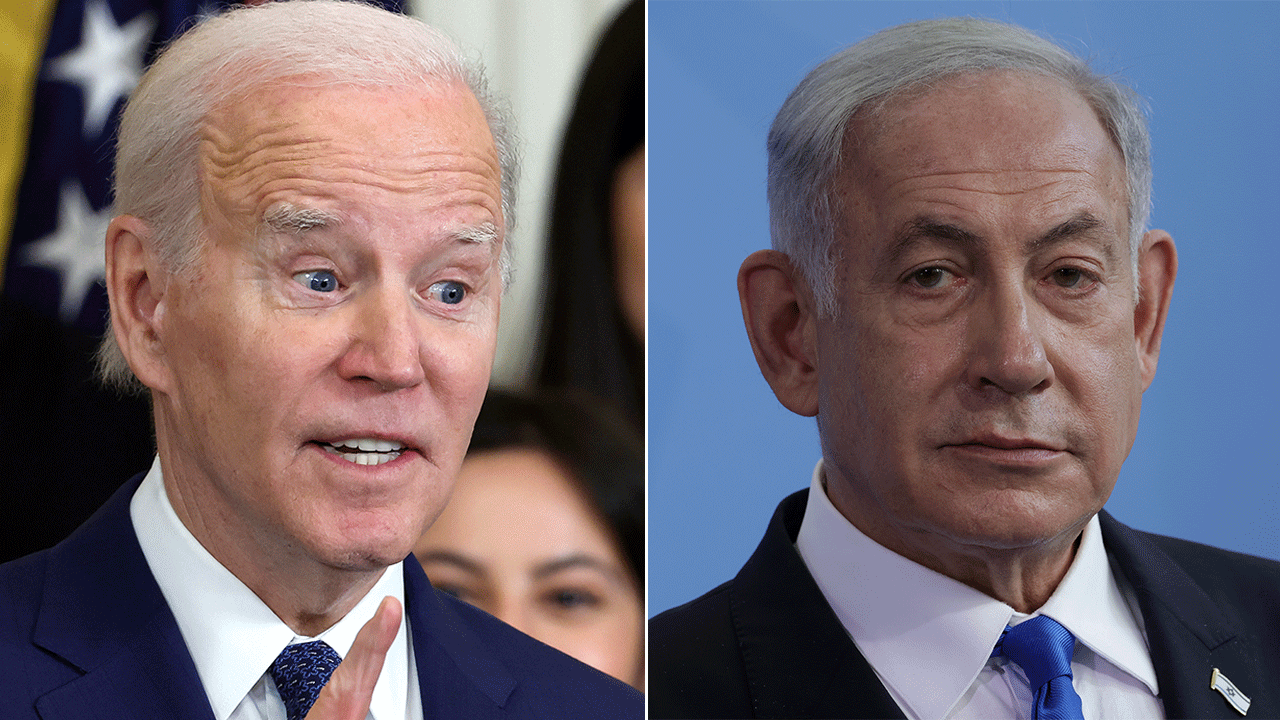 President Joe Biden and Israeli Prime Minister Benjamin Netanyahu (Anna Moneymaker/Sean Gallup)
Ariel Kahana, a senior diplomatic commentator for Israel's most read Hebrew-language daily newspaper, Israel Hayom, told Fox News Digital, "I don't think we are seeing what happened during the Obama administration. During Obama, there was a clear intent to make daylight between Israel and the U.S."
Kahana, however, asked: "How come for five months you [Biden administration] don't invite the best friend of the U.S. in the Middle East?"
He said the lack of a meeting is "very bad for ties between" the countries. Kahana added that the current gap between the U.S. and Israel "is not just bad for America and Israel but also for the Middle East. Israel would never play like the Saudis," in a reference to Saudi Arabia positioning itself between China's Communist regime and America.
NETANYAHU TELLS PIERS MORGAN DEMOCRACY IS SAFE IN ISRAEL DESPITE HIS MOVES TO WREST CONTROL OF 'TOO POWERFUL'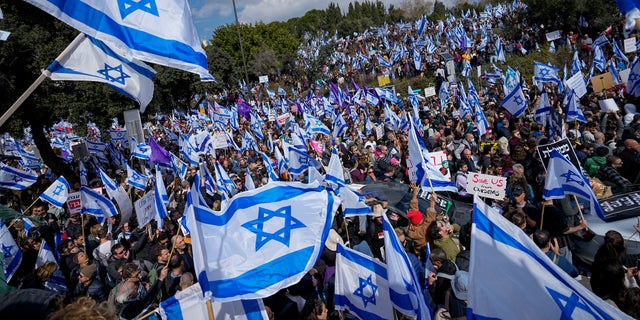 Israelis wave national flags during protests against plans by Prime Minister Benjamin Netanyahu's government to overhaul the judicial system, outside the Knesset, Israel's parliament, in Jerusalem, Feb. 13, 2023. (AP Photo/Ohad Zwigenberg)
Kahana says Israel is America's "best friend" in the Middle East and it advances U.S. interests to show the strength of the alliance between the two democracies. "There is a feeling of a vacuum here. China is coming. And it is not good for America's interests," he said.
Communist China recently out-organized the U.S. and helped normalize diplomatic relations between Iran and Saudi Arabia. Veteran Mideast experts see the restoration of ties between one of America's principal enemies, Iran, and a long-term U.S. ally, Saudi Arabia, as a devastating setback to Washington's power in the region.
The United States has classified Iran's regime as the world's worst international state sponsor of terrorism.
A source of friction between Biden and Netanyahu has been over the Israeli government's effort to reform its judiciary. Biden plunged himself into the intense debate over the reform process, declaring that Netanyahu "cannot continue down this road."
ISRAEL COMMEMORATES MEMORIAL DAY WITH PUBLIC STANDSTILL, MOMENTS OF SILENCE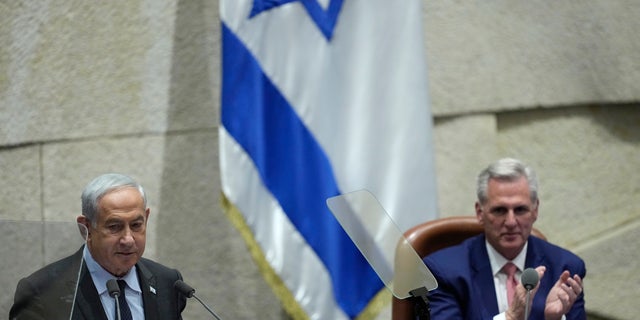 Israeli Prime Minister Benjamin Netanyahu pauses during a speech as House Speaker Kevin McCarthy applauds during a session of the Knesset in Jerusalem, Monday, May 1, 2023. (AP Photo/Ohad Zwigenberg)
Netanyahu seeks to shift power away from the judiciary to the Knesset while opponents of the move believe it will weaken Israel's system of checks and balances.
Joel Rubin, a former deputy assistant secretary of state who served in the Obama and Bush administrations, told Fox News Digital "that when it comes to Israel, diplomatic disagreements shouldn't be interpreted as the U.S. losing an ally. We're not. After all, President Biden made a very successful visit to Israel just last year and multiple members of Congress from both parties have visited the country. The U.S. also continues to send billions of dollars in military aid to Israel, support that Israel continues to seek and that isn't going anywhere."
Rubin added, "But when disagreements among friends – inspired by the hundreds of thousands of Israelis who have taken to the streets to demand that their democracy be maintained – President Biden would be doing his ally no favor by turning a blind eye. As a longtime friend of Israel, Biden proved America's friendship to Israel in the truest sense of the word."
CLICK HERE TO GET THE FOX NEWS APP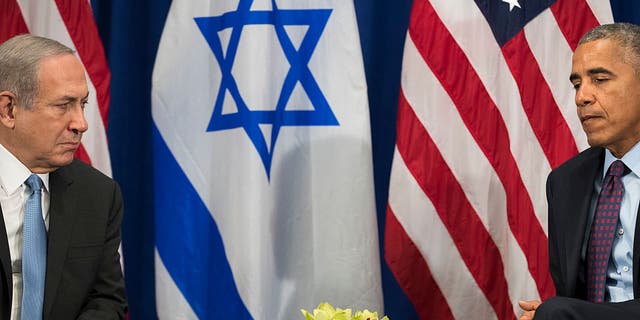 Prime Minister Benjamin Netanyahu speaks to President Barack Obama at the Lotte New York Palace Hotel, Sept. 21, 2016 in New York City. (Drew Angerer/Getty Images)
Weekly mass demonstrations have unfolded against the judicial reform efforts since early 2023. A second counterprotest, which also filled the streets with protesters, took place last week to support an overhaul of Israel's judiciary.
The Israeli Hayom commentator Kahana noted that Biden's comments on judicial reforms are not helpful for the Netanyahu government. "Some of the ministers, and some in Netanyahu's circles, would like the administration to take a different position. You give the opposition the power to decide."
According to Israeli reports Tuesday, Israel's justice minister accused Washington of working in cooperation with protesters against Netanyahu's judicial reforms. The State Department has rejected such accusations as false.
Reuters contributed to this report.
Benjamin Weinthal reports on Israel, Iran, Syria, Turkey and Europe for Fox News Digital. Benjamin has contributed articles to The Wall Street Journal, The Jerusalem Post, Foreign Policy, Haaretz, Forbes and The New York Post. You can follow Benjamin on Twitter @BenWeinthal.