close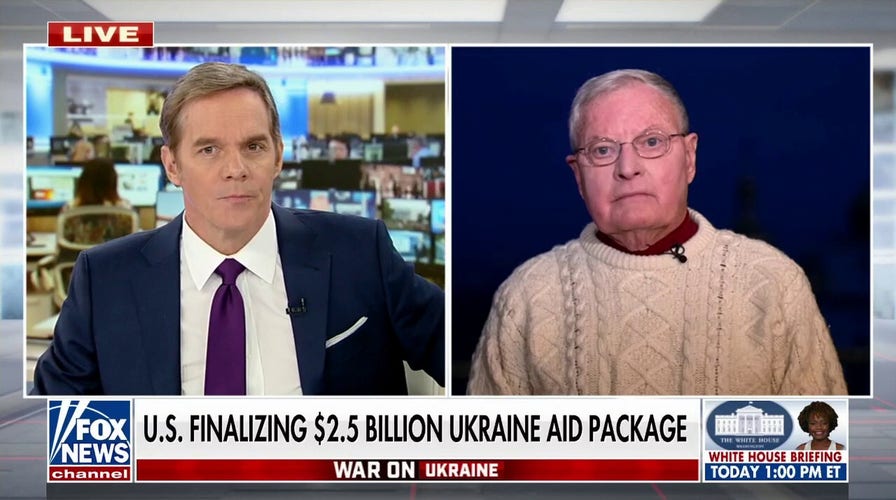 Video
Gen. Kellogg: Russia-Ukraine war will culminate in spring
Lt. Gen Keith Kellogg (Ret) on the need for U.S. to continue to support Ukraine as the U.S. finalizes a 2.5 billion aid package
Ukrainian President Volodymyr Zelenskyy gave an impassioned speech Friday to 50 of the world's top defense officials and warned them he can't use "words instead of guns" as they failed to secure an agreement on sending Kyiv German-made tanks.
"Terror does not allow for discussion," Zelenskyy said. "The terror, which burns city after city, becomes insolent when it feels that the defenders of freedom run out of weapons against it."
"All of us can use thousands of words in discussions, but I cannot put words instead of guns that are needed against Russian artillery," he added.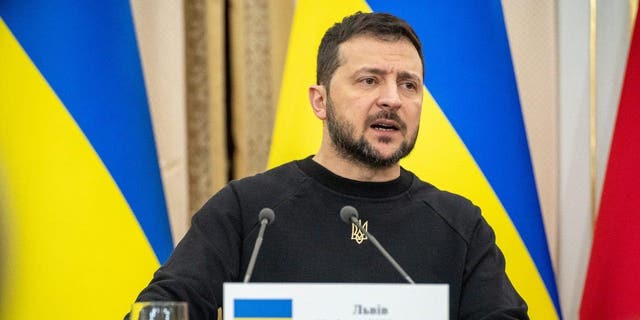 LVIV, UKRAINE – JANUARY 11: President of Ukraine Volodymyr Zelenskyi during a press conference following the tripartite meeting on January 11, 2023 in Lviv, Ukraine.
(Photo by Stanislav Ivanov/Global Images Ukraine via Getty Images)
US ADVISES UKRAINE TO HOLD OFF ON MAJOR OFFENSIVE UNTIL LATEST ARMS SHIPMENT: REPORT
Despite Zelenskyy's address his chief partners at Germany's Ramstein air base, the Ukraine Defense Contact Group failed to secure an agreement to send Kyiv tanks as the battle in eastern Ukraine rages.
The holdup largely stems from Berlin's refusal to send its Leopard II tanks or to permit any of the 15 partner nations that possess the tanks, like Poland, to send the German-made tanks from their own stockpiles.
Berlin drew international exasperation this week when it voiced concern that sending Ukraine tanks would escalate the war even more as Ukraine is not a NATO member nation.
Polish Defense Minister Mariusz Blaszczak on Friday said the 15 nations had met on the sidelines of the event to discuss a deal, describing it as a "good discussion among allies" but noted that the discussions were on going as no agreement was reached.
Poland's deputy foreign minister also said Friday that Warsaw may look to send Ukraine its Leopard II tanks even without Germany's re-export approval.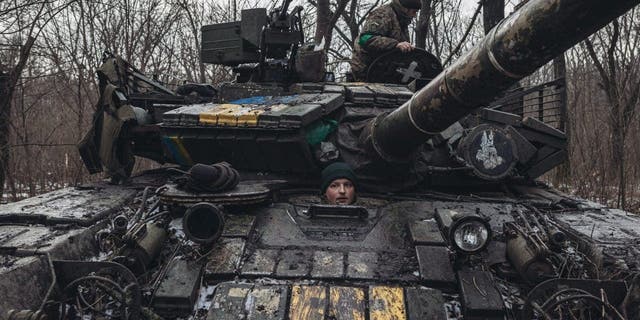 DONETSK OBLAST, UKRAINE – JANUARY 18: Ukrainian tankers carry out maintenance on their tanks on the Donbass frontline as military mobility continues within the Russian-Ukrainian war on January 18, 2023. 
(Photo by Diego Herrera Carcedo/Anadolu Agency via Getty Images)
US HOSTS ALLIED DEFENSE OFFICIALS AS RUSSIA PLANS FOR MASSIVE OFFENSIVE IN WEEKS AHEAD
"I do not rule out that we are ready to take such a step," Pawel Jablonski said according to Reuters."At the moment we are trying to make Germany not only agree these tanks being sent by Poland or other countries, but also to do so themselves."
The U.S. has said it will not send its own M1 Abrams tanks to Ukraine, citing cost, maintenance and training as key factors and instead pledged this month to send over 100 Bradley Fight Vehicles and 90 Stryker combat vehicles, along with hundreds of other combat ready vehicles.
Washington also believes sending Leopard II tanks would be more efficient as over a dozen European nations have them in their possession and training on the tanks would be less intensive.
Germany has suggested it would not agree to send its tanks until the U.S. does the same, though this line a reasoning has reportedly bewildered some in the Biden administration as the U.K. has already pledged to send its Challenger II tanks.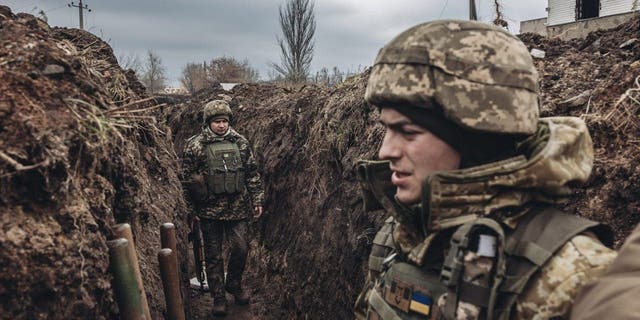 BAKHMUT, UKRAINE – DECEMBER 31: Ukrainian soldiers are seen in a trench on New Year's Eve in Bakhmut, Ukraine on December 31, 2022. 
(Photo by Diego Herrera Carcedo/Anadolu Agency via Getty Images)
CLICK HERE TO GET THE FOX NEWS APP
"It is about what kind of world people will live in," Zelenskyy said. "It is about people who believe that evil and hatred will always lose."
"It is in your power to make a Ramstein of tanks. Not to bargain about different numbers of tanks, but to open a principled supply that will stop Russian evil," he added.
Caitlin McFall is a Reporter at Fox News Digital covering Politics, U.S. and World news.