close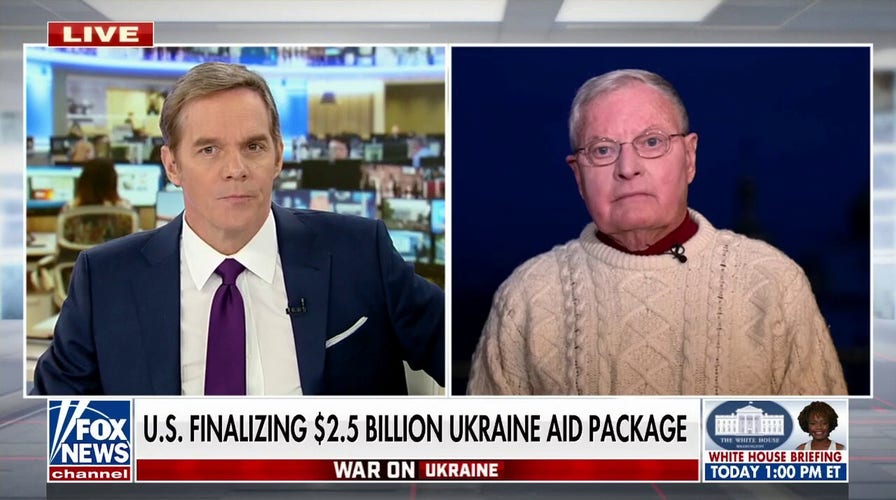 Video
Gen. Kellogg: Russia-Ukraine war will culminate in spring
Lt. Gen Keith Kellogg (Ret) on the need for U.S. to continue to support Ukraine as the U.S. finalizes a 2.5 billion aid package
The U.S. has advised Kyiv to hold off on any major counter-offensives against Russian forces in Ukraine until Washington's latest supply of weaponry and trainings have been provided, a senior White House official said, according to Reuters Saturday.
Kyiv has not officially announced that it is planning another major counter-offensive just months after it successfully ousted Russian troops from Kharkiv in the north and from the city of Kherson in the south, though it has repeatedly warned it believes Moscow is taking steps to ramp up its war effort.
Months of brutal fighting over Bakhmut, which Western defense officials have argued is strategically insignificant, has prompted U.S. defense officials to encourage Ukraine not to attempt to keep up with Russia strike for strike.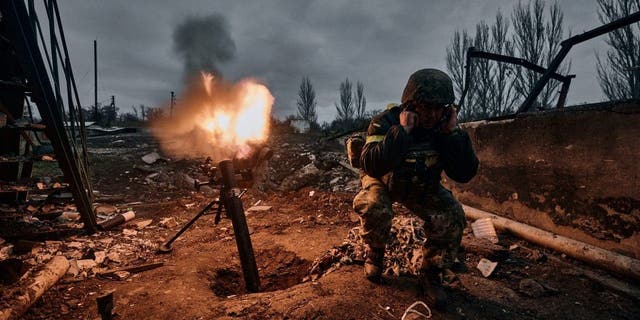 FILE – A Ukrainian soldier fires a mortar at Russian positions in Bakhmut, Donetsk region, Ukraine, Thursday, Nov. 10, 2022.  A top adviser to Ukraine's president has cited military chiefs as saying 10,000 to 13,000 Ukrainian soldiers have been killed in the country's nine-month struggle against Russia's invasion.
(AP Photo/Libkos, File)
US SENDING ANOTHER $2.5 BILLION IN MILITARY AID TO UKRAINE
A senior U.S. official told reporters that the U.S. believes Russia will gain an advantage when it comes to a war of attrition and therefore Ukraine needs to change the dynamic on the battlefield.
The official did not clarify for how long the U.S. wants Kyiv to hold off on launching a counter-offensive or when Washington will deem Ukraine ready to do so, though they noted that sending U.S. M1 Abrams tanks to Ukraine was still off the table.
The U.S. has argued its tanks are too costly and difficult to maintain.
Instead, the U.S. this week said it would send 90 Stryker combat vehicles for the first time and another round of nearly 60 Bradley fighting vehicles, adding to the 50 Bradley Fighting Vehicles, 100 Armored Personnel Carriers, 55 Mine Resistant Ambush Protected Vehicles and 138 High Mobility Multipurpose Wheeled Vehicles pledged earlier this month.
Ukrainian President Volodymyr Zelenksyy continues to urge Western nations to send tanks to the front lines and told 50 defense officials who met at the Ramstein air base in Germany Friday that Ukraine is running out of time after they failed to solidify an agreement to supply Kyiv with German-made Leopard tanks.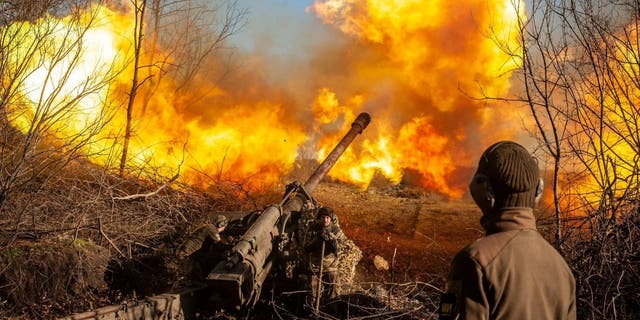 Ukrainian servicemen fire a 130 mm towed field gun M-46 on a front line, as Russia's attack on Ukraine continues, near Soledar, Donetsk region, Ukraine, in this handout image released November 10, 2022. 
(Reuters Photo)
US HOSTS ALLIED DEFENSE OFFICIALS AS RUSSIA PLANS FOR MASSIVE OFFENSIVE IN WEEKS AHEAD
"Terror does not allow for discussion," Zelenskyy said. "The terror, which burns city after city, becomes insolent when it feels that the defenders of freedom run out of weapons against it."
"All of us can use thousands of words in discussions, but I cannot [use] words instead of guns that are needed against Russian artillery," he added.
Despite pleas from Kyiv, Berlin has refused to clear the way for its tanks to be sent to Ukraine, or for the 15 nations that possess German Leopard II tanks to send them from their stockpiles.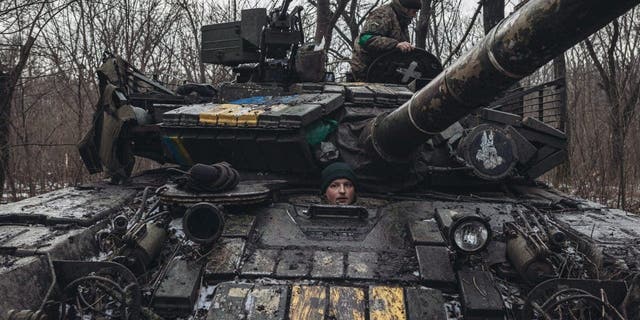 Ukrainian tankers carry out maintenance on their tanks on the Donbass frontline as military mobility continues within the Russian-Ukrainian war on Jan. 18, 2023. 
(Diego Herrera Carcedo/Anadolu Agency via Getty Images)
CLICK HERE TO GET THE FOX NEWS APP
U.S. Secretary of Defense looked to downplay any division among partner nations and when asked Friday if Germany was doing enough to help Ukraine he said, "Yes, but we can all do more."
"They are a reliable ally and they've been that way for a very, very long time," he said. "And I truly believe that they'll continue to be a reliable ally going forward."
The Associated Press contributed to this report.
Caitlin McFall is a Reporter at Fox News Digital covering Politics, U.S. and World news.