close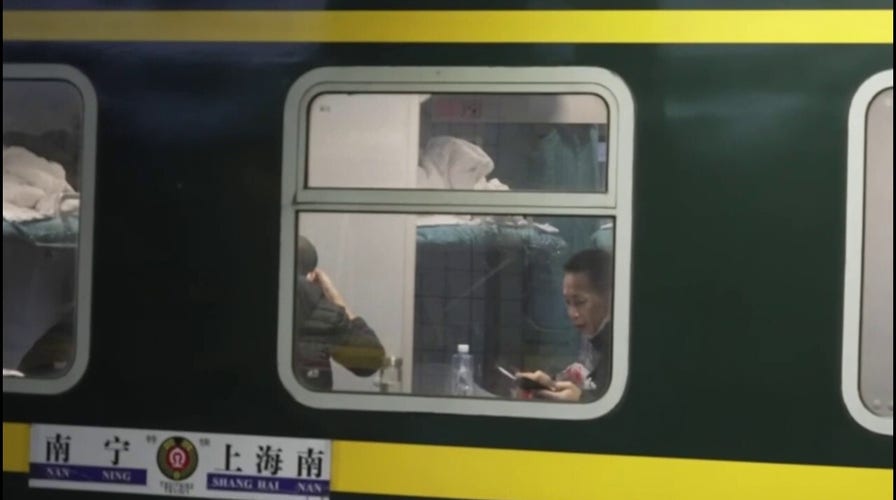 Video
Watch: Chinese families leave Beijing for the 2023 Chinese New Year
Up to 10 million people are expected to leave the Chinese capital to visit their families throughout the country, adding to fears of a COVID-19 resurgence in rural areas.
BEIJING, China – With the first infections of COVID-19 cases in China's big cities having passed, all eyes are on the rural areas as a new wave of infections is predicted, preparing China's remote and often poorer regions will be complicated.
"Even with good healthcare facilities in a big city like Shanghai, we were completely overwhelmed. We can only wait and see what happens in the countryside," a 25-year-old medical student working as a pediatrician at one of Shanghai's largest children's hospitals told Fox News Digital.
WATCH: CHINA CENSORS STRUGGLED WITH SURGE OF PROTEST VIDEOS; PROTESTERS LEARNING 'SOPHISTICATED' LOOPHOLE
"When the government unexpectedly let go of all COVID-19 restrictions, we didn't know what hit us. We weren't prepared at all."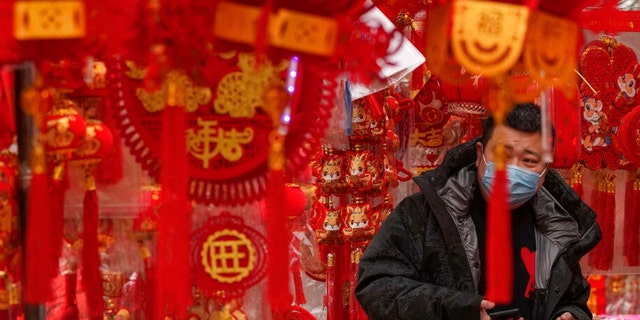 A man wearing a face mask shops for Chinese Lunar New Year decorations at a pavement store in Beijing, Saturday, Jan. 7, 2023. China has suspended or closed the social media accounts of more than 1,000 critics of the government's policies on the COVID-19 outbreak, as the country has moved to open up further. 
(AP Photo/Andy Wong)
The pediatrician, who withheld her name due to security concerns, said, "The hospital was packed. Everywhere you looked were parents with their children. I work about 55 hours during a regular week, but I stopped counting the hours during the peak. We weren't forced to work overtime, but we all knew that if we wouldn't, there would be no way we could help everybody."
CHINA EASING 'ZERO-COVID' POLICY A 'RARE DISPLAY OF WEAKNESS' FROM XI JINPING, TIANANMEN SQUARE PROTESTER SAYS
She said that conditions for treating the sick were minimal. "We had four to five minutes per patient. I felt bad, because the parents had to wait hours before seeing a doctor, and we could only do a few minutes' assessment. But there was no other way. Thankfully, the parents were so grateful. I guess it's obvious we are all in this together."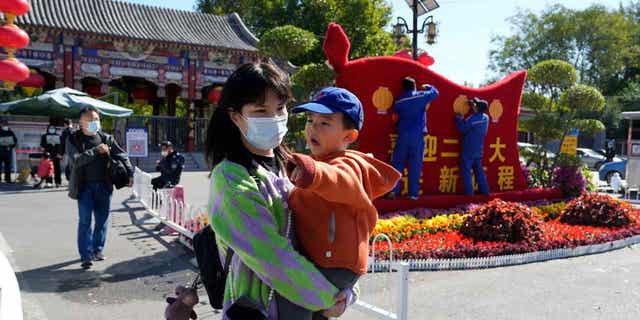 A woman wearing a mask carries a child past workers decorating a display celebrating the 20th Party Congress in Beijing.
(AP Photo/Ng Han Guan)
In most of China's biggest cities, including Beijing and Shanghai, the first COVID peak has passed. In a recent study published by Frontiers of Medicine, a Chinese-government-sponsored journal, Shanghainese experts predict the first wave to hit Chinese rural areas toward the end of January.
As China celebrates the Lunar New Year, experts worry that the millions of people who have left the big cities could lead to rural regions of the country being walloped by the virus due to poor healthcare facilities. People who live a few hours away from the cities are advised to travel back to their cities in case they get sick, but that is only an option for some.
CHINA DEFENDS ITS COVID HANDLING AFTER WHO, BIDEN SAY BEIJING IS UNDER-REPORTING DEATHS
"It's not difficult to assess when a child is seriously ill from COVID. Any basic doctor can do it both in the city and the countryside. The problem isn't a lack of knowledge but a lack of facilities. For serious cases, people have to come to the bigger cities for treatment," the pediatrician from Shanghai added.
Fortunately, the children's hospital where she works is better prepared for an influx of patients. Doctors from other departments are scheduled to work at the fever clinic, more rooms have been cleared, and medicine seems available again. "I'm ready for the second wave. It can't get much worse than the first one," she said.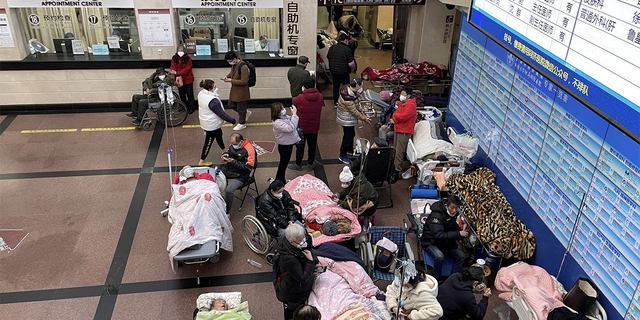 Patients lie on beds and stretchers in a hallway in the emergency department of a hospital, amid the coronavirus disease (COVID-19) outbreak in Shanghai, China, January 4, 2023. REUTERS/Staff
(Reuters)
For the first time since lifting its zero-COVID restrictions in early December 2022, Chinese authorities published data on COVID-related fatalities last weekend. According to official statistics, nearly 60,000 deaths were recorded at hospitals between December 8, 2022, and January 12, 2023. Jiao Yahui, head of the Bureau of Medical Administration under the National Health Commission, further specified that approximately 54,000 fatalities were linked to underlying health conditions.
CLICK HERE TO GET THE FOX NEWS APP
Experts outside of China, including within the World Health Organization, point out that these numbers seem unrealistically low. According to projections from the U.S.-based Institute of Health Metrics and Evaluation (IHME), China is likely to reach one million COVID deaths in 2023.
"The only way I can explain these low numbers is that people won't let their loved ones die in the hospital. As for children, they are always taken home by their parents when there is no hope of recovery," explains the pediatrician. In those cases, it would be more challenging to keep track of COVID deaths.
In comments reported by state media on Thursday, Vice Premier Sun Chunlan said that the virus was at a "relatively low" level, while health officials said that the number of COVID patients in hospitals and with critical conditions was on the decline.
Reuters contributed to this article.