close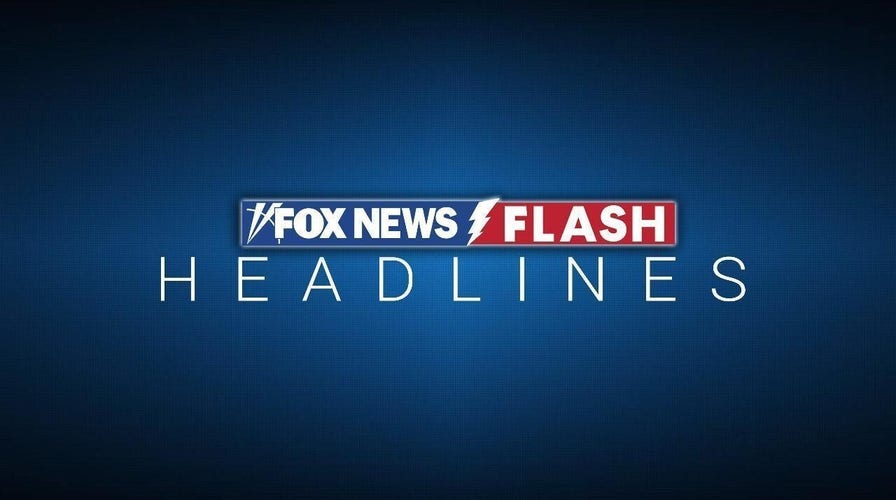 Video
Fox News Flash top headlines for January 3
Fox News Flash top headlines are here. Check out what's clicking on Foxnews.com.
Two men were charged Tuesday in connection to all four substation attacks that occurred in western Washington state over Christmas, as the federal government pursues prosecution for increased instances of electric grid sabotage across the country this winter.
Matthew Greenwood, 32, and Jeremy Crahan, 40, both of Puyallup, Washington, have been charged with conspiracy to damage energy facilities and possession of an unregistered firearm.
The first offense is punishable by up to 20 years in prison, while the latter is punishable by up to 10 years, according to federal prosecutors.
The two men are believed to be behind attacks at all four substations that were targeted over the Christmas holiday that cut power and left thousands in the dark and cold.
The damage to the Graham and Elk Plain substations – both operated by Tacoma Power – alone is estimated to be at least $3 million. The Kapowsin and Hemlock substations operated by Puget Sound Energy were also sabotaged. The criminal complaint was filed Saturday and unsealed on Tuesday.
NORTH CAROLINA POWER OUTAGE: FEDERAL MEMO FLAGS WASHINGTON, OREGON SUBSTATION ATTACKS SIMILAR TO MOORE COUNTY
Both men are expected to appear in U.S. District Court in Tacoma later Tuesday, U.S. Attorney Nick Brown said, announcing that the two men had been arrested on New Year's Eve following what the Justice Department categorized as a "fast-moving investigation by the FBI."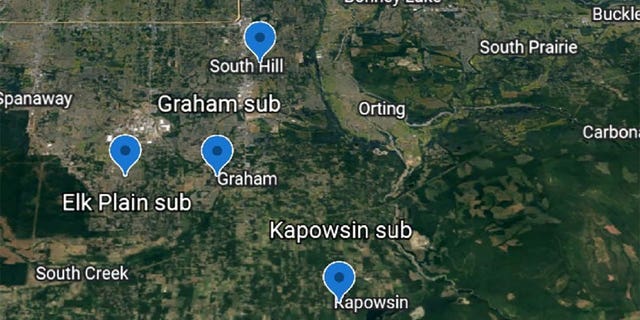 PSE provided the FBI a map showing the proximity of all four substations attacked on Dec. 25, 2022. 
(Department of Justice)
"I commend the work by the FBI to quickly identify these suspects and disrupt any future attacks on the east Pierce County power grid," Brown said in a statement. "We have seen attacks such as these increase in Western Washington and throughout the country and must treat each incident seriously. The outages on Christmas left thousands in the dark and cold and put some who need power for medical devices at extreme risk."
"I am so thankful for how quickly and diligently our investigators and partners worked to bring this to a resolution," Richard A. Collodi, special agent in charge of the FBI's Seattle field office, added. "This case took many of them away from their families during the holidays but through their efforts, we have two men in custody we believe to be responsible for all four power station attacks. This demonstrates the commitment by all levels of law enforcement to protect our infrastructure and hold those accountable who put our community in danger."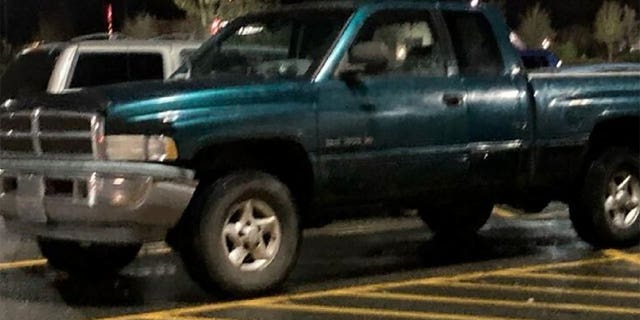 Tacoma Power provided the FBI with video footage of a vehicle that arrived at the Elk Plain substation at the time of the attack on Dec. 26, 2022.
(Department of Justice)
According to the criminal complaint, the two men were identified as possible suspects through the analysis of cellphone records. At one of the substations, Tacoma Power captured images of one suspect and the image of a pickup truck that appeared to be connected with the attack.
A similar pickup was connected to the defendants, prosecutors allege. When law enforcement served a search warrant on the home of the suspects, they recovered distinctive clothing pictured in the surveillance photos. Agents also seized two short-barreled firearms that had not been registered as required by law. One of the firearms was equipped with a make-shift silencer, the complaint says.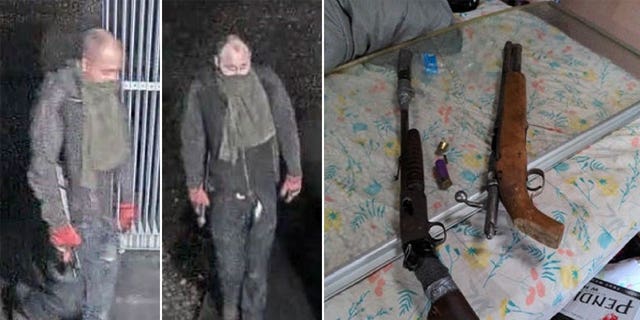 On Dec. 26, Tacoma Power provided the FBI with surveillance footage of a suspect seen at the Elk Plain substation at the time of the attack. Federal agents and local law enforcement later conducted search warrants on Dec. 31 and found a short barreled rife with what appears to be a homemade silencer inside a trailer.
(Department of Justice )
The FBI is investigating the case with assistance from the Pierce County Sheriff's Department, the Bureau of Alcohol, Tobacco, Firearms & Explosives (ATF), Tacoma Police Department, the Washington State Department of Corrections and the Federal Protective Service.
The press release commended assistant U.S. Attorneys Will Dreher, Stephen Hobbs and Todd Greenberg, who "all worked around the clock over the last week to obtain search warrants and arrest warrants to assist the FBI investigation."
CLICK TO GET THE FOX NEWS APP
Last month, the FBI joined the investigation into blackouts in Moore County, North Carolina, where some 40,000 customers were left without electricity and schools were closed for days after authorities reported intentional, criminal gunfire caused extensive damage at two substations. No suspects have been publicly identified in that case. Around the same time, Homeland Security had been monitoring similar attacks at power stations in Oregon and Washington in response to online calls to damage critical infrastructure.
Fox News' Corbett Riner contributed to this report.
Danielle Wallace is a reporter for Fox News Digital covering politics, crime, police and more. Story tips can be sent to [email protected] and on Twitter: @danimwallace.