close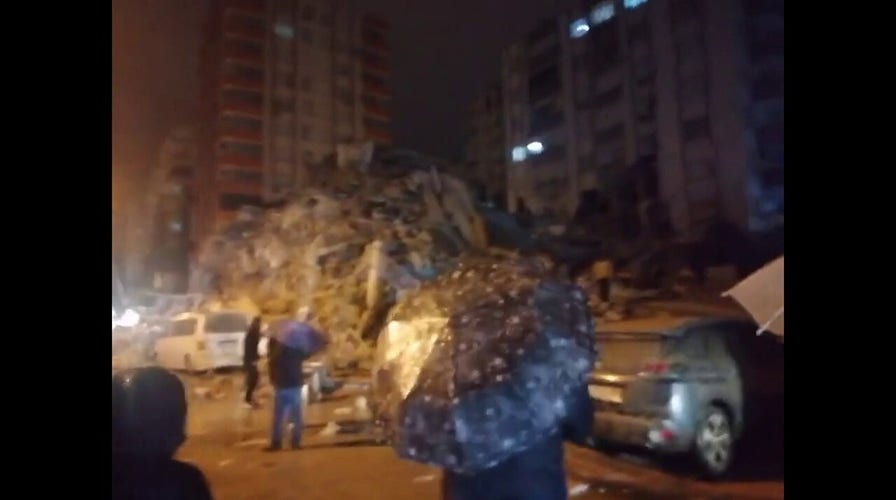 Video
Scenes of devastation emerge in Turkey following massive earthquake
Footage taken in Adana, Turkey shows a massive pile of rubble after a high-rise building collapsed there. (Credit: @DantheCe via Spectee/TMX)
A worldwide response is underway after a 7.8 magnitude earthquake and major aftershocks devastated large areas of Turkey and Syria early Monday, decimating buildings and killing more than 2,300 people.
The pre-dawn quake rocked large swaths of Turkey and Syria reducing buildings to rubble. Hundreds were still believed to be trapped under rubble, and the toll was expected to rise as rescue workers searched mounds of wreckage in cities and towns across the area.
President Biden tweeted his condolences to those affected by the deadly quake and offered to send U.S. help to Turkey if needed.
"I am deeply saddened by the loss of life and devastation caused by the earthquake in Turkiye and Syria," Biden wrote on Twitter, referring to Turkey by its preferred official name.
MORE THAN 2,300 DEAD IN TURKEY, SYRIA AFTER 7.8 MAGNITUDE EARTHQUAKE
U.S. Secretary of State Antony Blinken said in a statement that an initial U.S. response to Turkey is already underway, while U.S.-supported humanitarian organizations in Syria are responding to the earthquakes' effects across the country.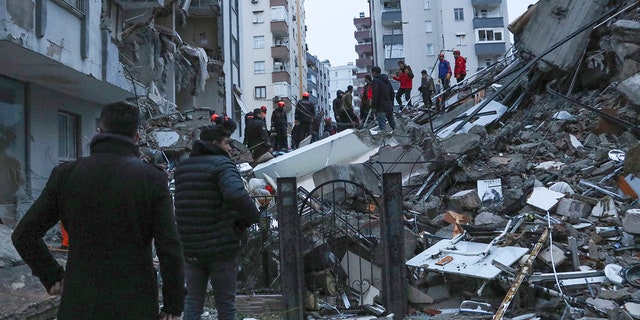 People and rescue teams try to reach trapped residents inside collapsed buildings in Adana, Turkey, on Monday. (IHA agency via AP)
Israeli Prime Minister Benjamin Netanyahu announced that Israel is sending search and rescue crews, along with medical teams, to help in both Turkey and Syria after receiving requests for aid from the two nations.
"This is what we do around the world and this is what we do in areas close to us," Netanyahu said in a statement. "Since a request was also received to do this – for the many who were injured in the earthquake in Syria, I have instructed that this be done as well."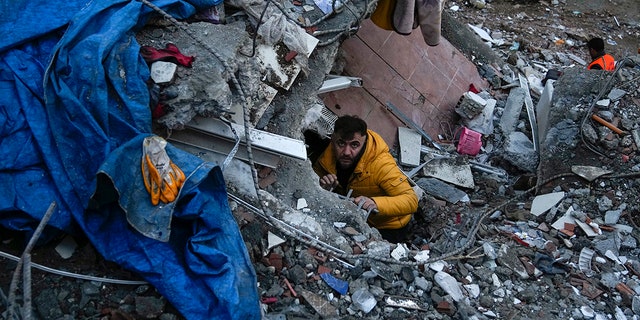 A man searches for people in a destroyed building in Adana, Turkey, Monday, Feb. 6, 2023. A powerful quake has knocked down multiple buildings in southeast Turkey and Syria and many casualties are feared. (AP Photo/Khalil Hamra)
So far, more than 40 countries have offered to help Turkey, said the president of Turkey's disaster management authority, Yunus Sezer.
While most of the international aid was headed for Turkey, Russia said it also planned to send assistance directly to its close ally Syria amid western-led international isolation due to the war in Ukraine.
TURKEY HIT WITH 7.8 MAGNITUDE EARTHQUAKE, FELT ACROSS MIDDLE EAST
Russian President Vladimir Putin told Syrian President Bashar Assad in a phone call that Moscow will deliver urgent aid and send rescue workers.
Putin also sent a telegram to President Recep Tayyip Erdogan of Turkey to express his condolences and said that Russia is ready to "provide the necessary assistance."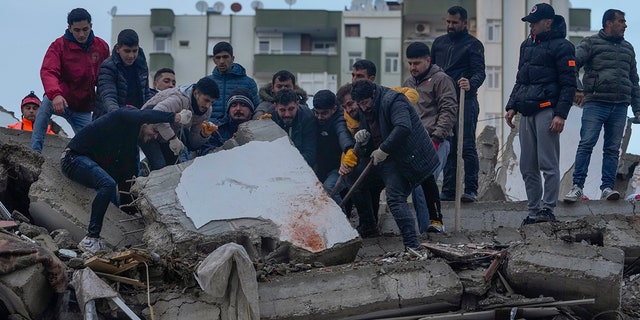 Men search for people among the debris in a destroyed building in Adana, Turkey, Monday, Feb. 6, 2023. A powerful quake has knocked down multiple buildings in southeast Turkey and Syria and many casualties are feared. (AP Photo/Khalil Hamra)
Britain is sending 76 search-and-rescue specialists with equipment and dogs, as well as an emergency medical team, to Turkey. The U.K. also says it's in contact with the U.N. about getting support for victims in Syria.
Meanwhile, Japan's Foreign Ministry says the country is sending a group of about 75 rescue workers to Turkey to help in search and rescue operations.
United Nations Secretary-General António Guterres said in a statement that the U.N. is "fully committed" to supporting the global response in both Turkey and Syria in "this hour of tragedy."
"Our teams are on the ground assessing the needs and providing assistance," the statement said. "We count on the international community to help the thousands of families hit by this disaster, many of whom were already in dire need of humanitarian aid in areas where access is a challenge."
Rep. Nancy Pelosi, the former House Speaker, tweeted that "Americans stand ready to help."
Senate Minority Leader Mitch McConnell also tweeted that the U.S. stands with Turkey and the people of Syria.
CLICK TO GET THE FOX NEWS APP
Fox News' Yonat Friling and the Associated Press contributed to this report.