close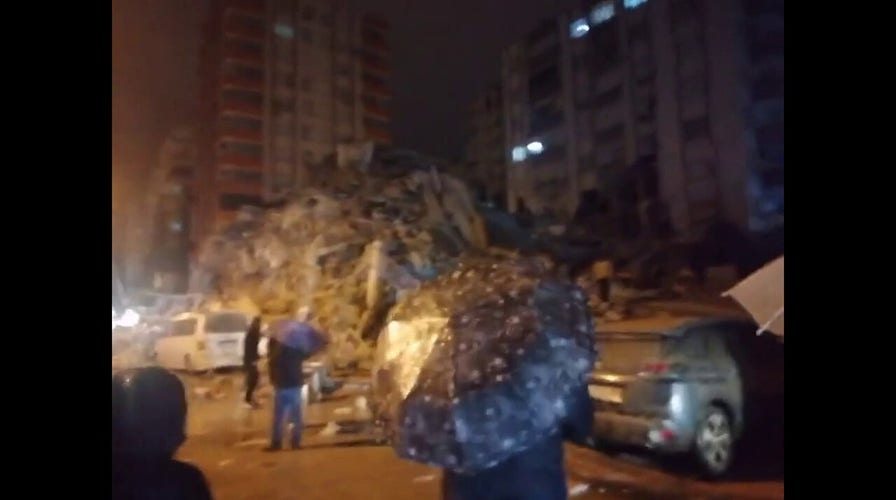 Video
Scenes of devastation emerge in Turkey following massive earthquake
Footage taken in Adana, Turkey shows a massive pile of rubble after a high-rise building collapsed there. (Credit: @DantheCe via Spectee/TMX)
Videos have emerged capturing the devastating aftermath of the 7.8-magnitude earthquake that rocked southern Turkey and northern Syria early Monday, leaving more than 2,300 dead.
In footage taken in the Turkish city of Adana, which is west of the earthquake's epicenter in Nurdagi, a massive pile of rubble could be seen following the collapse of a high-rise building.
Locals were filmed standing and staring at the debris, while a woman could be heard weeping in the background.
In another clip from the Turkish coastal city of Iskenderun, part of an apartment building is seen leaning over after the first floor appeared to collapse.
MORE THAN 2,300 DEAD IN TURKEY, SYRIA FOLLOWING MASSIVE EARTHQUAKE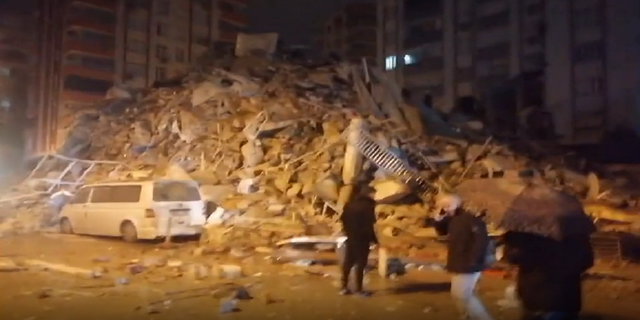 Footage taken in the Turkish city of Adana shows rubble from a high-rise building that collapsed after a 7.8-magnitude earthquake hit the region.  (@DantheCe via Spectee/TMX)
The person recording the scene then turns the camera 360 degrees to reveal numerous other collapsed buildings spilling out into the streets.
OHIO TRAIN DERAILMENT CAUSES MASSIVE FIRE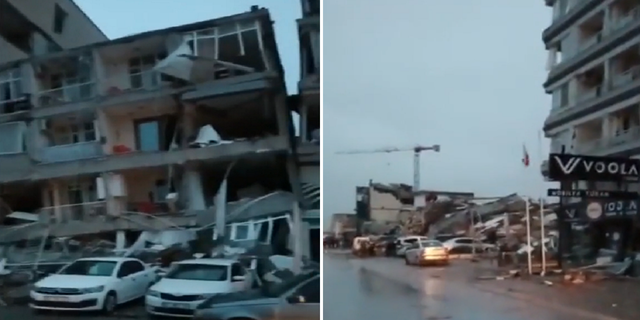 Buildings are seen leaning over and destroyed in the city of Iskenderun, Turkey. (Funda Daldayan via Spectee)
So far, at least 2,300 people have been confirmed dead following the earthquake, according to the Associated Press.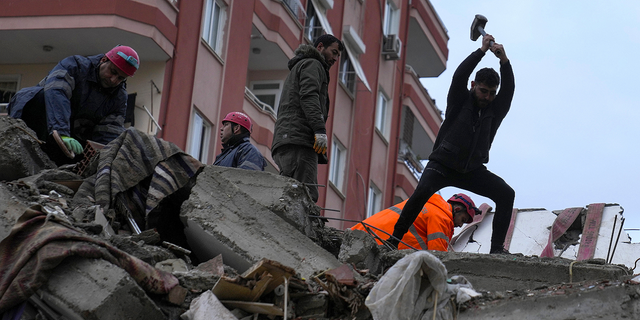 Emergency team members and others search for people in a destroyed building in Adana, Turkey, on Monday, Feb. 6. (AP/Khalil Hamra)
Over 1,500 of those deaths were in 10 Turkish provinces, and another 8,500 were injured, it added, citing Turkey's disaster management agency.
CLICK HERE TO GET THE FOX NEWS APP
Efforts are now ongoing to find survivors among the rubble.
Greg Norman is a reporter at Fox News Digital.