close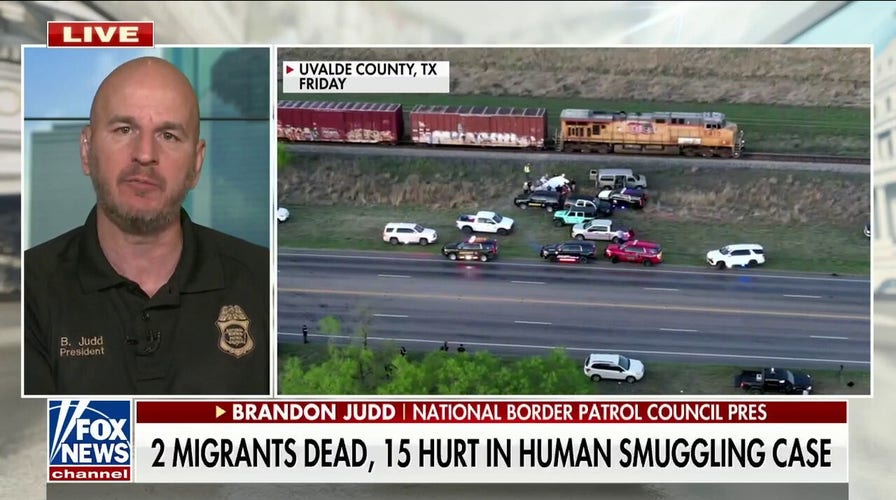 Video
Human smuggling case leaves two migrants dead, 15 injured
National Border Patrol Council president Brandon Judd says 'more deaths' will occur if the U.S. does not get the Southwest border 'under control' through policy changes. 
Some 29 migrants died over the weekend after their boats sank off the coast of Tunisia while heading to Italy, officials said.
The Tunisian National Guard said the migrants who died while trying to make the perilous journey crossing the Mediterranean Sea were mostly from sub-Saharan Africa.
Tunisian fishermen recovered 19 bodies, National Guard spokesman Houssameddine Jebabli said. The Coast Guard also recovered eight bodies on Sunday night and rescued 11 survivors aboard a boat that went down. Two more bodies were recovered in the waters off the Tunisian port of Sfax.
FILE: Migrants from sub-Saharan Africa sit in a makeshift boat that was being used to clandestinely make its way towards the Italian coast.  (FETHI BELAID / AFP)
It remains unclear whether there were more people aboard the vessels that sank. A Tunisian NGO that tracks migration issues said five boats are believed to have foundered in the past two days off Sfax and that 67 people remain unaccounted for.
CUBAN MIGRANTS FLY HANG GLIDER INTO FLORIDA AIRPORT ONLY TO BE ARRESTED AFTER SAFE LANDING
People fleeing war-torn, poverty-ridden countries routinely take boats from Tunisia bound for Europe – despite the central Mediterranean ranks among the most dangerous migration routes in the world, according to the International Organization for Migration.
U.N. data shows that around 12,000 migrants who reached Italy this year set sail from Tunisian, a nearly 90% jump from the same period in 2022.
CLICK HERE TO GET THE FOX NEWS APP
Statistics from the Tunisian Forum for Social and Economic Rights show that Tunisia's Coast Guard prevented more than 14,000 migrants from setting off in boats during the first three months of this year, compared with nearly 3,000 during the same period last year.
The Associated Press and Reuters contributed to this report.
Bradford Betz is a Fox News Digital breaking reporter covering crime, political issues, and much more.