close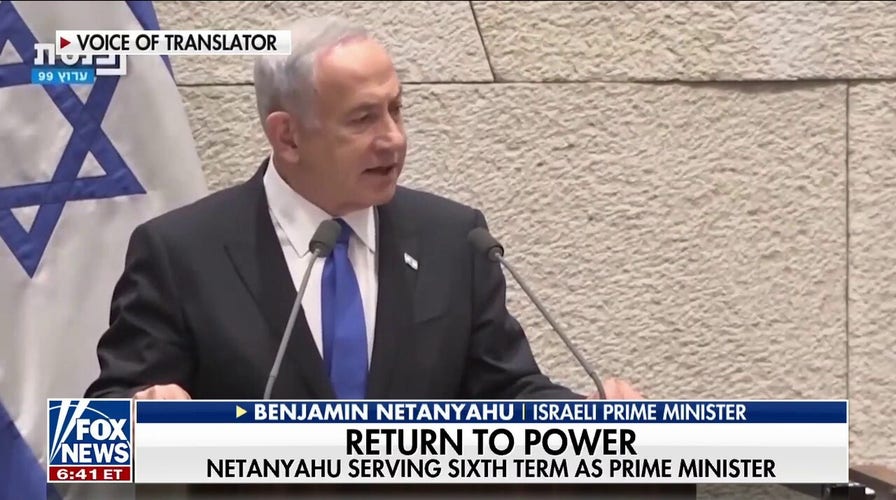 Video
Israeli Prime Minister Netanyahu is back in power
Fox News correspondent Trey Yingst has the latest on the prime minister's sixth term on 'Special Report.'
Israeli Prime Minister Benjamin Netanyahu fired his defense minister after he warned that a planned judicial overhaul could fracture the country's military.
Netanyahu's office released a short statement on Sunday saying that the prime minister "has decided, this evening, to dismiss Defense Minister Yoav Gallant."
Gallant, a member of Netanyahu's ruling Likud party, said in a televised speech on Saturday that the judicial overhaul is "a clear, immediate and tangible danger to the security of the state."
"As Minister of Defense of the State of Israel, I emphasize that the growing rift in our society penetrates the IDF and security agencies," Gallant said. "I will not allow this. But now, I declare loudly and publicly, for the sake of Israel's security, for the sake of our sons and daughters – the legislative process should be stopped."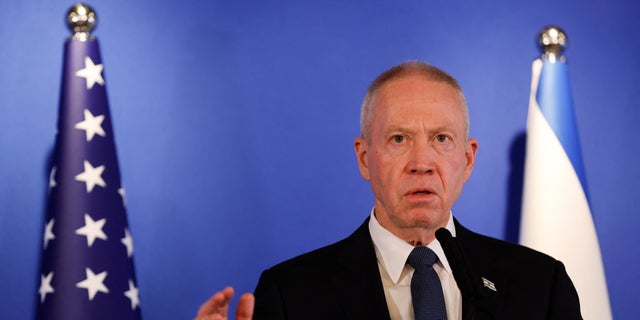 Former Israeli Defense Minister Yoav Gallant attends a news conference at Ben Gurion Airport in Lod, Israel, March 9, 2023.  (REUTERS/Amir Cohen)
Netanyahu, who has argued that unelected Supreme Court justices wield too much power, has pushed forward with his plans for a judicial overhaul, which would give the governing coalition more say over judicial appointments and limit judicial review of laws.
Thousands of Israelis have taken to the streets in protest for weeks. Netanyahu had to be airlifted by helicopter to Israel's main international airport earlier this month after thousands of protesters snarled traffic and prevented him from driving there.
ISRAELI FORCES KILL THREE PALESTINIAN MILITANTS IN WEST BANK GUNFIGHT
The Movement for Quality of Government in Israel, which opposes the judicial overhaul and has helped organize the demonstrations, condemned Gallant's dismissal on Sunday.
"Netanyahu has proved once again that he is unfit for office. He is not institutionally, ethically, or morally qualified," the organization said in a statement. "The Movement will consider legal action to stop this scandalous and disgraceful dismissal."

next
Image 1 of 3

People attend a demonstration, as Israeli Prime Minister Benjamin Netanyahu's nationalist coalition government presses on with its judicial overhaul, in Tel Aviv, Israel March 25, 2023.  (REUTERS/Amir Cohen/File Photo)


prev

next
Image 2 of 3

(REUTERS/Amir Cohen)


prev
Image 3 of 3

(REUTERS/Amir Cohen)
Opposition leader Yair Lapid called Netanyahu a "danger to the security of the State of Israel" after Gallant's dismissal.
"The dismissal of the Minister of Defense, Yoav [Gallant], just because he warned of a threat to Israel's security is a new low for an anti-Zionist government that harms national security and ignores the warning of all security officials," Lapid tweeted. "Netanyahu can fire Gallant, but he cannot fire reality and cannot fire the people of Israel who are standing up to the insanity of the coalition."
ISRAELI PROTESTERS TAKE TO STREETS TO BLAST NETANYAHU 'JUDICIAL REFORMS' AS PM CALLS FOR UNITY
Nearly 300 Israeli Air Force reserve soldiers and officers did not report for training earlier this month in protest of the judicial overhaul, according to i24NEWS. Hundreds of protesters who described themselves as volunteer reservists from military special forces and intelligence agencies also wrote a letter last week saying that they would not turn up for duty, the Israeli news outlet reported.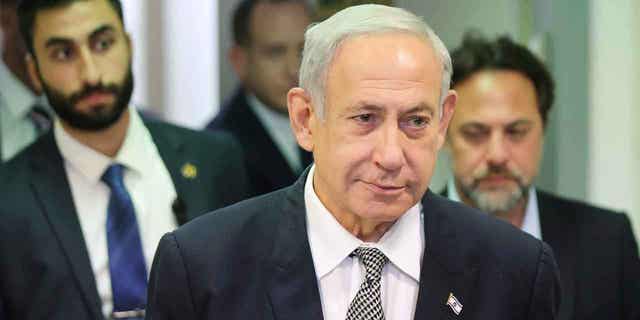 Israeli Prime Minister Benjamin Netanyahu attends a hearing at the Magistrate's Court in Rishon LeZion, Israel, Monday, Jan. 23, 2023.  (Abir Sultan/Pool Photo via AP)
CLICK HERE TO GET THE FOX NEWS APP
Netanyahu's coalition in parliament passed the first of a series of laws on Thursday that says an Israeli leader can only be deemed unfit to rule for health or mental reasons. The opposition claims that the law was passed specifically for Netanyahu, who is currently on trial for fraud, breach of trust, and other charges.
The Associated Press contributed to this report.
Paul Best is a breaking news reporter for Fox News Digital and Fox Business. Story tips and ideas can be sent to [email protected] and on Twitter: @KincaidBest.