close
Video
WATCH: 79 police held hostage in Colombia as oil protests take violent turn
A police officer and civilian were killed during violent protests in Colombia's Caquetá province on Thursday, and 79 officers and nine oilfield workers were taken hostage by rural communities. (CREDIT: Reuters)
A Florida couple visiting Port-au-Prince, Haiti are being held at ransom after being abducted, according to family members.
Jean Dickens Toussaint and Abigail Toussaint, both 33-years-old, were reportedly abducted on a bus on March 18 while on a visit to see ailing relatives and attend a local festival.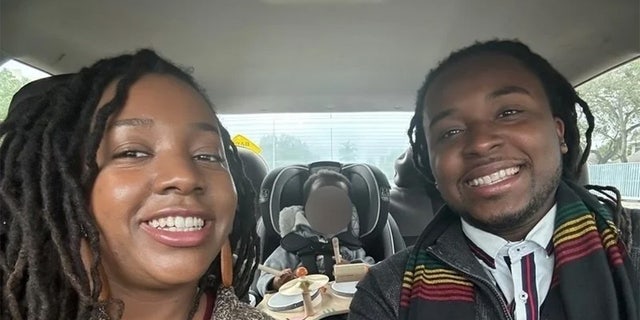 Jean-Dickens Toussaint and Abigail Toussaint were reportedly abducted on a bus on March 18 while visiting ailing relatives. (Joanne via Twitter)
The U.S. citizen's abductors allegedly demanded $6,000 for the couple's release, family members told ABC Miami. After family members paid the ransom, the abductors upped the ransom to $200,000 each, family members said.
"We don't have that type of money," Jean Dickens Toussaint's sister, Nikese Toussaint, told ABC Miami.
HAITI GAN VIOLENCE LEAVE 187 DEAD IN 11 DAYS
A family friend who met the couple at the airport to escort them was also kidnaped, a niece of the couple told ABC Miami.
"They stopped the bus at a stop, and they asked for the Americans on the bus and their escorts to come off the bus, and then they took them," she said.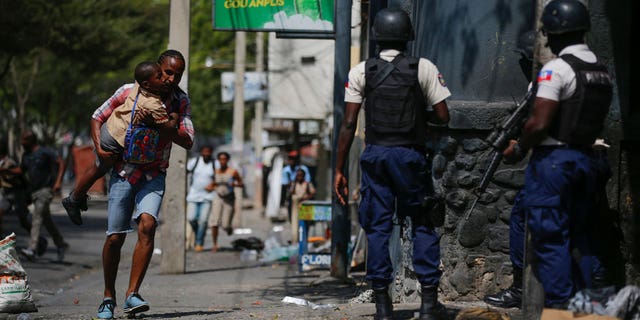 The United Nations has warned that Haitian gang violence appears likely to envelop the nation despite better-funded and more present police forces. (AP Photo/Odelyn Joseph)
The U.S State Department said that they are aware of reports of American citizens missing in Haiti and shared that the department will work with local authorities to search for the missing couple.
"We are aware of reports of two U.S. citizens missing in Haiti," the State Department spokesperson said in a statement to Fox News Digital. "When a U.S. citizen is missing, we work closely with local authorities as they carry out their search efforts, and we share information with families however we can."
VIOLENT GANGS IN HAITI COULD POSE SIMILAR THREAT TO US AS MS-13, SEN. CASSIDY SAYS: 'MIGHT BE A RHYTHM THERE'
The US state department advises Americans not to travel to Haiti "due to kidnappings, crime, and civil unrest"
Haiti is once again struggling with a spike in gang-related kidnappings that had diminished after President Jovenel Moïse was fatally shot at his private residence on July 7, and following a 7.2-magnitude earthquake that struck southwest Haiti in August and killed more than 2,200 people.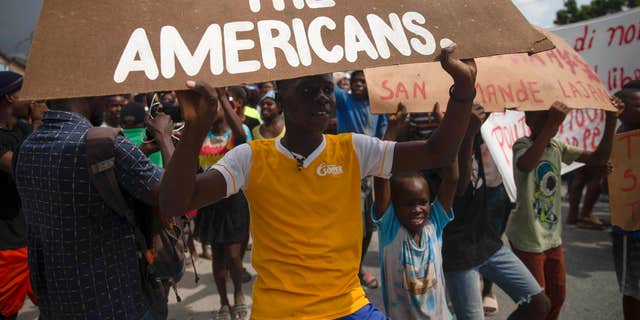 People protest for the release of kidnapped missionaries near the Ohio-based Christian Aid Ministries headquarters in Titanyen, north of Port-au-Prince, Haiti, Tuesday, Oct. 19, 2021.  (AP Photo/Joseph Odelyn)
Gangs have grown in strength and have demanded ransoms ranging from a couple of hundred dollars to more than $1 million, according to authorities.
The security situation has devolved further in recent months with routine gun fights between police officers and the gangs. Bloody turf battles have left hundreds dead and thousands displaced.
Seventeen missionaries from the United States and Canada were taken hostage and held for ransom in 2021 while on a trip to Haiti organized by the Ohio-based Christian Aid Ministries. The group said ransom money was paid for the release of the captives, but a dozen had escaped on their own.
CLICK HERE TO GET THE FOX NEWS APP
Haiti's national police did not immediately respond to Fox News' Digital's request for comment.
Reuters contributed to this report.
Sarah Rumpf is a writer on the breaking news team for Fox News Digital. You can reach her on Twitter at @rumpfsarahc