close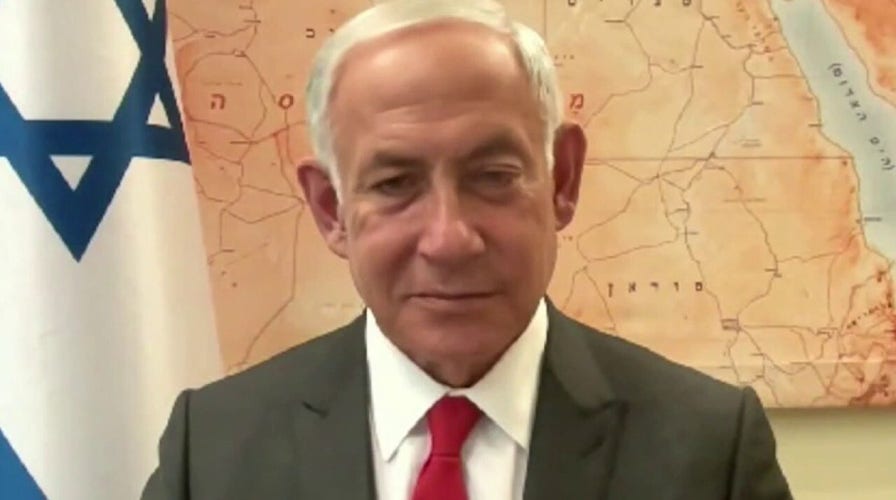 Video
Israel's incoming PM Benjamin Netanyahu speaks out on Iran's nuclear ambitions
Incoming Israeli Prime Minister Benjamin Netanyahu lays out his agenda following his election victory on 'Hannity.' 
Israel's under-fire Prime Minister Benjamin Netanyahu has insisted he's NOT trying to destroy democracy amid the worst protests in the country's history over his controversial move to control judicial power.
As hundreds of thousands of Israelis marched again through the streets of major cities like Tel Aviv, and numerous world leaders including President Biden warned him not to imperil democracy, Netanyahu accused Israel's Supreme Court of becoming "too powerful" and "nullifying" government decisions with "unacceptable" interventions.
And he strongly defended his reforms, which critics say would wreck the Court's independence, handing power over selection of judges, and the right to overrule Court decisions, to politicians like him and his government.
In a world exclusive interview with me for my show "Piers Morgan Uncensored" (airing on Fox Nation tomorrow, Monday) Netanyahu said: "There is one other thing that characterizes the judiciary in Israel and that is that the judges veto the appointment of judges, they effectively select themselves and that doesn't exist in any democracy. The reform that we're dealing with right now corrects that."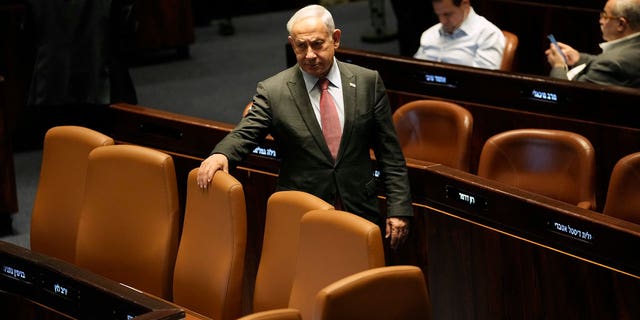 Israeli Prime Minister Benjamin Netanyahu's government is expected to push forward with a sweeping overhaul of the nation's judicial system. (AP Photo/Ohad Zwigenberg)
ISRAEL'S NETANYAHU FIRES DEFENSE MINISTER OVER OPPOSITION TO JUDICIAL OVERHAUL; PROTEST ERUPT
He added: "There's a lot of tension right now and I wish it wasn't so, but I'm quite confident that we'll get over this difficulty, because you have to reform things that get ossified. Right now, you have a situation where 15 unelected members of the supreme court effectively govern Israel. They can decide things that affect our military, our economy, our foreign relations, our battle with terrorism, is that right? Is that democratic? No, it's not democratic. You want to correct it. Israel is democratic in the sense of you vote for a government but when you vote for a government you want that government to govern. Right now the powers of that government to govern are severely restricted by a supreme court that has more powers than in any other democracy on Earth. You don't say that those other democracies are somehow tainted, somehow not democratic because they have a better balance of power."
And he cited America's system as one he is pushing to replicate, and proof that it works.
"In America for example," he said, "Who picks the judges? Politicians. The President, the politicians then have to affirm. That's replicated in most of the democracies in one way or the other. How are the judges independent? They're independent because once they're there, they're there either until retirement or until life and that's what happened in the US just now, the former President (Trump) chose some very strong conservative judges and the first opportunity they voted against him, because they're independent. So, the independence of the judiciary will always be maintained."
But his critics say Netanyahu has another reason for wanting to control Israel's courts, and that's because he is embroiled in an ongoing corruption and bribery trial and wants to ensure he can't be convicted.
And the country's first female Attorney General, Gali Baharav-Miara, just accused him of breaking the law by directly involving himself in an overhaul of the judiciary while facing these serious charges, branding it illegal and tainted by a conflict of interest.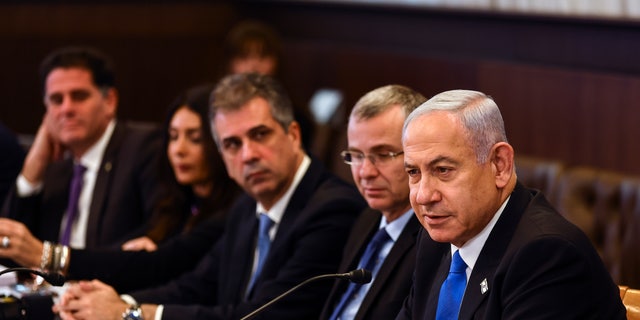 Israeli Prime Minister Benjamin Netanyahu convenes a cabinet meeting at the prime minister's office in Jerusalem, Thursday, Feb. 23, 2023. (Ronen Zvulun/Pool Photo via AP) ((Ronen Zvulun/Pool Photo via AP))
Netanyahu slammed her statement as "completely false" and said:
"I maintain the same conflict of interest restraints, and I'm abiding by every consideration that my case is not going to be affected by this legal reform one iota. But I am the Prime Minister of Israel, Israel is going through the most acute crisis in many years, to say that the Prime Minister of Israel cannot deal with something to try and bring a resolution to this crisis, cannot speak about it, cannot try to resolve this issue, cannot take care of the security of the country? This is absurd. As Prime Minister of Israel have a responsibility to see if I can somehow bring the conclusion to this impasse, somehow bring a resolution so we have responsible judicial democratic reform and at the same time keep the country together. Who's going to do that if not the Prime Minister?"
The opposition to Netanyahu's move on the judiciary has grown to include generals, scholars, entrepreneurs, and former heads of Mossad, all queuing up to condemn the reforms.
In an alarming escalation of the crisis, reservist fighter pilots refused to attend a training exercise and were joined by around 650 members of the Israeli Defense Force's special forces command and military intelligence cyberwarfare units.
A once unthinkable development given Netanyahu's regular boast that he is Israel's "Mr Security."
BILL CONCENTRATING POWER IN NETANYAHU COALITION ADVANCES, ISRAELI LEGAL REFORM PROCEEDS
Now even members of his own coalition government have broken ranks to slam it.
Defense Minister Yoav Gallant, a former Navy SEAL, called for him to immediately halt the plans, describing them as a "clear, immediate and tangible danger to the security of the State."
Netanyahu fired Gallant on Sunday, prompting Israel's Consul General in New York, Asaf Zamir, to resign in protest.
And in a sign that he is preparing to water down the bill, Netanyahu made a renewed call to his opponents to negotiate and told me: "There is one consideration that the critics and the opponents of the judicial reform raise, and I think it's a valid concern and that is you want to go from one extreme to the center. You don't want the pendulum to swing to the other side where the Knesset, our Parliament, can nullify any decision of the Supreme Court and I think that requires a balance. I agree with that."
Along with the reform protests there has been a dramatic increase in tension and violence with 88 Palestinians and 15 Israelis killed so far this year, the highest rate of deaths in two decades.
Many say this deadly toll is being fueled by incendiary rhetoric from far-right extremists in Netanyahu's government, and in particular, Finance Minister Bezalel Smotrich, who once called for the segregation of maternity wards of Arab and Jewish newborns, to be separated at birth.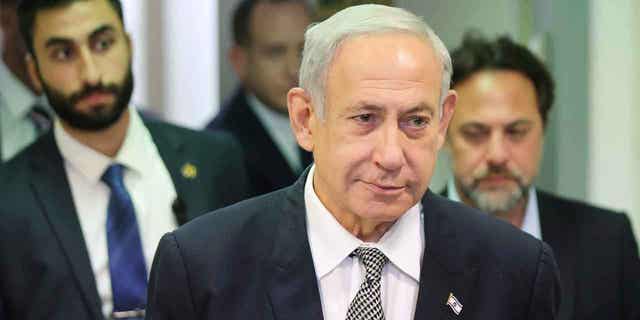 Israeli Prime Minister Benjamin Netanyahu attends a hearing at the Magistrate's Court in Rishon LeZion, Israel, Monday, Jan. 23, 2023. Netanyahu has made a surprise trip to Jordan to meet with King Abdullah II. Tuesday, Jan 24.  (Abir Sultan/Pool Photo via AP)
Smotrich is now in charge of the civil administration of the occupied West Bank and sparked outrage last week by calling for the Palestinian town of Huwara to be "wiped out" by the State of Israel, after two Israeli soldiers were killed by Palestinians.
Netanyahu admitted these comments were "totally unacceptable" but said: "Be fair to him, I don't know if it was 20 minutes later or 30 minutes later or a few hours later, he said, 'I was misunderstood, that's not what I meant.' We don't believe in collective punishment. I go after the terrorists, I go after those who support the terrorists. But I don't believe in collective punishment."
Smotrich caused more fury in a speech denying the Palestinians' very existence, saying: "Who was the first Palestinian king? What language do the Palestinians have? Was there ever a Palestinian currency? Is there a Palestinian history or culture? Nothing. There is no such thing as a Palestinian people."
CLICK HERE TO GET THE FOX NEWS APP
Netanyahu said he didn't agree with that view but risked further angering Palestinians by clarifying: "I think there wasn't a Palestinian people in the 19th century, clearly. Their national consciousness galvanized in the 20th century. And the question is will hold into the future? That's something that has to be seen. But I think they're there. They're definitely living among us and we have to live among them."