Tuesday marked the start of the 118th Congress, and Americans are now shifting their focus to the 2024 race for the White House.
President Biden — the oldest person ever to hold the office of president — has not officially declared his candidacy in the 2024 presidential race, but past remarks from the president and those close to him suggest that he will seek a second term in the White House.
In November, Biden told reporters that it is his "intention" to run again and that his decision on whether he would seek re-election would come "early" in 2023.
As Biden mulls whether to seek re-election, his presidential predecessor, Donald Trump, along with a list of other Republicans, are already entered into the race or are considering making a run for the White House in 2024.
FOX NEWS POLL: AMERICANS SHOW LITTLE ENTHUSIASM FOR A BIDEN-TRUMP REMATCH IN 2024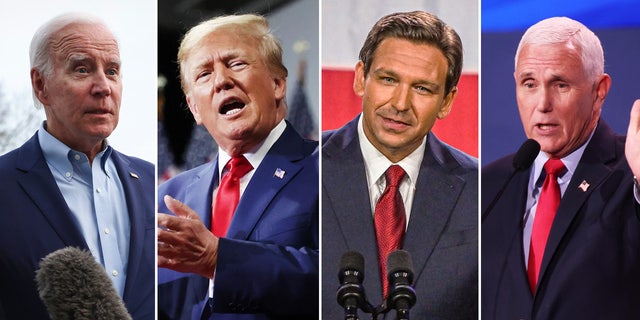 From left to right: President Joe Biden, former President Donald Trump, Florida GOP Gov. Ron DeSantis, and former Vice President Mike Pence.
(Kevin Dietsch, Spencer Platt, Giorgio VIERA/AFP, Scott Olson)
Who's in?
Donald Trump
Former President Donald Trump, who served in the White House from 2017 to 2021, announced in mid-November that he would make a run for president for a third time.
In the 2020 election, Trump fell short to Biden, garnering 232 electoral votes compared to Biden's 306 and more than 74 million votes compared to Biden's more than 81 million.
Trump has largely blamed his loss in the 2020 presidential election on voter fraud and irregularities with the electoral process. After numerous legal battles, Trump is now ready to test the water again with voters.
On November 15, Trump announced his third presidential bid during a speech at his Mar-a-Lago, Florida, home after having teased a bid since leaving office in 2021.
"In order to make America great and glorious again. I am tonight announcing my candidacy for president of the United States," Trump said at the time.
"But just as I promised in 2016, I am your voice. I am your voice," he added. "The Washington establishment wants to silence us, but we will not let them do that. What we have built together over the past six years is the greatest movement in history because it is not about politics. It's about our love for this great country, America, and we're not going to let it fail."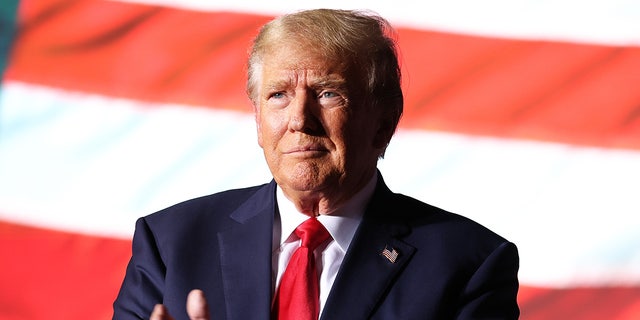 Former President Donald Trump, who served in the White House from 2017 to 2021, announced on Nov. 15 that he would seek the presidency for a third time.
(Justin Sullivan/Getty Images)
Kanye West
Kanye West, now known as Ye, has also stated he will run for president again in 2024.
The musician, who ran as an independent candidate in the 2020 presidential election, said in a video shared in late November that he would be running again, saying, "We're moving toward the future."
The video showed West among a slew of merchandise with "YE 24" printed on it. In the 2020 election, West received around 60,000 votes total in states where his name was on the ballot. Elsewhere, West requested to be entered as a write-in candidate.
In recent months, West, along with Trump, have been marred in controversy following their Mar-a-Lago dinner with Nick Fuentes, an antisemite and Holocaust denier. The dinner with Fuentes, which was reportedly unplanned, sparked backlash from several Republican lawmakers.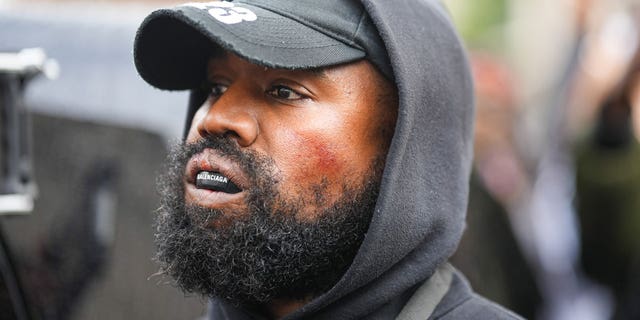 Kanye West, now known as Ye, has stated he will run for president again in 2024.
(Edward Berthelot)
Who's rumored to run?
Ron DeSantis
After narrowly winning election as Florida governor in 2018, Republican Ron DeSantis won by a landslide in the Sunshine State's 2022 gubernatorial election.
DeSantis, who at age 44 is 32 years younger than Trump, won his first election as governor thanks to a major assist from the then-president. But he's become a force of his own as he's built a political brand that stretches from coast to coast.
Since taking office, DeSantis has witnessed his popularity soar among conservatives across the country. DeSantis has remained strong on numerous issues that conservatives prioritize, including immigration, spending, and efforts to push back against coronavirus pandemic restrictions.
While DeSantis routinely discounted talk of a 2024 White House bid as he stayed laser focused on his gubernatorial re-election last year, several prominent Republicans have pushed him to enter the race.
Ad spending tracked by FWIW, which was released late last month following the holiday season, showed DeSantis spent nearly $90,000 – more than any other Republican rumored to enter the race – on ads nationwide or that were targeted towards early voting states.
As DeSantis witnesses his poll numbers in 2024 Republican presidential polls start to rival Trump, and his fundraising prowess match that of the former president, Trump in recent months has targeted the Florida governor. And Trump has turned up the volume on his attacks on DeSantis in the days just before and after the midterms, and debuted a new nickname for the governor: "Ron DeSanctimonius."
DeSantis has refused to take the bait, electing not to engage with Trump's taunts.
A source in the governor's wider political orbit told Fox News in Novemeber that an announcement from the governor wouldn't happen until after Florida's legislative session ends in May.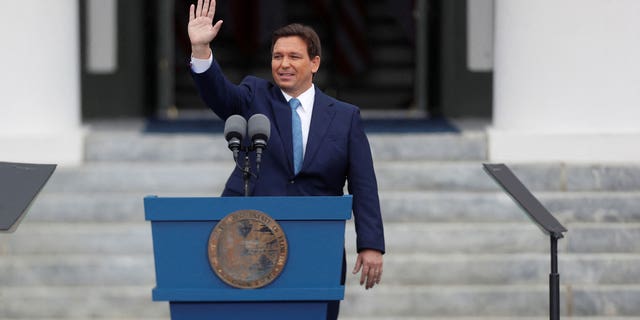 Florida's Governor Ron DeSantis after taking the oath of office waves to those in attendance at his second term inauguration in Tallahassee, Florida, U.S. January 3, 2023.
(REUTERS/Octavio Jones)
DESANTIS LEADING HYPOTHETICAL 2024 PRESIDENTIAL PRIMARY RACE IN A DEEP-RED STATE TRUMP WON TWICE
Tim Scott
Republican South Carolina Sen. Tim Scott, a rising star in the GOP, one of the party's top fundraisers, and the only Black Republican in the Senate, easily cruised to re-election in November to what he has said will be his final six-year term in the Senate.
While Scott has expressed reluctance when asked about a 2024 presidential run, he raised eyebrows in November at his re-election victory celebration by telling the story of how he took his grandfather to the polls in 2012, and that his grandfather proudly voted for him as well as for Democratic President Barack Obama, the nation's first Black president.
"I wish he had lived long enough to see perhaps another man of color elected President of the United States," Scott said, adding "but this time let it be a Republican."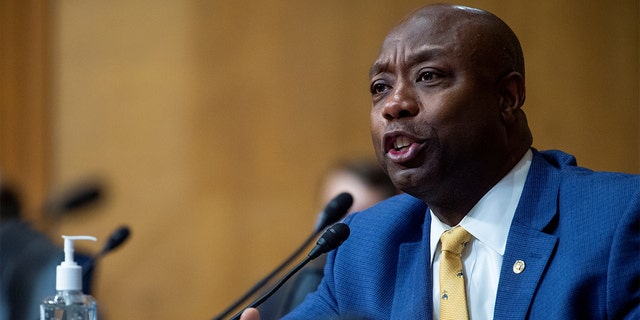 Sen. Tim Scott, R-S.C., during a Senate Finance Committee hearing in Washington, D.C., on Oct. 19, 2021.
(Rod Lamkey/Pool via REUTERS)
Mike Pence
Former Vice President Mike Pence has been mulling whether to toss his hat into the ring of contenders in the 2024 presidential race, but has not made an official decision.
In his recently released book, "So Help Me God," Pence showcases successes of the Trump-Pence administration, but also spotlighted new criticisms of Trump.
The former vice president, as part of his efforts to campaign for Republicans seeking positions in the 2022 midterm elections, made numerous stops in Iowa, New Hampshire, South Carolina and Nevada – the first four states to vote in the GOP presidential nominating calendar.
Pence, a former congressman and Indiana governor, has been making the moves, such as building relationships in the early voting presidential primary and caucus states, that often precede the launch of an actual White House campaign.
"The fact that people are now getting to know me and my family, our faith, our conservative convictions better, has been a great source of encouragement as we think about the way forward and what our calling might be in the future," Pence told Fox News Digital in December.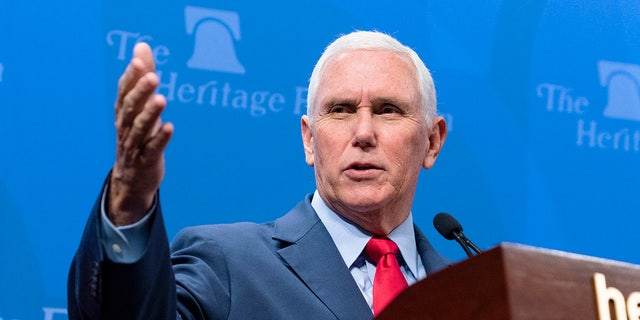 Former Vice President Mike Pence delivers a speech at The Heritage Foundation titled The Freedom Agenda and America's Future on  October 19, 2022.
(Tom Williams/CQ-Roll Call, Inc via Getty Images)
Mike Pompeo
Much like Pence, former Trump-era Secretary of State Mike Pompeo, who has not announced his 2024 intention, has been a frequent visitor to the early voting states the past year and a half.
"Whether we'll decide to get in the race and run for president, I can't answer," Pompeo, an Army officer stationed in Germany during the Cold War who was later elected to Congress from Kansas before serving as CIA director and America's top diplomat during the Trump administration, told Fox News during a stop in New Hampshire in September.
Pompeo has also stated that Trump's decision to enter the race will not have an impact on his decision, telling Fox News Digital in late November, "Who else decides to get in the race won't impact our decision."
"If you put yourself forward to be a candidate for President of the United States, you damn well better believe that you got the spine of steel the intellectual capability and the temerity to be the commander in chief for the most important country in the history of civilization. And if you believe that it shouldn't matter who the heck gets in the race, if you're the only one or if there's 15 of you," Pompeo said at the time.
Pompeo's political action committee has gone up with ads in the early voting states, another sign he's seriously mulling a White House bid. Pompeo, like DeSantis, has also been spending money to target voters nationwide or in early voting states. According to FWIW, Pompeo spent more than $21,000 to target specific voters over the Christmas holiday.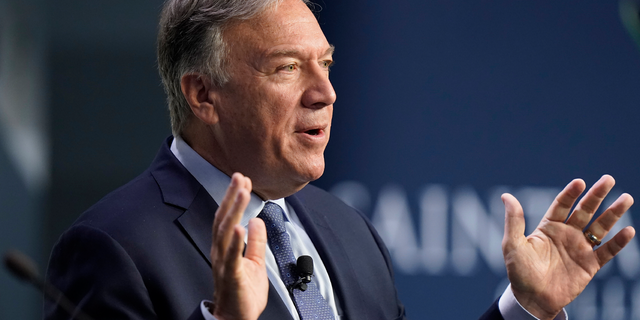 Former Secretary of State Mike Pompeo addresses an audience at an "Politics and Eggs" gathering on Sept. 20, 2022, in Manchester, N.H.
(AP Newsroom)
Larry Hogan
Term-limited Maryland GOP Gov. Larry Hogan, who will relinquish control of the state to incoming Democrat Gov. Wes Moore later this month, has been a frequent visitor to New Hampshire this year and has made stops in Iowa.
Last year, Hogan, a vocal Republican critic of Trump who touts that he's a "commonsense conservative," told Fox News that he believes "there are 10 people who want to be the next Donald Trump and I think there may be a different lane" for someone like him.
Hogan gathered with family, friends, supporters and donors from across the country in November, suggesting that he may be considering a 2024 White House run.
Maryland Gov. Larry Hogan speaks at an annual leadership meeting of the Republican Jewish Coalition on Nov. 18, 2022, in Las Vegas.
(AP )
Nikki Haley
Former UN Ambassador Nikki Haley, a former two-term South Carolina governor who served in her role to the United Nations during the first half of the Trump presidency, is another Trump administration alum who was very busy during the 2022 campaigning on behalf of fellow Republicans and making numerous stops in the early primary and caucus states.
Haley has demurred when asked if she'll launch a presidential campaign, but reiterated last year that she will "figure it out."
"But you know what I've said — I've never lost a race," she added at the time. "I'm not going to start now. If there's place for me, we'll put a 100% in, and we'll finish it."
Haley said she would evaluate a possible 2024 Republican presidential run over the holidays, but has not made an official decision.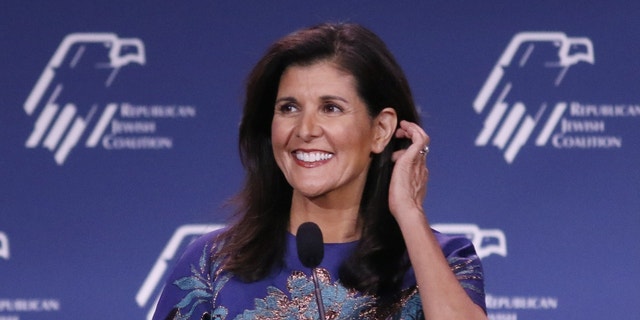 Nikki Haley speaks at an annual leadership meeting of the Republican Jewish Coalition in Las Vegas, Nevada, US, on Saturday, Nov. 19, 2022.
(Ronda Churchill/Bloomberg via Getty Images)
Glenn Youngkin
Virginia Republican Gov. Glenn Youngkin was a politician on demand on the campaign trail last year, helping fellow Republicans running in the midterms.
Youngkin energized Republicans nationwide when he was elected in 2021 as the first-time candidate who hailed from the party's business wing. Youngkin edged out former Democratic Gov. Terry McAuliffe to become the first GOP candidate in a dozen years to win a gubernatorial election in the one-time swing state that had trended towards the Democrats over the past decade.
Speaking to Fox News anchor Martha MacCallum in December, Youngkin repeatedly stressed that leading the Old Dominion is his top priority at the moment.
"Right now the possibility of me focusing on Virginia and delivering as a governor is 100%:," he said. "That's where my attention is. And I think that's what Virginians expect from me. They elected me to lead change. They elected me to lead Virginia forward. And that's what we're doing."
Though he insisted his focus is on Virginia, Youngkin added he is very humbled by hearing his name in presidential discussions.
"Two years ago, I was a private citizen who had just left my dream job," he said. "40 years ago, I was washing dishes and taking out trash as a kid who needed a job. And to even have my name surfaced is so humbling."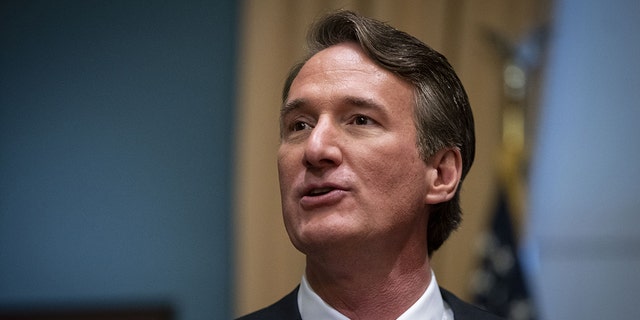 Glenn Youngkin, governor of Virginia, speaks prior to signing executive actions in the Virginia State Capitol in Richmond, Virginia, on Jan. 15, 2022.
(Al Drago/Bloomberg via Getty Images)
Chris Sununu
Republican Gov. Chris Sununu of New Hampshire, who cruised to re-election in his Nov. 8 election by double digits, emphasized in November that a Trump 2024 announcement "does not clear the field."
Last month, Sununu said he believes that Trump can not win election to the White House in 2024, even if he is the nominee. "I do not believe, and I think most people would agree, he's just going to — not going to be able to close the deal in November of '24," Sununu told CBS News chief election and campaign correspondent Robert Costa.
Sununu, who hasn't entirely ruled out a White House run of his own, argued that "anyone who wants to run is still going to run."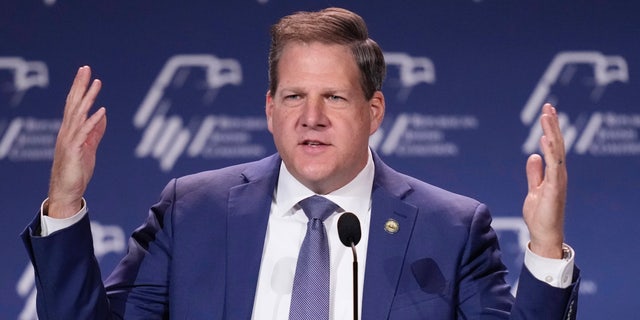 New Hampshire Gov. Chris Sununu speaks at an annual leadership meeting of the Republican Jewish Coalition on Nov. 19, 2022, in Las Vegas.
(AP )
Who's out?
Gavin Newsom
California Democrat Gov. Gavin Newsom, first elected to represent the Golden State in 2018, was once rumored to be considering a run for the White House in 2024, posing an election challenge to Biden.
Newsom put those rumors to rest in November, reportedly telling POTUS himself that he is "all in" on Biden's re-election.
In an interview with Politico, Newsom sought to tamp down speculation that he may run for the Democratic nomination after what the outlet said was "considerable" irritation from the White House at rumors he was plotting a run to oust Biden.
"I've told everyone in the White House, from the chief of staff to the first lady," he said, saying his message is "I'm all in, count me in" on Biden's re-election bid.
CLICK HERE TO GET THE FOX NEWS APP
The 2024 presidential election is slated to be held on November 5, 2024.
Fox News' Paul Steinhauser and Charles Creitz contributed to this article.