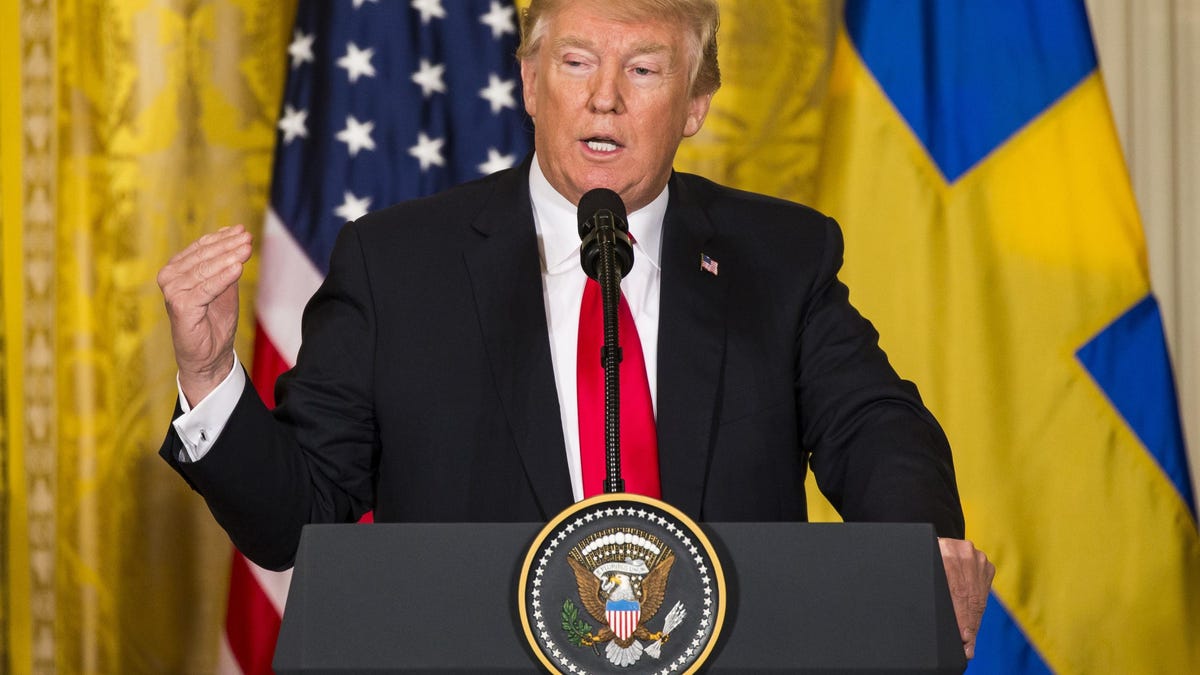 President Trump is hosting a meeting between video game industry executives and their harshest critics.
Getty Images
The White House was the scene of a dramatic showdown Thursday over gun violence and video games.
President Donald Trump invited executives of the video game industry to discuss how depictions of violence in their products might contribute to real-world bloodshed, like the shooting at Marjory Stoneman Douglas High School in Parkland, Florida that killed 17 students and staff members three weeks ago.
"I'm hearing more and more people say the level of violence on video games is really shaping young people's thoughts," Trump said after the mass shooting. He criticized the movie industry as well.
The Entertainment Software Association (ESA), a lobbying group for the video game industry, said it saw Thursday's meeting as an opportunity for a "fact-based conversation about video game ratings, our industry's commitment to parents, and the tools we provide to make informed entertainment choice."
The meeting was closed to reporters and The White House didn't respond to a request for comment.
 Some of the industry's biggest critics, including the Parents Television Council and Rep. Vicky Hartzler, a Republican from Missouri, were also in the room. Both have strongly criticized violent media.
For decades, activists and politicians have pointed their fingers at violence depicted in video games, music and movies after tragedies, like the Parkland shooting. Former President Barack Obama encouraged research into the effects of violent video games on children.
Still, the game industry says there isn't evidence to link games with violent behavior. "Video games are plainly not the issue," the ESA said.
A representative for Rep. Hartzler said this meeting is the "first of many" with industry leaders. 
"Today's meeting was an opportunity to learn and hear from different sides about concerns and possible solutions to violence in school," Hartzler said in a statement posted on Twitter. "I believe significant progress was made today, and my hope is that we can build on this progress in the future."
The ESA said that during the meeting it discussed "numerous" scientific studies that haven't established a connection between video games and violence. It said it also explained it ratings system and brought up the First Amendment's protection of video games. 
"We appreciate the president's receptive and comprehensive approach to this discussion," the trade group said.
Video game ratings

The video game industry has found itself under the national microscope before. One of those moments came in the 1990s, following the release of the bloody fighting game Mortal Kombat and a horror game called Night Trap.
Congress planned hearings, which were scheduled to start in December 1993. In response, the video game industry quickly unveiled the Entertainment Software Rating Board, which would designate which games were for "general audiences" and which for "mature audiences." 
Congress backed off.
The ESA says the system has been effective, with surveys showing nearly three-quarters of parents regularly checking a game's rating before purchase. 
Still, the industry has faced pressure. In 2005, California passed a bill outlawing the sale of video games to anyone under 18. Six years later, the US Supreme Court struck the law down, saying video games are protected by the First Amendment.
"It's shocking to me that we're having this discussion," said Michael Pachter, a longtime video game analyst at Wedbush Securities. He noted an argument, also made by the ESA, that violent video games are sold worldwide, including places where there's considerably less gun violence. 
Still, that didn't stop Brent Bozell, the president of conservative think tank Media Research Center, from recommending the government regulate video games the same way it regulates liquor and tobacco, according to a Washington Post report. The Media Research Center didn't immediately respond to a request for comment.
First published March 8, 5:26 a.m. PT
Updates, 10:05 a.m.: Adds comment from Rep. Hartzler's office; 1:31 p.m.: Adds a comment from Rep. Hartzler via Twitter; 2:34 p.m.: Adds ESA's comment after the meeting; 4:18 p.m.: Adds information from the meeting. 
iHate: CNET looks at how intolerance is taking over the internet.
Tech Enabled: Chronicling tech's role in providing new kinds of accessibility.