Former President Trump's campaign set its sights on Fulton County District Attorney Fani Willis following his indictment on Monday night, saying her family is "steeped in hate" while drawing attention to her father's Black Panther ties.
After the charges came down, Trump's campaign emailed supporters regarding the Georgia prosecutor. The message included quotes from a 2021 Time Magazine article and the Fulton County government website.
The campaign wrote that Willis comes from a "family steeped in hate" and is the "daughter of a former Black Panther" before referencing the Time Magazine piece.
TRUMP INDICTED OUT OF GEORGIA PROBE INTO ALLEGED EFFORTS TO OVERTURN 2020 ELECTION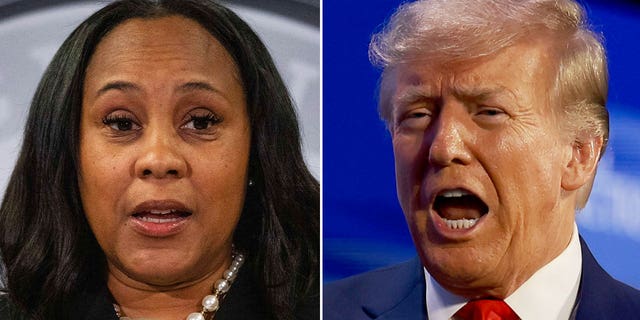 Former President Trump's campaign fired off an email to supporters saying Fulton County DA Fani Willis comes from a family "steeped in hate" following his indictment in Georgia. (Getty Images)
"The daughter of a former Black Panther who recently retired as a criminal defense lawyer, the Inglewood, Calif.-born Willis would go along when her father went to court on Saturday mornings," the quoted Time article reads.
"The judge who oversaw the Saturday courtroom, an older white man, was, according to Willis, known to be mean. But each week, he had Willis, too young to stay home alone or to hear the details her father needed to discuss with clients, sit next to him on the elevated dais, the two whispering back and forth," the article continued. "One day, Willis' father asked her what on earth they talked about."
The email continued with a quote from the Fulton County Government website where Willis also referenced her father, John Clifford Floyd III, being a former Black Panther member.
"Fani has a seemingly proud family background as an African-American woman," the quote from the government website reads. "As what can now be considered a conscious foreshadowing to her future endeavors, she describes her Swahili name's intended meaning, saying: 'My name is actually Fani (fah-nee), Taifa is my middle name, and my last name is Willis. So, my father was a Black Panther, so he was very Afrocentric… my name is Swahili. Fani actually means 'prosperous,' and Taifa means 'people.'"
Fulton County District Attorney Fani Willis, center, speaks in the Fulton County Government Center during a news conference, Monday, Aug. 14, 2023, in Atlanta. Donald Trump and several allies have been indicted in Georgia over efforts to overturn his 2020 election loss in the state. (AP Photo/John Bazemore)
In a later South Atlanta Magazine article from October 2022, Willis said her father, who went on to law school, had been arrested so often that he "couldn't even tell you" how many times.
"He told me when he was taking the bar that was one of the questions they asked is that 'have you ever been arrested before?' He said, 'Yeah, but I don't, you know, want to lie on this application,'" Willis told the publication. "'So, I'll just tell you these are the states, you'll have to research them.'"
The Fulton County DA's office did not respond to a request for comment on the Trump campaign email. Trump's campaign also did not reply.
Trump's 13 charges stem from a years-long criminal investigation led by state prosecutors in Georgia into his alleged efforts to overturn the 2020 presidential election in the state.
FULTON COUNTY DA DEFLECTS ON HOW INDICTMENT LEAKED: 'I CAN'T TELL YOU ANYTHING'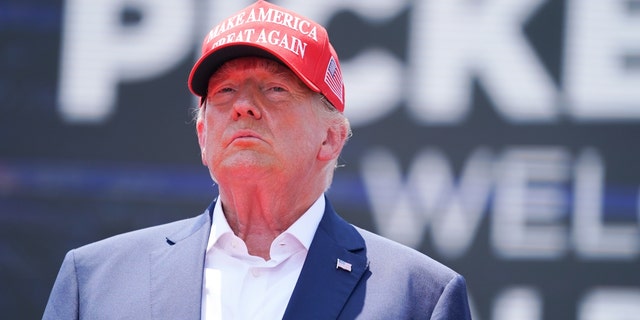 Former President Trump and 18 others have until Aug. 25 to surrender in Georgia. (Sean Rayford/Getty Images)
Former Trump White House chief of staff Mark Meadows, attorneys Rudy Giuliani, Sidney Powell, Jenna Ellis, Kenneth Chesebro, Jeff Clark and John Eastman, and others were also charged.
The charges include violating Georgia's Racketeer Influenced And Corrupt Organizations (RICO) Act; solicitation of violation of oath by a public officer; conspiracy to commit impersonating a public officer; conspiracy to commit forgery in the first degree; conspiracy to commit false statements and writings; conspiracy to commit filing false documents; conspiracy to commit forgery in the first degree; filing false documents; and solicitation of violation of oath by a public officer.
CLICK HERE TO GET THE FOX NEWS APP
Willis gave Trump and the 18 other defendants until Aug. 25 to surrender. During a press conference on Monday night, Willis said she would like a trial to occur within six months.
This is the fourth time Trump has been indicted. He is the first former president in U.S. history to be indicted on criminal charges.
Fox News Digital's Brooke Singman contributed reporting.