New York City Mayor Eric Adams unloaded on the Biden administration Tuesday, repeating his claim that for the federal government to deny approximately 100,000 migrants who have arrived in the Big Apple the right to legally work in the United States is staunchly "anti-American."
Adams, a Democrat, also called on the city to show a "God-like spirit" in continuing to accept asylum seekers, demanding that "it's not acceptable for immigrants to turn on immigrants."
"This city is supposed to be displaying what the God-like spirit is, and it doesn't mean stating that we don't want those people," he said. "I don't care if you are Irish Americans coming here. If you were Caribbean Americans coming here. If you are African Americans migrating from the South, if you were Jewish, Polish, Indonesian, Chinese, everyone heard this same rhetoric that's coming from the body of hateful people."
"What is more anti-American than not allowing someone to work? What is more anti-American than that?" he said. "So what is wrong with them having the right to work? There's no reason the national government is not staying true to the basic principle of the American experience to allow you to the right to work. It is unacceptable. It's unacceptable that they cannot work."
SECOND MIGRANT PART OF ADAMS' RESETTLEMENT PROGRAM CHARGED WITH SEXUALLY ASSAULTING WOMAN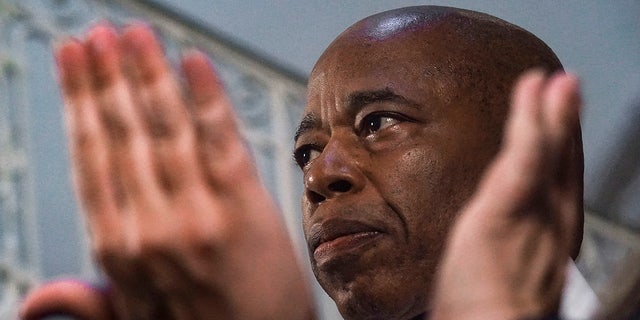 Mayor Eric Adams takes reporters' questions during a City Hall press conference, Wednesday Aug. 9, 2023, in New York. (AP Photo/Bebeto Matthews)
"This is not a New York City problem. This is a national problem," Adams said, noting how the Big Apple is on course to spend $12 billion over the next three years managing the influx of 100,000 migrants. "It's going to come from our schools' services. It's going to come from our streets. It's going to come from what we provide to children."
"This is the greatest challenge our city has faced in decades. We got to get it right," he added.
At the same press conference, Brooklyn Borough President Antonio Reynoso argued that it was the federal government's responsibility at this point to step in to address the migrant crisis. He warned media outlets that the federal government would be at fault if Democrats lost New York congressional seats next year over the issue.
"I don't want to see any printed media, any media talking about New York. We're doing our part. We're protecting you by housing 70,000 people without any issue," Reynoso said.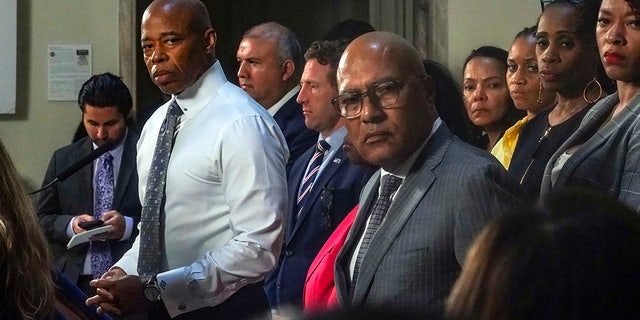 New York Mayor Eric Adams is calling on the federal government to declare a national emergency to ease the financial burden of managing the migrant crisis. (AP Photo/Bebeto Matthews)
"We're protecting you. And all we're saying is come and help us," he added. "But if it goes the wrong way, don't call us. Don't quote us. You're forewarned that this might happen, and it won't be our fault. We are absolved at this point."
NYC MAYOR ADAMS SLAMS 'RIGHT TO SHELTER,' SAYS MIGRANT CRISIS 'NOT SUSTAINABLE' AFTER TOUTING SANCTUARY STATUS
Reynoso argued that the GOP could use Adams' "decompression strategy" plan, which involves resettling migrants who have come to New York City elsewhere in the state, to hurt Democrats. The plan came under fire after Erie County, which has a Democratic executive, demanded New York City stop sending asylum seekers after a migrant was charged with sexually assaulting a hotel worker. That was the second sex crime case there involving a migrant sent from New York City in two weeks.
"We've seen that with the GOP they fight cultural wars versus policy wars. And what's going to happen is that in Long Island, it's like, 'Oh, we're going to have migrants coming into your neighborhood,' and use that fear, right?" Reynoso said. "To pit us against them to be able to win races that would be very close – in Long Island, in upstate – and we need those seats. So, I want to be very clear that this can be used against the party during these congressional races. And we've seen them do a lot worse with a lot less."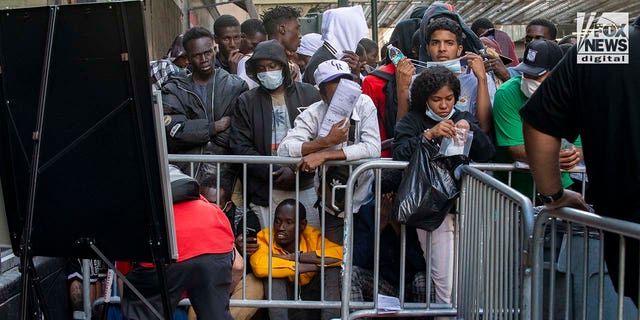 Migrants await registration outside the Roosevelt Hotel in midtown Manhattan on Aug. 1, 2023. (Julia Bonavita/Fox News Digital )
Briefly directing some criticism toward former President Donald Trump, Adams took issue Tuesday with how the "the former president called COVID China virus."
"People were attacking Chinese residents and not patronizing their business, and hurtful and harmful tones were being said as they rode to subway system and moved about," Adams said.
CLICK TO GET THE FOX NEWS APP
The mayor recalled how Chinese residents recently came up to him in Queens, claiming they said, "We need to throw those people out. They don't deserve being here."
"We need workers. We need people contributing in our society," Adams said. "We need people making this the melting pot that it is. That is how our city has become the greatest city on the globe by opening our doors. But we can't do it alone. This is wrong."